Flu season is here. Hospitals across the country are seeing more and more people with the flu. Health care providers are urging people to get the flu vaccine. Whether you choose to get the flu shot or not, there are other things that you can do to help deter getting sick. Washing your hands with soap and water frequently can help. You should avoid touching your mouth, eyes, and nose. If you do get the flu or get sick, try to stay away from people as much as you can. A few other things you can do include staying hydrated, eating nutritious foods, exercise, and taking vitamins/supplements to help support your immune system. Sufficient-C has a high does lemon peach immune-ade drink mix that contains 2,000 milligrams of Vitamin C to help support your immune system.
Sufficient-C
Sufficient-C was created to offer consumers not only a higher, but an effective dose of Vitamin C. It is the first of its kind on the market that is a dietary supplement that supports the immune system in a compelling and refreshing way. Riordan Clinic and other notable doctors including Dr. Suzanne Humphries have recognized them. Dr. Suzanne Humphries even uses Sufficient-C regularly.
Sufficient-C is a powder that you mix with water. One full scoop equals 4,000 mg of non-GMO vitamin C, (2,000 mg. per scoop) plus generous doses of L-lysine, Bromelain, and a 94% pure green tea extract. Sufficient-C is non-GMO, gluten-free, sugar-free, low calorie, and sweetened with organic stevia. It is 100% water soluble.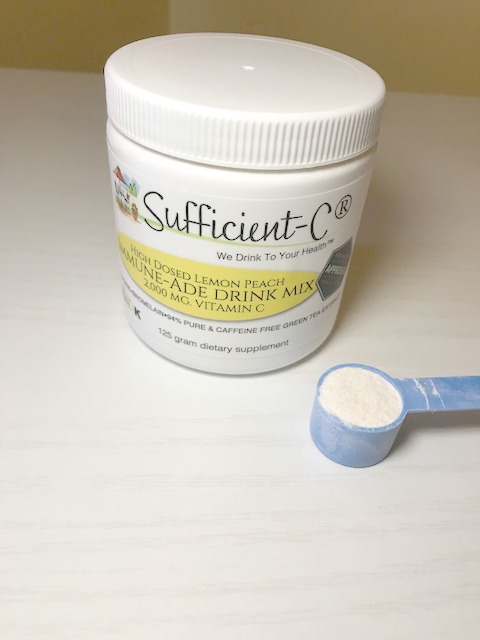 Sufficient-C is very easy to mix with water. I added one scoop as directed on the container to some cold water in a glass jar. I shook the jar a few times to mix it up. There were no large lumps or sediment at the bottome in my water. The flavor is really good. It reminds me of slightly sweet lemonade. This is something that I would not have any problems consuming on a daily basis.
Boost your immune system with Sufficient-C. No longer do you have to take a pill to get your vitamin C. It is easy to consume with water. You can even take it with you on the go.
Connect with Sufficient-C: Site | Facebook | Twitter | Instagram