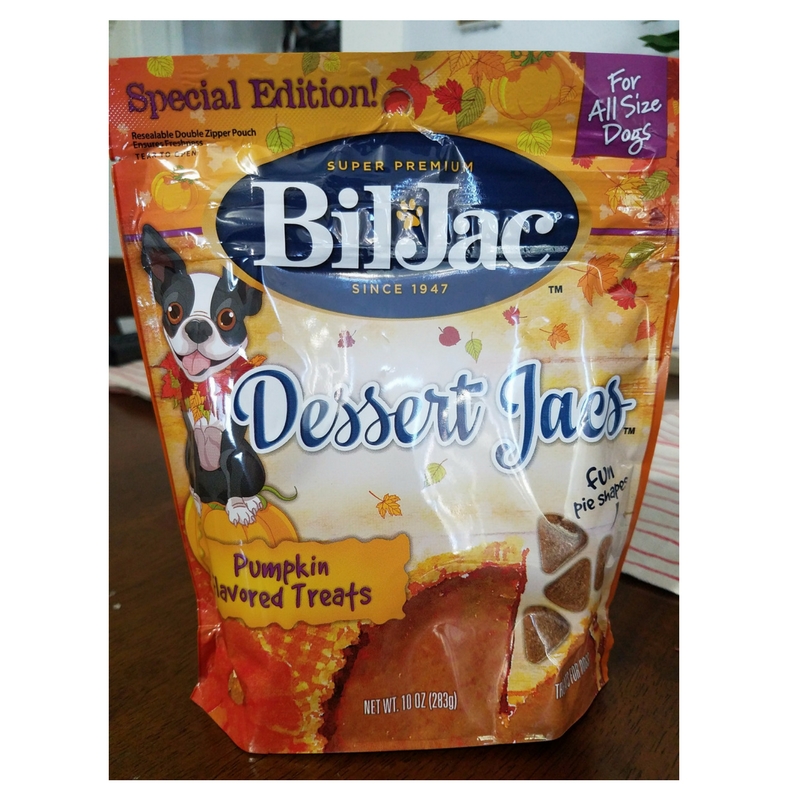 This time of the year it's all about the PUMPKIN! Pumpkin drinks, pumpkin pie, pumpkin cupcakes, well what our dogs they love pumpkin too! My Harley was given a chance to try out some yummy pumpkin treat from the Limited Edition Pumpkin Flavored Dessert Jacs that are available at PetSmart. So it's not just humans who love pumpkin…dogs do too!
Bil-Jac is a family based company that has been around for a long time, and they CARE what they put in their dog food and treats. Only the best for our best friends. They want to provide the best-balanced nutrients that dogs need.
These are SPECIAL DOGGIE REWARDS!
The Pumpkin Flavored Dessert Jacs treats are healthy plus delicious. Harley gobbled them up real quick and wanted more. We have been working with him on not biting (well nipping) at everyone he sees, especially our kids. So these pumpkin treats worked!
What I love about these treats they are pumpkin pie slice shaped. They are made from real chicken, and it's the #1 ingredient. There are no fillers, soy or added rendered fat. Bil-Jac has a variety of dog food for adult and puppy plus TREATS! Since Harley enjoyed these treats and reading more about Bil-Jac and what they have to offer our dogs, we have decided to buy him some Bil-Jac food next time we head to PetSmart.
I do have to say these treats went fast, Harley kept standing by where we keep the treats, and everyone kept feeding him some. Harley is a pumpkin lover like the rest of us in this house. If you want to give your doggie a very special Halloween Treat, then you need to make these Bil-Jac Pumpkin Cookies.
Locate a store close to you HERE