Ideas for what to do for date night can be hard to come by.
If you are like me, you probably do the same thing or go to the same place for dinner and want to try something new.
I know my husband and I personally have our favorite restaurant and also enjoy going to the movies.
This is a standard date night for us. Sometimes your struggle may just be that you don't have a sitter.
Maybe you can't afford a babysitter or a fancy night out.
Well below are some suggestions that may be able to help you when you are in these sort of ruts in your marriage.
Obviously, the pandemic has caused an issue when it comes to planning and scheduling things to do but some of these can still be done safely in these coronavirus times.
Bring The Fun Outdoors
In some places, restaurants are closed for indoor dining. So why don't you and your spouse get some takeout and eat outdoors.
You could go to a local park, creek, trail or simply your backyard to take in your surroundings and enjoy your food with your loved one.
A picnic can be very romantic. In the summer or when there is decent weather, you may be able to find events in the park.
You could stumble upon musicians playing acoustic guitars or even a singer putting on a free show.
Listening to live music is always enjoyable and relaxing.
Check your local facebook events page for ideas.
To switch things up from your typical restaurants you could try and visit your local brewery or winery.
They usually have outdoor seating and offer tastings.
They are also typically known for their scenery and ambiance.
Some even allow you to bring outside food so you can get your takeout and take it to the tasting!
If you don't have time to make it into a full date night, a happy hour or drink will do.
No need to rely on organized events, you can even create your own food or drink tasting or tour.
Is there a particular drink you enjoy?
Do a tour of local bars and see which one makes it the best.
You can even get takeout from various pizza places or ice cream shops and decide which ones you like the best.
Decide your very own "best of" categories and follow through with it.
Do some research and check out restaurants featured on television and movies.
Some places could be featured on shows like diners, drive-ins and dives and are known for certain foods.
Take the time to check out places you never tried.
Unique Experiences
A trend these days are businesses that are opening up with unique experiences for entertainment.
One common one is axe throwing bars.
Here is where you can coordinate and schedule a group of people to gather and get your own area to throw axes at a target.
If you haven't tried it, it is very liberating and always good for a few laughs.
The experience of learning something new brings people together as well.
Another idea is to go to a local arcade or gaming place.
Some places allow you to play unlimited for a fee or you can purchase pay to play cards for you to enjoy the games.
A little bit of competition is always fun on a date night!
Something similar would be a pool hall where you and your partner can go against each other playing pool.
If you are an athletic type then an indoor climbing gym may be a good option.
It is great exercise and a fun bonding experience to see and help your partner climb.
Be Active
Date nights don't always have to involve food, they can be healthy and involve movement and exercise.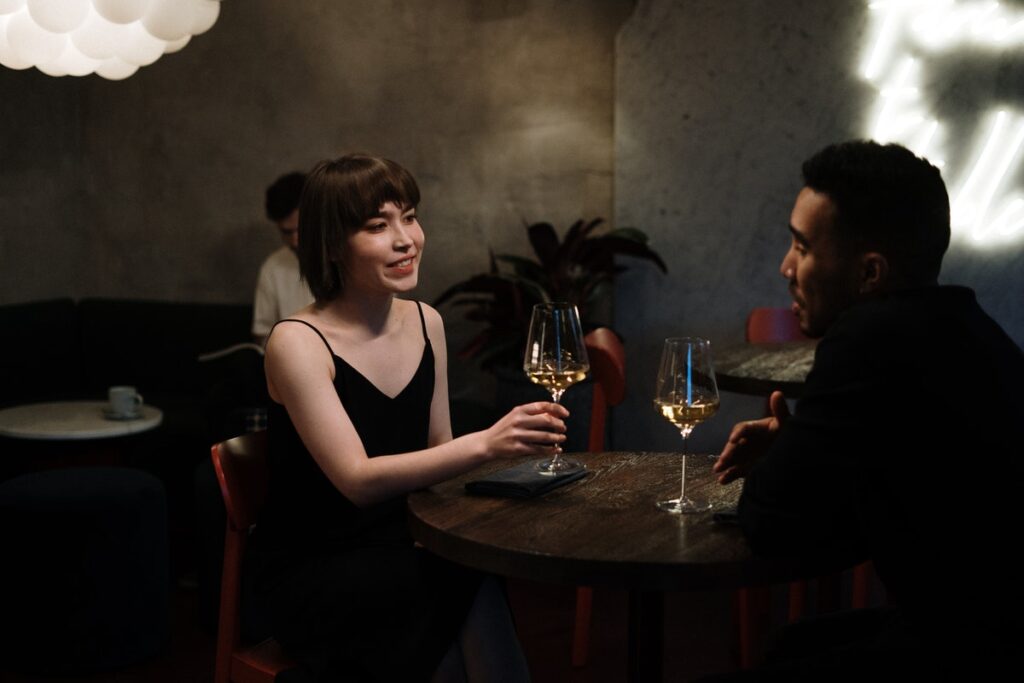 Things like going for a hike or a bike ride on a new trail can be fun.
It is highly effective when you force each other to take the time with no distractions.
It allows you to talk through things you may not otherwise take the time to do and may encourage you to open up.
Another activity to do together are fitness classes.
Sign up for a class together and take the time to get out each week at that time. Something like a yoga class or crossfit could be fitting.
Some people may need more than a date to get them to spend more time together but these are a few ideas to get you started.
Being creative makes things more interesting and fun.