DATE NIGHT ESSENTIALS
Going out with my husband is a very rare occasion, so I want to look my best. Mally Beauty has me covered in the makeup department, which are quality products for a price I can afford. I use the concealer for my eyes; I tend to have more lines under my eyes these days. Having a POP color on my lips is important to create my date night look, so the H3 Lipstick is perfect. The light concealer allows me to have even skin tone and the eyeshadows are so easy to use plus it stays on all night long.
MAKEUP:
Mally Beauty Ultimate Performance See the Light Concealer ($24.00)
Want to give your skin a lift while concealing dark circles and spots? Mally Beauty's Ultimate Performance See the Light Concealer is the answer. Its color correcting formula evens skin tone while blending seamlessly into the skin. The creamy formula instantly melts, creating a flawless finish in no time. Available in: Fair, Light, Medium, Tan and Rich
Mally Beauty Evercolor Shadow Stick Extra Eyeshadows ($25.00)
Mally Beauty's Evercolor Shadow Stick Extra Eye Shadows are the perfect solution for a quick, long-wearing eye that looks gorgeous all day and night. It is a primer, shadow base and eye shadow all in one. This multi-purpose product is an essential for turning your look from day into night. A smokey eye is easy with this product. Available in Autumn Shimmer, Bliss, Brownstone, Burnished Bronze, Champagne, Chocolate Diamond, Mahogany, Marina, Moonlight, Over the Taupe, Pink Champagne, Royal Plum, Shimmering Mauve, Storm and Timeless Taupe
Mally Beauty H3 Concealer ($29)
Wake up tired skin with Mally Beauty's H3 Concealer. Made with special pigments designed to neutralize discoloration, this concealer flawlessly covers up dark circles with its creamy, buildable formula. Not only does this product conceal, but it also helps to protect the under eye area from aging. It leaves you renewed and refreshed.
Available in Fair, Light, Medium, Tan and Rich
Where to Buy: www.QVC.com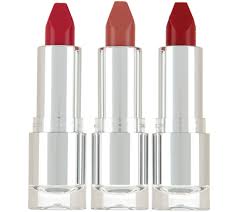 Mally Beauty H3 Lipstick ($21)
Wear a pop of color with Mally Beauty's H3 Lipstick. This product provides triple hydration with just the right amount of coverage. The formula is gel-based rather than wax, so it leaves lips nourished and rich in pigment all day long. Available in shades: Grapevine, Rosy, Poppie, Nudish, Buff, Coraline, Angelic, Sheerly, Crush, Hibiscus, Flame, and Flush Where to Buy: www.QVC.com
Besides looking beautiful, I need to smell good, too and Soap & Paper Factory Mini Rollerball Perfumes can be stored in my purse so I can do a roll on scent during my date. Also, bring along the Soap & Paper Factory Petite Hand Cream too, I love to put hand lotion on, makes my hands so smooth.
Smell Goods:
Mini Rollerball Perfumes ($16)
Freshen your beauty routine with Soap & Paper Mini Rollerball Perfumes. Made with the finest ingredients, these products hydrate skin while leaving it lightly fragranced. Roll the scents onto your pressure points for a light touch fragrance that will last all day.
Available in Verbena, Green Tea, Jasmine, Gardenia, and Lavender
Where to Buy: www.soapandpaperfactory.com
Soap & Paper Factory Petite Hand Creams ($9)
Beautifully packaged and perfumed, Soap & Paper Factory Petite Hand Creams are the perfect product to have on the go. Not only do they deliver aromatic scents, but these hand creams also nourish, soothe and protect skin. Each hand cream is made with finest oils available in nature and free from parabens.
Where to Buy: www.soapandpaperfactory.com
Before I head out the door, I spray on Katy Perry's Mad Love! I want my husband to know I took the time to look good and especially smell amazing!
Katy Perry Mad Love ($29.98)
For fun, flirty date with your beau, spritz on Katy Perry's Mad Love, and you will be enchanted by its fruity and girly notes. Mad Love contains ingredients such as mouthwatering strawberry, fresh peony petals, and coconut wood.