Whether you're a parent, or an early childhood educator, Dana's Music Playground will help get your kids up and moving!
Dana's Music Playground
Screen time is an issue in most families, since electronics are so popular. We all know we need to get our kids up and moving to keep them healthy and happy. Let Dana's Music Playground help you out with that. Engage your kids with her award-winning children's music. They'll want to dance, jump, and play. With twenty plus years as a teacher and song writer working Dana has worked mostly with toddlers and preschoolers. Obviously, she knows how to have fun.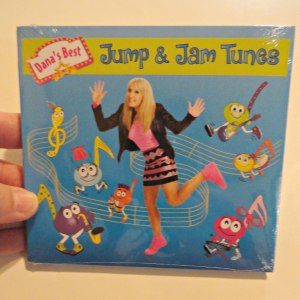 Perfect for Educators
Her new album, Jump & Jam Tunes is perfect for the class room too. (You can pre-order it here, as it releases in April.) I remember when my son was in preschool. They had a special time of day that they would play children's music, and engage the class with dancing. He loved it as did all of his class mates. What a better way to get your class' "ants out of their pants," then having a dance party. They can shake out their sillies, and dance out their wiggles.
As a past childcare provider, I always looked for albums like Dana's for my kids. Even if it wasn't sing and dance time, I often played music while they were just wandering around from one activity center to the next. It really helped brighten the room, and put all of us in a more upbeat mood.
What we think
My son is ten, but he loves music. I hope that's partly because I have been playing it for him since he was in my womb. I let him to Dana's new album, and he was bopping around and even danced some. He informed that "the kids in my old little school would like this mama!" He also asked if he could take it to his cousins for their next play date.
Where to buy
To check out clips from Dana's newest album Jump & Jam Tunes, or her previously released ones, head to her website. You can also check her out on Facebook and Twitter.