Keeping my daughter busy during the summer is something I need to start preparing for, so I've been gathering coloring, drawing and crafts books. She loves art of all kinds, so I know she will appreciate all the cool books I have for her. They will come in handy for lazy days at home, road trips, and late night fun.
This awesome book is especially useful for elementary and middle-grade age girls. Jess Polanski's coloring book Notebook Doodles Go Girl!: Coloring & Activity Book is an inspiring and empowering book for girls. I love all the inspirations that are in this book.
Notebook Doodles Go Girl! Is not just another kid's coloring book! It is designed specifically for the design-savvy TWEEN who thinks kids books are too juvenile and mom's adult coloring books are too, well… an adult!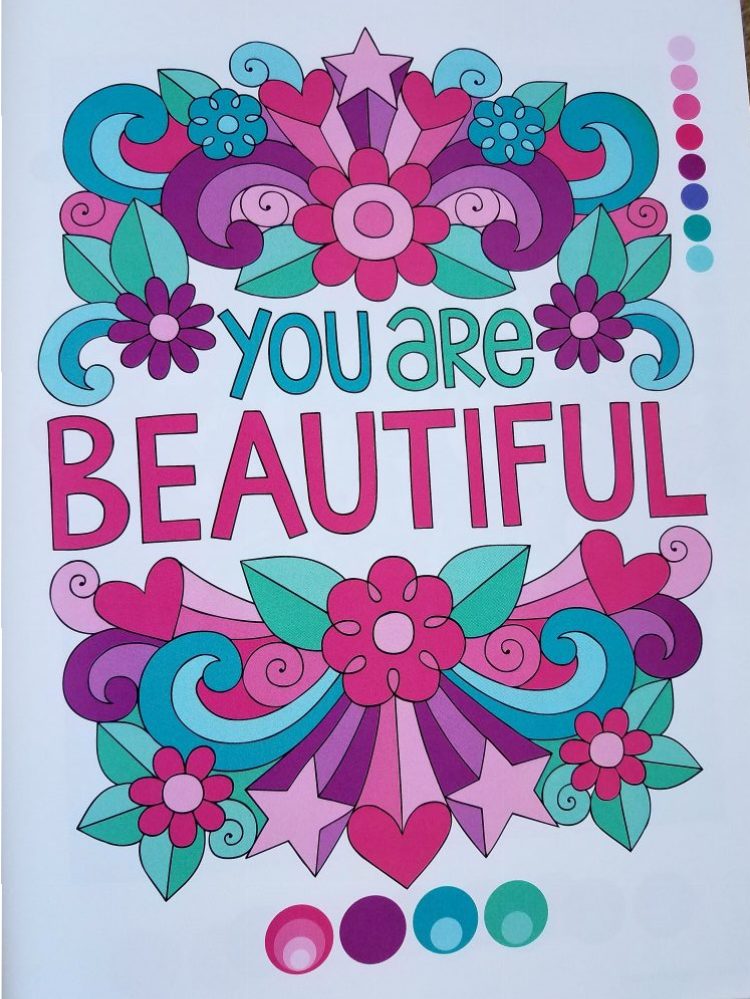 Inside this book, youthful readers will discover 30 interactive art activities that are just waiting to be filled with color. They will also find a coloring art lesson, 20 inspiring color palettes, eight pages of colored examples, and inspiring quotes to go with every design. Watercolors, colored pencils, markers, crayons, and gel pens will all look stunning on high-quality, extra-thick paper. Each page is perforated, so when it's finished, it can easily be removed to hang up or give as a gift.
Connect with Jess Volinski on Twitter, Facebook, Instagram, and at http://jessv.com.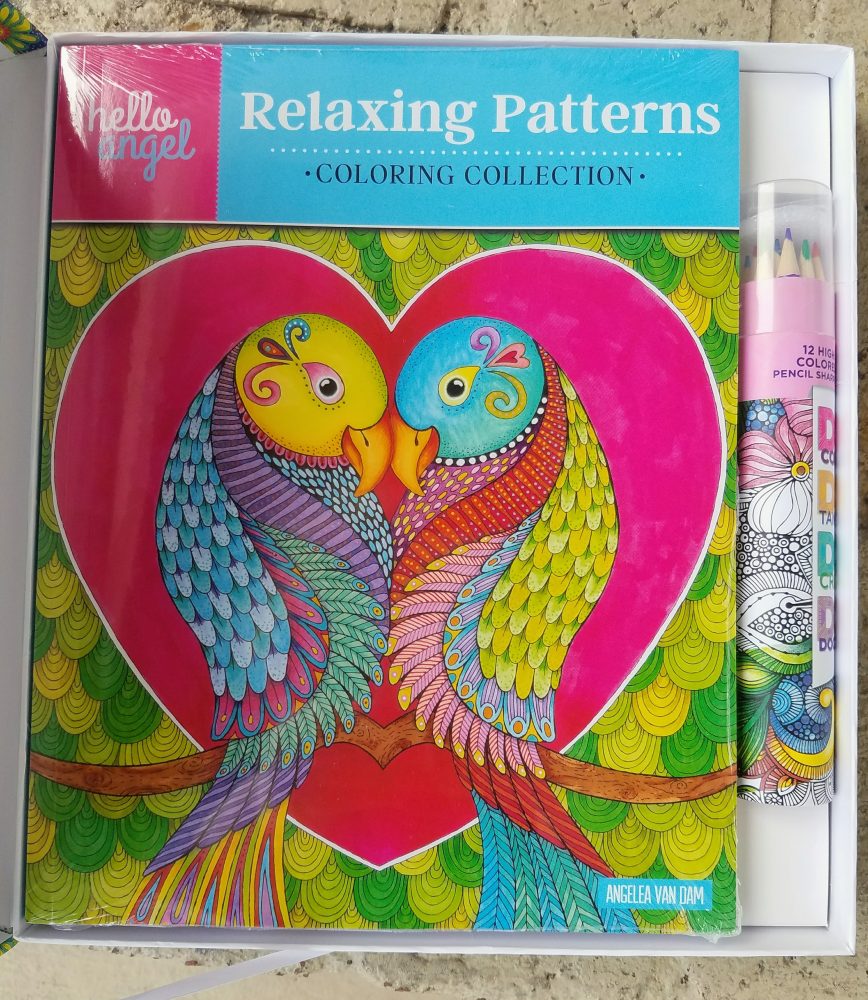 Hello Angel Coloring Book Gift Set by Angelea Van Dam
About the set: The Hello Angel Coloring Book Gift Set contains two Hello Angel Adult Coloring book favorites, Hello Angel Relaxing Patterns Coloring Collection, Hello Angel Big Beautiful Blossoms Coloring Collection, How to Color ideas, and Colored Pencils with Sharpener Tube packaged together in a bright floral patterned gift box. A perfect gift for any occasion.
Hello, Angel Relaxing Patterns Coloring Collection is filled with intricate and intriguing illustrations for you to color and enjoy. Escape to a world of abstract art, motivating messages, and lovely patterns, all waiting to be filled with every color of the rainbow. Relax and unwind as you color these luxuriant images from breakthrough coloring artist Angel Van Dam, perfect for markers, gel pens, crayons, or colored pencils.
Hello Angel Big Blossoms Coloring Collection is filled with intricate and intriguing illustrations for you to color and enjoy. Escape to a world of luxurious flowers, motivating messages, and pretty patterns, all waiting to be filled with every color of the rainbow.
Chalk-Style Simple Life Coloring Book: Color With All Types of Markers, Gel Pens & Colored Pencils by Deb Strain
About the book: Eat fresh and color local! This appetizing coloring book offers a cornucopia of hand-drawn designs that celebrate the community spirit of farmers markets with all of the charming imperfections of original chalkboard art. From seasonal veggies and artisanal bread to organic milk and just-picked flowers, these folksy market stands are overflowing with natural delights. Relax and fill them with color to create your rustic-chic masterpiece.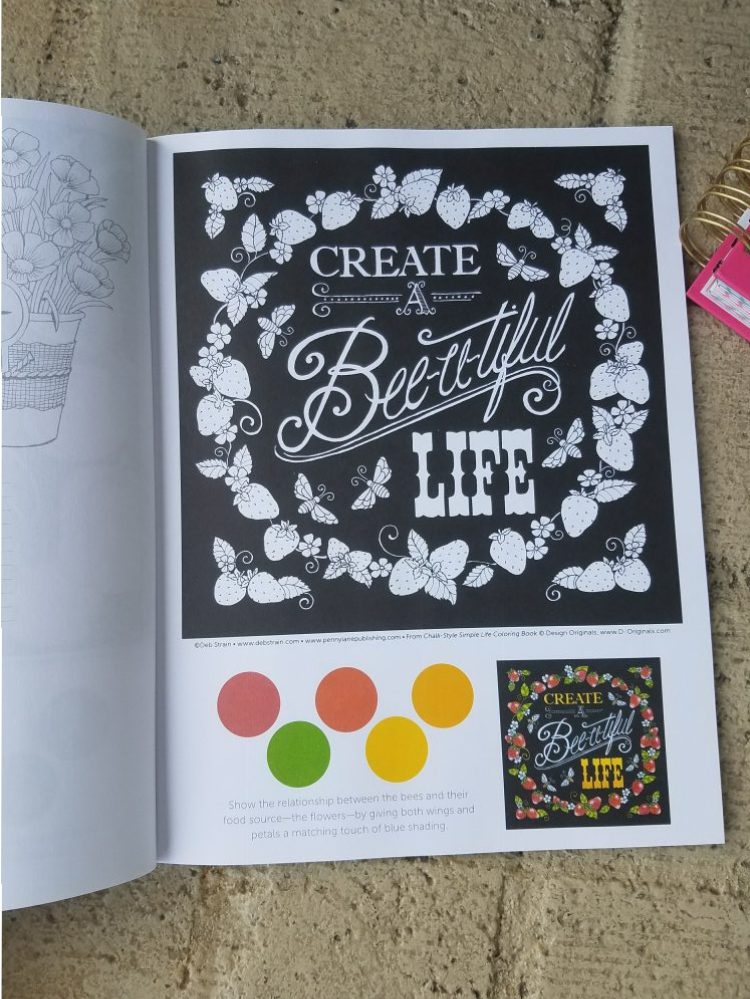 Each exquisite white line illustration is presented on a black background, just like a real chalkboard. You'll be delighted by the way warm colors, bright colors, neons, and lighter pastel shades pop from these designs. Guided Coloring Pages make coloring easy for beginners, with beautifully colored examples and ready-to-use color palettes. Each design is printed on one side only of archival-grade, acid-free, 200-year paper, and perforated pages detach easily for gifting or display. This book has earned the DO Magazine Artist Fair Trade Seal of Approval.

Jewelry making should be simple. But crafters sometimes feel overwhelmed with a ton of techniques and vocabulary to remember. The new Easy-to-Make series takes the intimidation out of jewelry making and makes it fun, easy, and cost-effective. Through a partnership between craft publisher Fox Chapel Publishing and Cousin Corporation of America, premier wholesaler of jewelry making supplies and a full-service fashion company, the Easy-to-Make series consists of four titles that feature jewelry projects that are so simple you can make them in a "crafternoon." In the series, crafters will learn how to make beaded jewelry, elegant jewelry, trend jewelry, and statement jewelry.
Crafters will find the following in The Easy-to-Make series:
Trendy, easy, cost-effective jewelry projects that you can make in one sitting
Projects that are boiled down to only an average of 4-6 steps
Simple instructions that can easily get you started but also give you options for coming up with your own unique designs
Gorgeous photography that shows both inspirational, glamor, and detailed shots to help crafters understand how each piece is constructed
Easy for beginners but also diverse enough for experienced crafters
"The How To Draw Cool Stuff series (Library Tales Publishing) by art teacher and professional artist Catherine V. Holmes guides readers through the basic principles of illustration by concentrating on easy-to-learn shapes that build into complex drawings. The original How To Draw Cool Stuff and the subsequent books, How To Draw Cool Stuff: Shading, Textures and Optical Illusions and How To Draw Cool Stuff: Holidays, Seasons and Events, each offer unique lessons for readers.
In addition to teaching basic drawing skills, this wonderful series provides Lessons on creating shading and texture for more realistic artistic renderings. Step-by-step tutorials on drawing fun and beloved characters like Santa Claus, the Easter Bunny, leprechauns and more! A guidebook that can be used by art teachers in the classroom to help supplement lesson plans and provide students with independent activities. Valuable lessons in how to make drawing easier and more fun, such as: draw lightly, don't aim to create an exact replica, and why patience pays off.
Please check out all these cool books and order now so you will be ready for Summer Coloring, Drawing and Crafts!