Every good party comes with a wide selection of drinks for its guests to enjoy. Hosts looking to take their parties beyond the basic beer bucket and house wines should consider dipping their toes into the world of signature cocktails.
Cocktails offer a wider variety of flavors than beer and wine, and thanks to the myriad of ingredients that can be used to make them, they can be created in a rainbow of colors to fit any party's theme.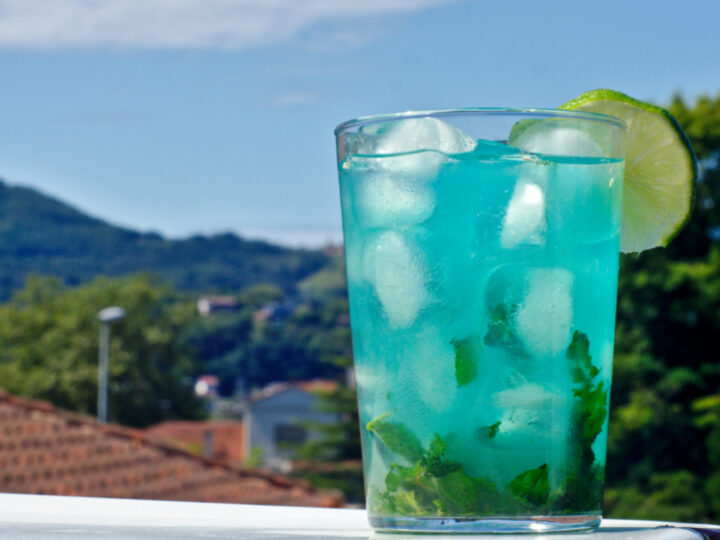 Don't be intimidated by top-shelf liquors, fancy garnishes, or over-the-top gimmicks – you don't have to be a master mixologist to shake or stir any of these fabulous drinks.
The Purple Rain
Named for the famous song and movie by Prince, this violet drink's base is lemonade, making it perfect for summer celebrations or Mardi Gras. To make a Purple Rain, you'll need:
3 oz lemonade
1 1/2 oz vodka
1/2 oz blue curacao
1/4 oz grenadine
Add all the ingredients to a cocktail shaker filled with ice and shake until chilled. Strain into martini or lowball glass and garnish with a lemon slice. For an even more elevated presentation, add purple rim sugar. You can use food die to create the purple color or mix a few drops of the blue curaçao and grenadine instead.
The Sparkler
A perfect cocktail for Fourth of July celebrations, the Sparkler takes advantage of the different densities of its ingredients to create a color-blocked cocktail with distinct layers of red, white, and blue. These layers are made with:
1 oz vodka
1/2 oz blue curaçao
2 oz cranberry juice
2 oz lemon-lime soda
To make a Sparkler, fill a highball glass with ice cubes and add in the vodka. Carefully pour in the blue curaçao down the side of the glass and allow it to settle at the bottom. Once it's settled, pour the cranberry juice gently down the wide and allow it to settle before adding in the lemon-lime soda, again using the side of the glass. Garnish with a lime wedge.
If you've done it right, you should have a distinct blue layer at the bottom, a red layer in the middle, and a white layer on the top. Pouring this way takes some practice, so it's best to do a test run of the drink before your celebration begins.
The Minty Orchard
Looking for something other than green beer for a Saint Paddy's party? Try a Minty Orchard. When mixed, this drink is a verdant Kelly green. For a Minty Orchard you'll need:
4 oz hard cider
1 oz vodka
1/5 creme de menthe
1/4 oz lemon juice
Combine ingredients in a shaker and strain over ice into a lowball glass and garnish with mint. While any cider will do, try looking for one from an Irish brewer for something extra festive
The Mango Tequila Sunrise
A play on the classic Tequila Sunrise, a Mango Tequila Sunrise has bright, punchy colors on the warm end of the color spectrum, which a vibrant orange base that fades to a bright red by the top of the glass. To make one, you'll need:
4 oz mango nectar
2 oz coconut water
1/4 oz lime juice
1/2 oz gold tequila
1/2 oz grenadine
Add the mango nectar, coconut water, lime juice, and tequila to a highball glass filled with ice. Using the back of a spoon, gently pour the grenadine on top of the drink. Like the Sparkler, you should have a layer of red that fades to orange, and how you pour the grenadine has a big impact on the success of layers.
There are hundreds of cocktails out there for you to try, so start mixing!