I just discovered this awesome all-purpose spray that's safe for the entire family. I love Belli® skin care products, but this one my be my most favorite. Read on to learn more. Trust me, you won't be disappointed.
Clearly Coconut Oil
Belli® Clearly Coconut Oil is an all-purpose spray that's safe for your entire family. You can use it on infants, children, teens, and adults. Because it's made by Belli, that means it's even safe for expecting mothers. (Not to mention it's OB/GYN recommended.) It has so many uses, that it's a must have spray for families.
Intensely Hydrating
Coconut oil is a fantastic hydrator, which is what makes Clearly Coconut Oil so fantastic. It's a one ingredient product. That single ingredient is fractionated coconut oil, derived from the whole coconut. That's it. One ingredient that does it all. Spray onto skin to moisturize, or on cuticles and nails to condition them. You can even use it as a shaving oil. (It works great for that, especially on arm pits.)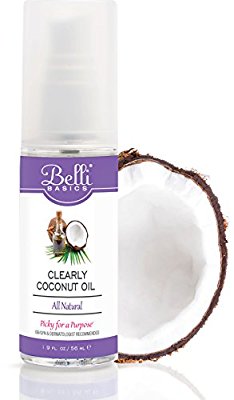 Do you or someone in your family suffer from eczema? If so, then Clearly Coconut Oil by Belli is perfect for treating the rough, itchy skin. And because it's all natural coconut oil, it's safe and gentle too. I swear by it for my son's eczema.
Summer Sunburns Sometimes Happen
With summer right around the corner, that often means an accidental sunburn. No worries. Bell® Clearly Coconut Oil spray is perfect for treating and soothing a sunburn. You can also use to help and stop the itching of scars.
Safe for Everyone
Clearly Coconut Oil is safe because it's natural. It has no artificial dyes or fragrances. No parabens or preservatives, and it's Gluten Free as well. I love that Belli doesn't do any animal testing. It's manufactured right here in the gold old USA and distributed domestically as well.
Where to buy
To get some Belli® Clearly Coconut Oil Spray for your family, simply head to their website. While you're there, be sure to check their other super products too. You can also follow them on Facebook, Twitter, and Instagram.