As we go through the year, we celebrate many things. We celebrate weddings, anniversaries, birthdays, new babies being born, and holiday parties. When we are celebrating, we like to lavish our guests with good tasting food and desserts. Why not surprise and excite your guests with beautiful cake and cupcake toppers, skewers, and party mix stix from Sweet Toppers.
Sweet Toppers
Dawn Cilino is the designer and owner of Sweet Toppers. Sweet Toppers creates handcrafted cake & cupcake toppers for all occasions, party skewers & party mix stix. Customers can also create their own personalized cake topper with their own message. There are 3 fonts that you can choose: script, formal, or handwritten. In addition, you also get to choose from 7 colors: ivory, pink, light green, light blue, dark green, brown, or black.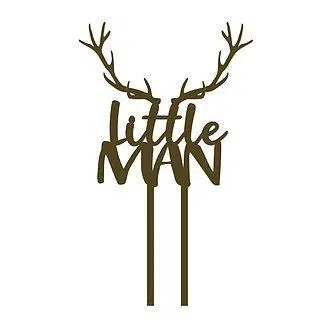 I received the Little Man Cake Topper and Unicorn Cake Topper. I must say that I really like these cake toppers. For one, the sizes are perfect to add to any cake. They are sturdy so you will not have to worry about it falling over or not being to stand up properly. Another thing I like is that they are reusable. You can reuse them for other events or keep as a keepsake. To care for the cake toppers, just wash by hand with soap and water. The cake toppers are durable and food safe. Another feature I like about the cake toppers is the attention to detail which you can see and feel. Each cake topper is hand inspected to ensure a flawless finish and goes through a round of tests before going into production.
No matter what you are celebrating, Sweet Toppers can provide you with what you need. Impress your family and friends as you celebrate this holiday season. You can even get matching cupcake toppersto go with your cake topper.
Whole and Bulk orders are available. Since each product is unique, current products range from $10-20. Shipping in the US is $3.50 and $14.00 for priority. Customers ordering for the first time can enjoy 15% OFF their first purchase by using discount code: SWEET15.
Connect with Sweet Toppers: Site | Facebook | Instagram | Pinterest