Being that it is the summer season, you can always expect for the day to heat up at any point in time. A lot of people enjoy the heat, but there are days where it's overwhelming. Those are the days where you have to have fun and cool down all in one. Sometimes it's great just to sit back and relax with something to cool you off nearby. Usually, the first thing that will come to mind is a tasty cooling beverage. Whether it's water or an ice-cold glass of lemonade, a cool drink is known to help.

Now, of course, you can't go wrong with a cool beverage while relaxing. Although, what if you wanted a sweet, creamy treat instead? This would be a great though considering that this isn't just your average month. July is National Ice Cream Month, and there's no better way to celebrate than with ice cream!
Not Your Average Brand Of Ice Cream
Having ice cream anytime is a real treat, but having it during the summertime is perfect. Just the thought of your favorite flavor in your hands might drive you crazy. Although you want to make sure you will enjoy that ice cream. Which means you'll need a brand like My/Mo Mochi that you could turn to.
If you aren't familiar, My/Mo Mochi Ice Cream is a colorful snack made with a scoop of premium ice cream wrapped in pillowy rice dough. Plus, this brand is also available in gluten-free, dairy-free, and vegan flavors. Their flavor variety is simply incredible, including several ice cream favorites fit for the heat.
Salted Caramel

Vanilla Bean

Mint Chocolate Chip

Triple Layer Flavors (Vanilla Blueberry, Chocolate Sundae, and S'mores)
Missing out on a chance to join My/Mo Mochi Ice Cream in celebrating this tasty month would be crazy. Why wouldn't you want to have a treat that has so much to offer?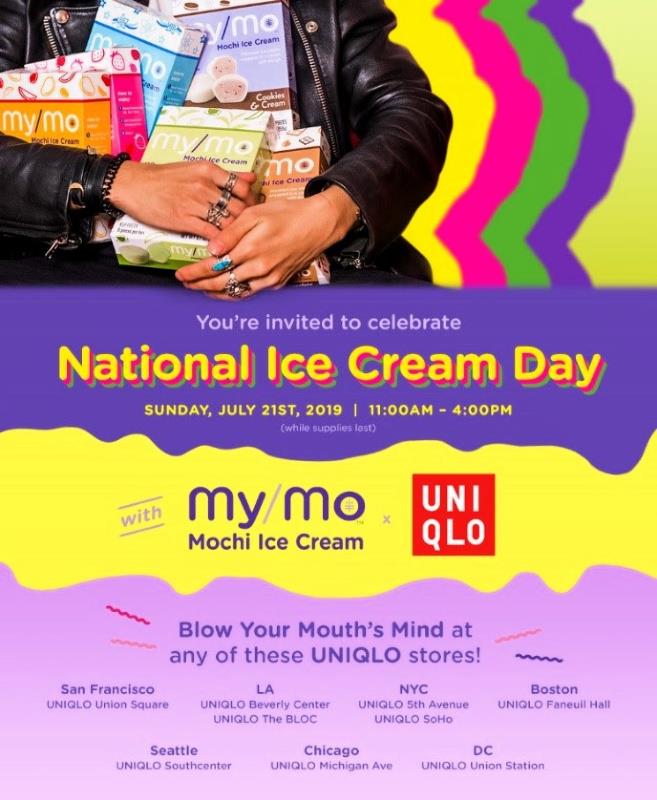 On July 21st (National Ice Cream Day) it gets even sweeter when My/Mo Mochi Ice Cream and UNIQLO partner for the ultimate Ice Cream Day takeover. In select UNIQLO stores, you can grab a sample of My/Mo's pillowy, chewy ice cream mochi balls.