Most people have decks of playing cards in their home. We do. But, sadly, they're not complete, meaning not all the cards are there. When they aren't complete I just want to throw them away. The last deck of cards I had was actually scattered throughout my car. Someone (who will go unmentioned) decided to do card tricks on a past car ride and the cards ended up all over the car. Even if you do have a complete card set in its box, the box never fails to rip apart. It's so difficult to get those cards out of the thin cardboard box without ripping the it. Well, I'm going to discard my partially-complete card decks. And, I'll buy some new ones and place them in my newly acquired Card Caddy.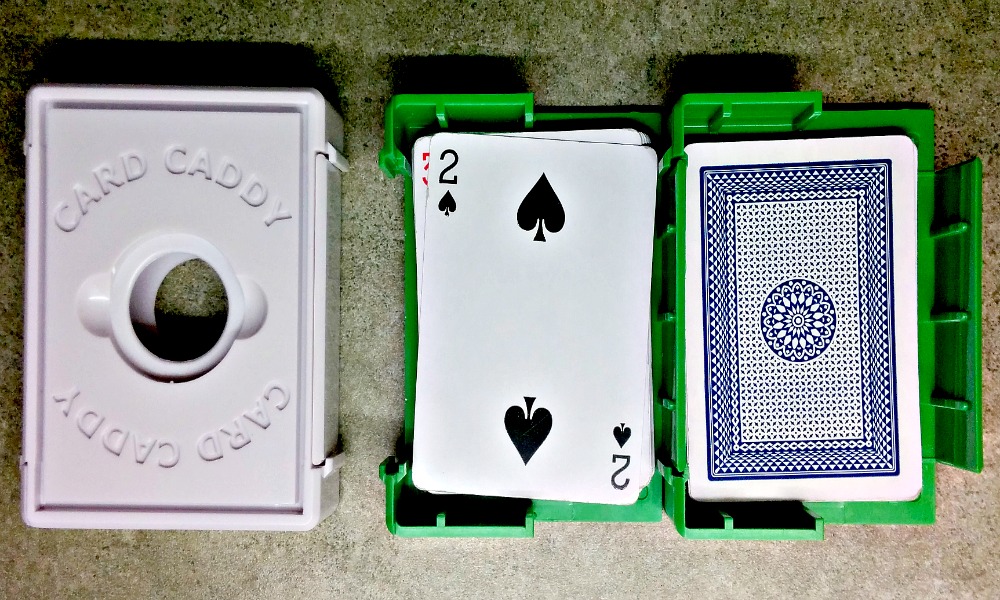 The Card Caddy Helps With Card Organization
What is the Card Caddy? It's a nifty invention for people like me who need help keeping their cards in one place and keeping their card deck intact. It is also utilized to help with card organization during card games. The Card Caddy has some very helpful features.
It stays securely shut, so you can transport it without it accidently coming open and losing your cards.
The Caddy opens easily utilizing the circular opening.
It serves as a discard tray, which also helps you keep track of the discard history for the games that need to keep track of what cards are discarded.
The circular window allows you to easily see which of your card decks is in the caddy (so you don't have to open all of your Caddies to find a certain deck).
If you need multiple deck piles and/or discard piles for a game, you can interlock various Card Caddies together to keep everything neat and organized.
The Card Caddy is sold in various sets, including a Double Decker and Single Decker version and a 5 pack version, to name a few.
The Original Single Decker comes in white, black, red, blue, camo, and green colors.
The Original Card Caddy Single Decker sells for $5.99.
This would make a great gift for Mother's and Father's Day, especially if mom and dad like to play card games. It would also be great for the graduate who may be heading off to college and could take some cards with him or her for something to do in the dorm.
You can purchase the Card Caddy at www.thecardcaddy.com.
Connect with Card Caddy:
Shop | Blog | Facebook | Twitter | Pinterest | Instagram