In recent years more than ever, exercise has become an integral part of our culture and lives.
While exercise has always been a given and taken for granted, recently we are becoming borderline obsessive-compulsive about it.
People are often shamed for not exercising, and many people are judgemental and ridicule others who have let themselves go.
While you should never exercise for anyone other than yourself, it is important to factor exercise into your lifestyle so you can promote longevity and have a happier and more fulfilled life.
Life can be miserable when you are inundated with health problems and illnesses.
While often unforeseen sicknesses and diseases can often not be prevented, a healthy diet and lifestyle can keep them at bay.
Where Can I Work Out If I Suffer From Anxiety?
This is a common problem; many people suffer from social anxiety and depression and are unable to leave their homes.
Thankfully, there is an abundance of workouts perfect for at home, from body weight to free weight, there is no shortage of ideas.
All you have to do is adhere to a strict routine and you will be fine.
Oftentimes, anxiety can make you uncertain and unsure of yourself, and exercising in front of a room full of people is enough to make you shudder.
Exercising at home should not be forsaken for the fact it is known for improving mental wellbeing and helping to combat both anxiety and depression.
By working out at home, you will become more confident in your routine and inevitably be able to take the step into the gym.
As with anxiety, depression can be addressed by working out at home.
By being able to shut off for a moment and just exercise in that very second, you will forget your problems, your fears, and worries, and just exercise.
It is also good to have a routine to adhere to when you suffer from, both of those problems and can be almost life-changing.
How Does Working Out At Home Help Mental Health?
It has been proven through academic literature that aerobic exercises have been proven to reduce anxiety and depression.
The reason for this is caused by an increase in blood circulation to the brain.
Exercise is known for increasing your self-confidence, by feeling fit and looking fit, you are more likely to achieve.
This is why exercise is always paramount in any treatment plan or mental health-related issues.
You should always, whenever suffering from some kind of mental ailment, consider exercise as a potential cure.
Exercise can be a lot of fun, too, and a new way to meet friends. If you suffer from social anxiety and have trouble interacting with new people.
You Should Always Eat Healthily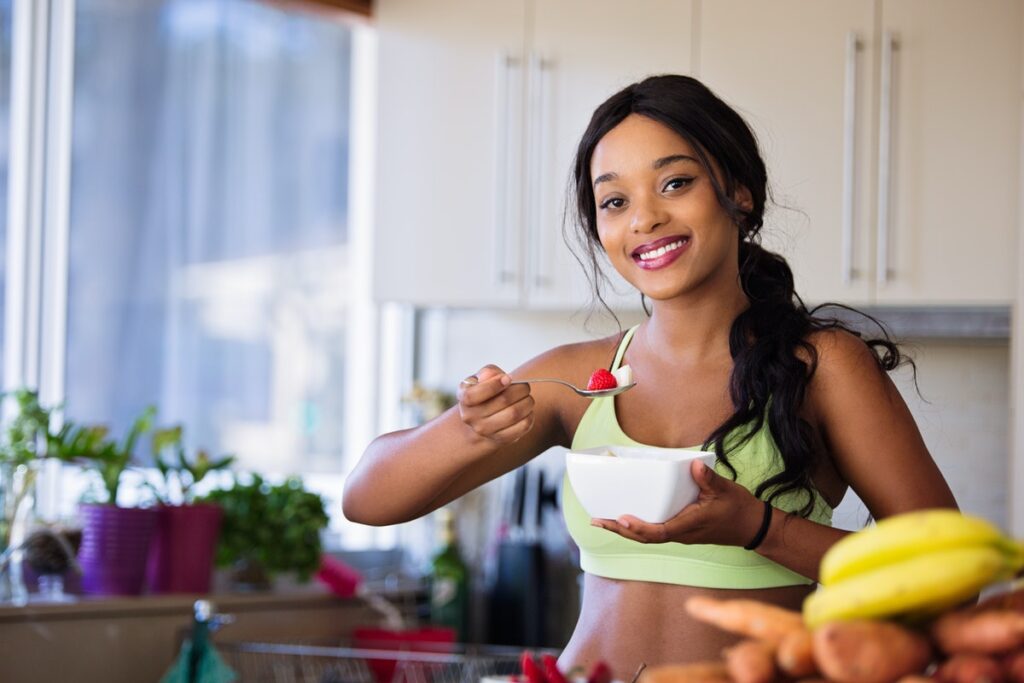 As part of a healthy lifestyle and fighting the symptoms of mental illness, you should always eat a healthy diet.
A healthy diet can often enable you to exercise; it is virtually impossible to derive real benefit from exercise without eating healthily.
So, in this spirit, it is very important that you cultivate a healthy diet before you consider exercising.
By doing this and watching your calorie intake, your body will function better and be more susceptible to changes done through exercise.
Not only that, but eating a healthy diet has been proven to reduce the signs and symptoms of many mental health issues, and in some cases be preventative against them.
How Can I Exercise If My Mental Health Leaves Me Unmotivated?
Very frequently those suffering from mental health issues will not be able to delve deep and draw the initial motivation needed to start an exercise routine.
For this, you should just grit your teeth and start. If you don't force yourself, then it will never happen.
The best way, as aforesaid, is to force yourself to exercise, and if you fail, you fail.
But by forcing yourself you will give yourself that driving push you need, that you can often not get from anywhere else.
The motivation you bring out when you force yourself to exercise will be what keeps the momentum and helps you to continue with your exercise routine.
Always Adhere To A Plan
The most important part of having an exercise routine, more so when you're mentally ill, is to adhere to a strict plan and never digress from it.
By providing yourself with a routine, you will give yourself something to hold onto when you feel like quitting.
The drive and motivation will keep you going, and you will continue to thrive and exercise as best you can, simply because you do not break your routine, and that is the rule.
Before treating yourself with exercise, or anything, you should always speak to a doctor about mental illness.
Mental illness is no joke and hundreds of people kill themselves every day. It is important that you speak to someone if you need help.
Remember, A healthy mind, a healthy body connection is a key to a much happier life.