Oftentimes, when you replace a light bulb, you only take one and then the others are left in the box. Then the remaining bulbs start to fall out of their slots and roll around as the box gets shuffled around on the shelf or in the closet. Then you risk those extra light bulbs breaking and having a sharp, dangerous mess. That's why it's time for bulbNEST!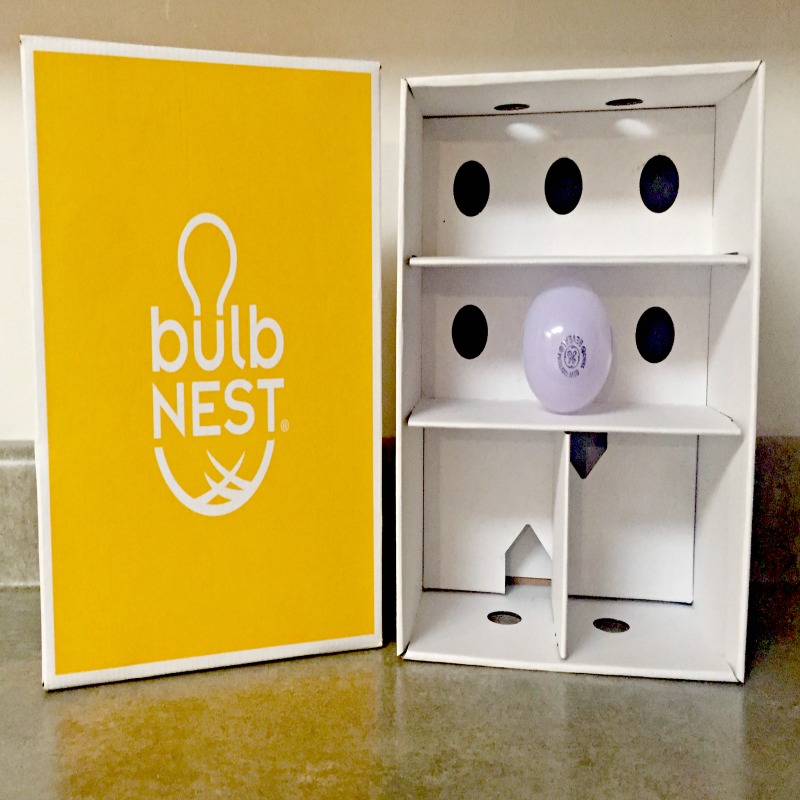 BulbNEST is an organizational tool that is meant to protect and keep your light bulbs safe and in place. The bulbNEST can hold most common bulbs. The box I received can hold up to 6 standard plus 2 spotlight light bulbs at one time.
The bulbNEST is made of corrugated board, which is thick and strong. It comes with a yellow lid, so it's easy to find in a crowded closet. It also has 2 holes on two of the sides of the box so it's easy to grab and carry.
The box comes with diagrams and easy instructions for assembly. I was able to put mine together within a few minutes.
At my house, we have light bulbs stored in various places throughout the house. Then when we need a bulb, we oftentimes can't find the one we need. Now, with bulbNEST, I think it will be easier to keep all of our bulbs in one place. So, next time we need a bulb, just look for the box with the yellow top!
There Is More To This Company Than Just Their Product!
Another thing I love about this company (besides that they make organization easier) is the fact that it cares by utilizing sustainable practices. What exactly does that mean? For this company, it means a lot. The company is a Sustainable Forestry Initiative (SFI)-certified company. They utilize practices that aim to reduce the carbon footprint they leave on our precious Earth. The company also uses water-based inks and they recycle inks as well. They don't use aggressive bleaching for their paper whitening processes. And, according to the product's website, "For each tree taken down, multiple saplings are planted"—I love that! Thank you, bulbNEST, for caring about our Mother Earth!
Product Specifications
The bulbNEST is available for purchase at the product's website, Amazon, and Menards.com. It comes in two sizes, the Classic (5-3/8″h x 8-3/4″w x 10-9/16″l) and the bulbNEST DIY (5-1/2"h x 8-3/4" w x 10-1/4" l). This would make a unique and functional housewarming gift for someone who has just bought a new home or moved into a new pad! And, try it out for yourself!
Connect with bulbNEST: Website | Facebook | Twitter | Google+