Being a mom is hard work, but cooking for your family shouldn't be!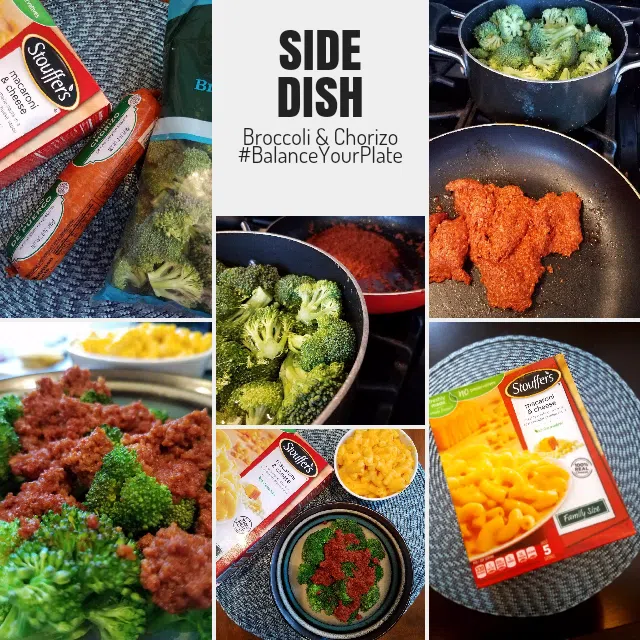 Wouldn't it be so nice if you had all the time you need to cook your family a homemade dinner? I know I would love it. However, let's get back to the busy mom's life…not going to happen.
I've been spending a lot of time being "Taxi Mom" lately, so cooking has been very tricky lately. I miss cooking, but then I don't. Watching my kid's play sports, enjoying play dates, and just hanging out with my family is important too.
When I go grocery shopping, I pick dinners that are easy to put together but also they need to be balanced. To build a balanced meal, use frozen prepared foods as your base and pair with an easy-to-make side dish made of fruits, vegetables, whole grains and/or low-fat dairy. Because it is important that my family eats nutritious meals.
[Tweet "I may be busy, but I still feed my family a balanced meal! #BalancedYourPlate "]
Just because my time or energy may be limited on some nights I'm still going to whip up something for them. One of our favorite meals is "anything" with Stouffer's Macaroni & Cheese. My family like Stouffer's over my homemade mac & cheese and I'm okay with that! Frozen prepared foods are a great time saver, and there are so many new dishes and flavors to choose from.
While homemade meals are the "golden standard" for many families, we live in a busy world where whipping up homemade dishes every night can be challenging. Stouffer's Macaroni & Cheese is an easy solution that you can feel good about feeding to your family. Stouffer's Mac & Cheese recipe includes real, simple ingredients, like freshly made pasta, cheddar cheese, milk, and butter.
I came across a side dish recipe (Broccoli and Chorizo) I found very interesting and thought it would be a good pairing with Stouffer's Mac & Cheese. Broccoli is very plain so why not dress it up with a kick of chorizo. Chorizo is a spicy ground meat sausage that is quite savory.
What you need:
Broccoli (fresh or packaged)
1 1/2 ounce of Chorizo
1 tbsp of Olive Oil
2 Tsp Lime Juice
Pinch of salt!
How To Make: Takes Less than 10 minutes!
Cover and simmer 4 minutes
Drain broccoli water
Cook chorizo in olive oil in pan (medium heat) for 3 minutes
Remove from heat
Stir in lime juice and salt into the cooked chorizo
Put broccoli on plate and top with the chorizo
Serve the Broccoli & Chorizo side dish with Stouffer's Mac & Cheese
I was selected for this opportunity as a member of CLEVER and the content and opinions expressed here are all my own.