Layered hair is effortless to a style which undoubtedly gives it an added advantage over other hairstyles since you can style your curls at home. However, a layered hairstyle appears more amazing when you accentuate the tips. You can achieve that using a curling iron or with a straightener. Over at Hqadviser, you'll be lead in the right direction of perfect hairstyles.
When you've picked your preferred haircut, make sure to visit Booksy for the best hair stylists in your area!
Most modern and sophisticated haircuts nowadays incorporate volume at their roots brought about by using a blow-dryer. Voluminous layered hair cut looks fantastic on thin hair. Since thin hair are more susceptible to heat damage, make sure that you use a good hair-dryer for fine hair.
Romantic tresses hold with spray are an excellent idea of a haircut for special events. Take a look at these gorgeous hairstyles for layered hair.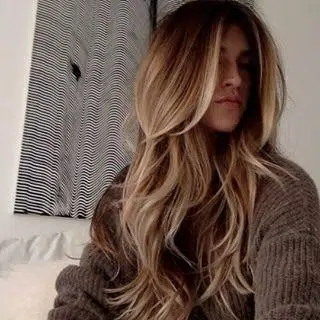 Perfect Bedhead
Layers are an excellent option for women with mid-length layered hair since they add depth, texture, and volume and gives you a variety without necessarily sacrificing the length of your hair. Light accents in mid-brown hues are always a perfect touch for all brunettes.
Feathered Brunette Bob Cut
A feathered haircut with extended layers adds texture and volume to your dull basic cut. Having subtle graduation gives this style a stylish look while some blow out shows off lots of dimension and volume.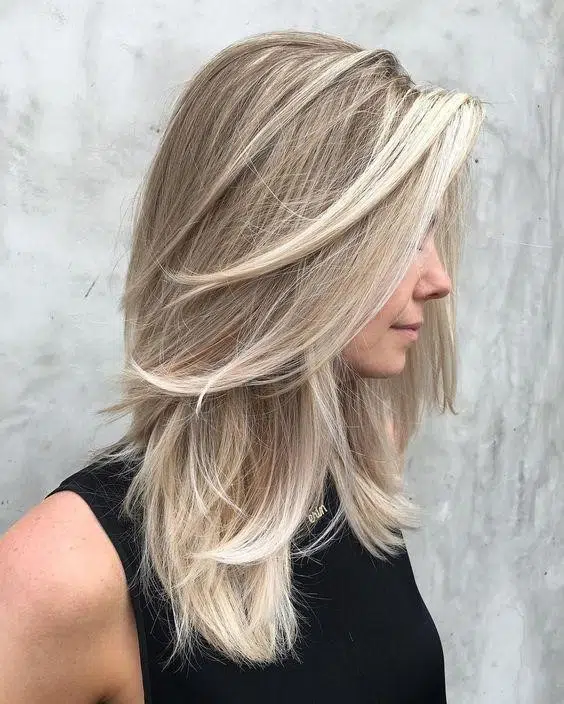 Shoulder Length Hairstyle with Flipped Trimmings
If you have a medium to long hair, choose to spice your haircut with flipped, choppy trimmings. Layering adds interest and definition to almost all hairstyles but flipped trimmings work correctly if you want a quick blow-dry styling. Flipped out layers work best for women with thick hair.
Medium Length Two-Tier Haircut for Thick Hair
A two-tier medium length layered hair is an excellent method of layering. The haircut features shoulder-length layers. It is the suitable option for the ladies who need to add some dimension without having an entirely sectioned look.
Mid Layered Wavy Haircut
The mass layering of the hair matches excellently with medium length or over the shoulder haircuts for healthy and dense hair. This gives you more volume and bulk that is needed for haircuts with layers and bangs.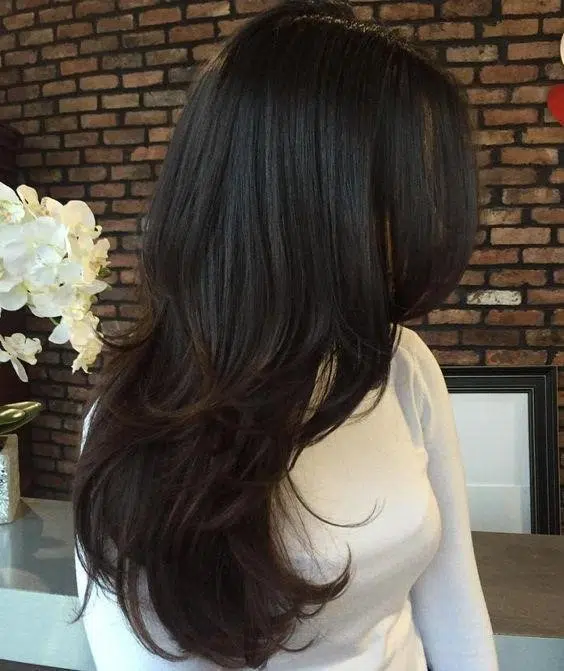 Medium Length Hairstyle and Side Layers
You don't have to take the layers all over your entire head to come up with the needed dimension. A cute medium-length hairstyle and side layers can give your face a nice frame in an extraordinary way, especially if you have a long neck or oval shaped face.
Long Layered Hairstyle for Straight Hair
Styling your hair with v-shaped layers gives you a variety of styling options. A single haircut hangs effortlessly with less movement and hides the some of your facial features you don't want to be seen such as face contours. Also, the haircuts for layered hair can be customized according to your facial features. It all depends on what you want people to see and that you don't want to reveal.
Mid-Feathered Hairstyle for Thick Hair
A mid-length layered hair looks great especially for the ladies with thick hair. The hair doesn't appear too heavy if you wear this kind of haircut. Layers look great with thick hair and do a great job of boosting volume and movement to an otherwise quiet and blocky look.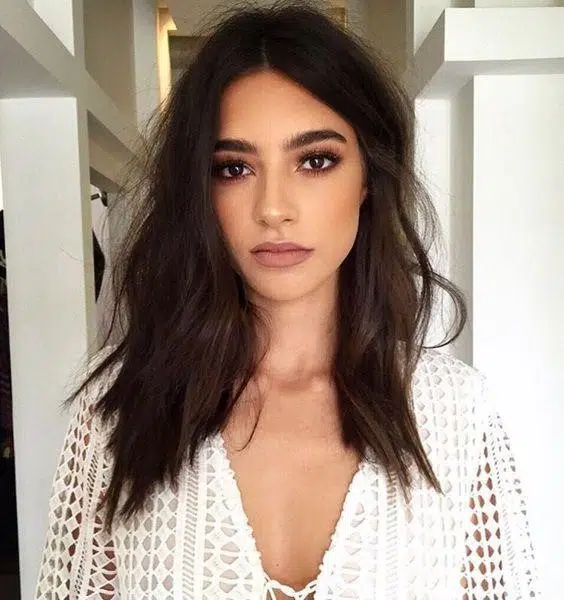 Brunette Bob with Feathers and Piece-Y Bangs
Hairstyles with bangs is a cut which most ladies with thick hair always gravitate to, however adding a piece bang and trimming some fringes out can increase the allure of this haircut. The pieceyness is further enhanced by blow-drying the hair and portioning the edges using your fingers.
Point Cut Bob and Caramel Balayage
If your blunt haircut or dull-looking straight hair is starting to bore you, you can give it a soft look using a pointcut bob. Start by trimming the hair at an angle to give it some texture. This point bob appears cute on different hair shades; however, balayage in cool hues such as caramel appear to be lighter and brighter nowadays.
V-Cut Layers for Women with Thick Hair
This is a superb choice for mid-length layered haircuts. The hair is maintained long at the back. The layers near the face are then styled towards the back. Mid-long length hair is suitable to hold this hairstyle, so the v-cut layers appear shiny.
Layered and Slicked
This is yet another excellent idea for medium length hair that appears too heavy. It is ideal for ladies with elongated hair but needs to trim it to shorter lengths. The first section of layers begins at the middle and cascade to the ends in slicked layers. The outcome is a cute, fantastic hairstyle with enhanced movement and volume. Have the ends flipped by use of a curling iron or a straightener. You can also utilize a round brush or blow dryer. All these tools will give the same effect.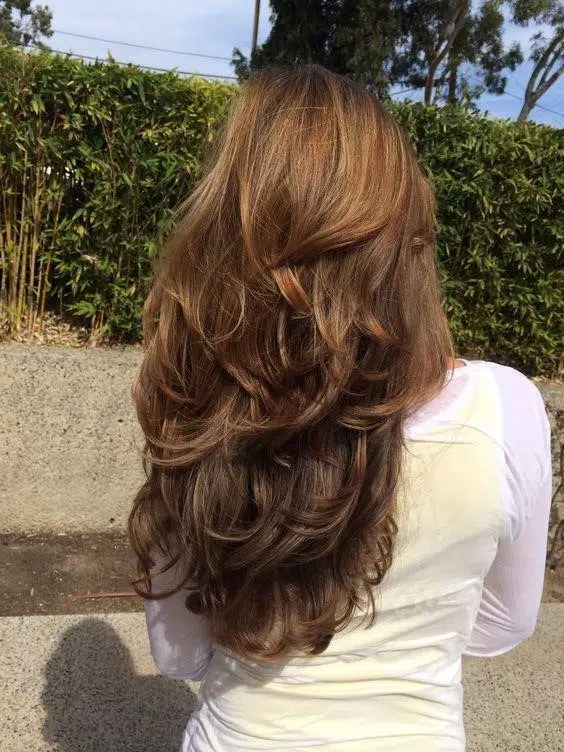 Straight, Layered, And Sleek
This is simple, yet sweet haircut, besides, the maintenance and styling are effortless. Some product and perfect blow-dry give the layers a distinct and sassy tousled look. Opt for this haircut when you want to have a transition during growing out of your hair. You will enjoy a haircut that is simple and easy to style.
Voluminous Wavy Layered Haircuts with Bangs
Two essential things are a key to lots volume; perfect styling routine and healthy hair. To boost the volume of your hair, add volumizing mousse with your head upside down. Do a blow-dry of your hair and then tousle it for an added volume and to make it dry faster. Wavy hair is always very voluminous when styled using a large curling iron. Add a texturizing spray and some shampoo to give a lift to the roots.
Sleek Mid-Length Shag
Nowadays layered hair is gorgeous and features an enhanced shade. For example, this honeyed layered bob features face-framing balayage with highlights that are super adorable and awe-inspiring. The length, layers and the color couldn't be better.