Located about 100 kilometers from Morroco, Tenerife has been called the Island of Eternal Spring due to its year-round excellent weather and sunny days. Sun-worshipers from around the world flock to the largest Canary Island for its Blue Flag beaches and lively Latin bars. But at a closer look, you'll find much more to this Spanish Island than a popular beach excursion.
Mt. Teide, an inactive volcano at the center has one of the world's most diverse landscapes, strong Atlantic winds provide world-class surfing, and you can experience the island's history and culture with festivals and fiestas. There's something for everyone from sipping cocktails on a tropical beach to hiking to a hilltop village. Here are the best attractions and activities in Tenerife.
The Beaches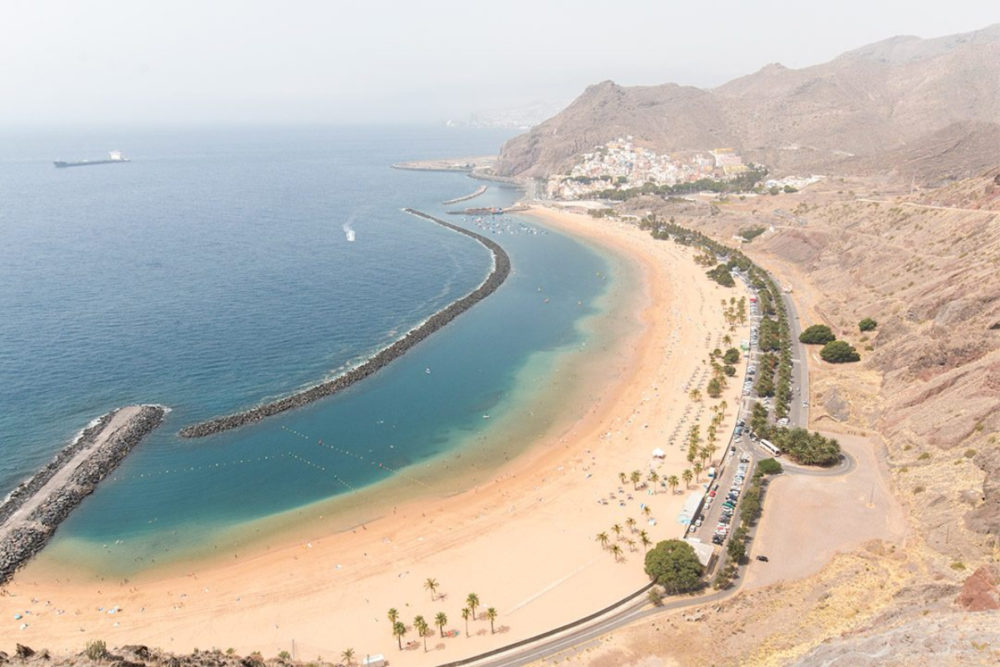 Tenerife's 400km-plus of coastline has an amazing variety of beaches. Ten of them have earned Blue Flag status. One not to miss is Playa de las Teresitas in Santa Cruz. Sand from the Sahara Desert was imported to create this sheltered manmade beach. There are several secluded beaches for lots of privacy away from the main attractions. These include Playa del Pozo, Playa El Puertito, and Playa Bollullo. For the best in water sports, head to windy El Medano beach on the south coast of the island.
Loro Parque
The planet has plenty of great zoos, but Tenerife's Loro Parque was named the best zoo in all of Europe. It started in the 1970s as a small parrot park. (Loro is Spanish for parrot). The world's largest parrot collection (350 different species) now includes amazing animals like sea lions, dolphins, a shark, a collection of jellyfishes, and a penguin aquarium. The animals put on astonishing shows and a hike through the treetops is also available to see even more.
Whale watching at Los Gigantes
One of Tenerife's most popular tours is an excursion into the Atlantic Ocean to explore the shores of Los Gigantes. Numerous tour operators offer three or four-hour trips, and you're sure to spot whales and dolphins along the way. They have choices among sailing boats and catamarans of all sizes. Some include food and beverages. Los Gigantes is also great for watersports from jet-skiing to snorkeling and scuba diving. Sports here also include quad and ATV tours.
El Médano
For the best in sailboarding and kitesurfing, head to the city El Médano. The wind blows strong all year making it a select locale for international surf competitions. Despite all the worldwide attention, you'll find some very cozy eating and drinking establishments, and a beach promenade that's great for sunset strolls.
Siam Park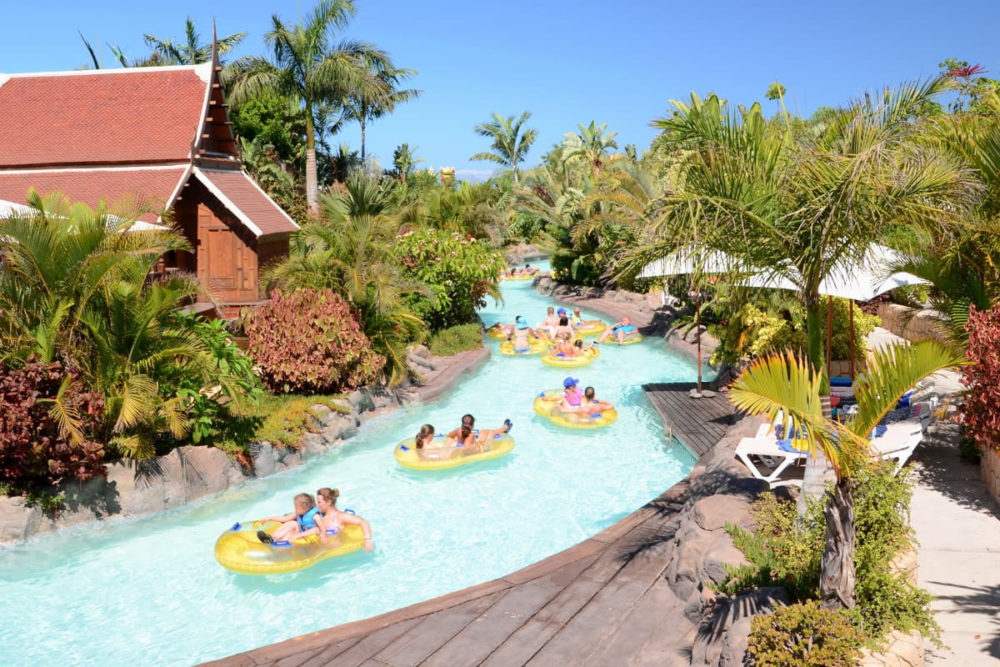 No trip to Tenerife would be complete without a visit to Siam Park. It's a chance to experience the biggest waterpark in Europe, the world's biggest artificial wave and world's best water-themed leisure park. Even if you don't care for chute attractions, you'll appreciate the super-long lazy river. You'll also love the greeting from the sea lions at the entrance. For the most dramatic attraction at Siam Park, don't miss the "Tower of Power," a unique 28-meters-high chute with a huge aquarium of sharks and rays at the end.
Mount Teide National Park
You'll find another "world's largest" at this national park home to Mt. Mount Teide. The Teide Observatory is the world's largest solar observatory and a great place to view the sun or night sky. Mount Teide, a volcano, also has the distinction of being the highest mountain peak in Spain. Go hiking or ride a cable car to the base of the last cone summit for breath-taking views. Avid hikers can get a permit to hike to the top of the summit, but it's quite a long trip so you'll need a backpacking pack for water and other supplies.
Masca Village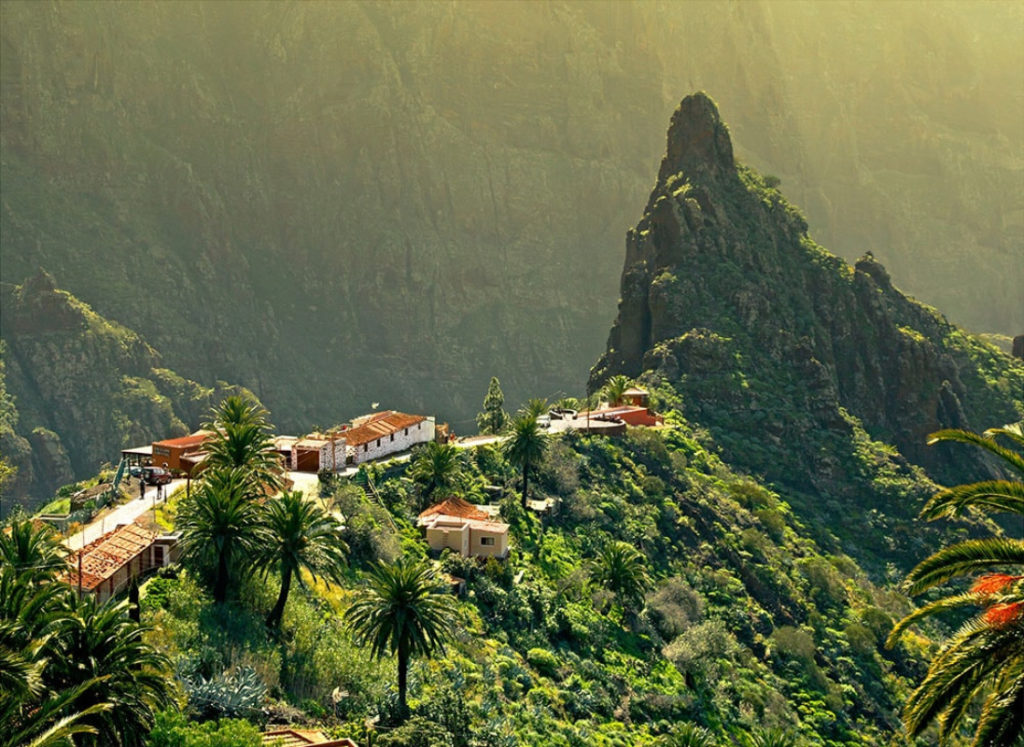 Masca Village is a small, remote area of about 100 residents. Located in the mountains of Teno, the village is only assessable by a very narrow street. Aside from experiencing the culture of the island through the locals, it's a chance to take an exciting and rewarding hike. In fact, it's known as Tenerife's most beautiful hike. The tiny town sits above a gorge and offers a ravine hike.
The four-hour walk passes through the gorge and leads to a beach. The path along the way is lined with fig trees, agaves, Canary date palms, almond trees, and gurgling streams. Once you reach the beach, you can take a boat or kayak to Los Gigantes or return to the starting point by foot on the same path.
Tabaiba Shipwreck
Tabaiba, located in Tenerife's north central area, is the site of a shipwreck that makes for great scuba diving. The ship was actually "wrecked" in 2006 to build marine life and attract divers. The marine life includes octopus, barracudas, and large schools of mackerel. You must have your Open Water to dive or get your Padi at a local diving school.
Santa Cruz de Tenerife Carnival
This festival is to the Canary Islands what Carnival is to South America. It's the second most popular carnival in the world after Rio's Carnival. It's held for a week in February and features festivals, parades, and lots of local culture in the streets of Santa Cruz.
Taganana
The high cliffs of Taganana on Tenerife's most northern point make it the best place to go for a spectacular ocean view. The beaches here are wild and romantic, set among huge rocks, terraced fields, and ancient Canary architecture. Founded in 1501, Taganana is one of the island's oldest cities, and well worth a visit. The area is also great for hiking with paths that lead to the verdant mountains. The beach at San Benijo, with rocks rising out of the water, is popular for taking photos.
About the Author
Nick is an avid backpacker and hiker who is currently exploring Tenerife. Besides his passion for travel and nature, he also enjoys writing and connecting with fellow travelers. He is the founder of Global Backpackers which aims to become a useful resource for backpackers worldwide.