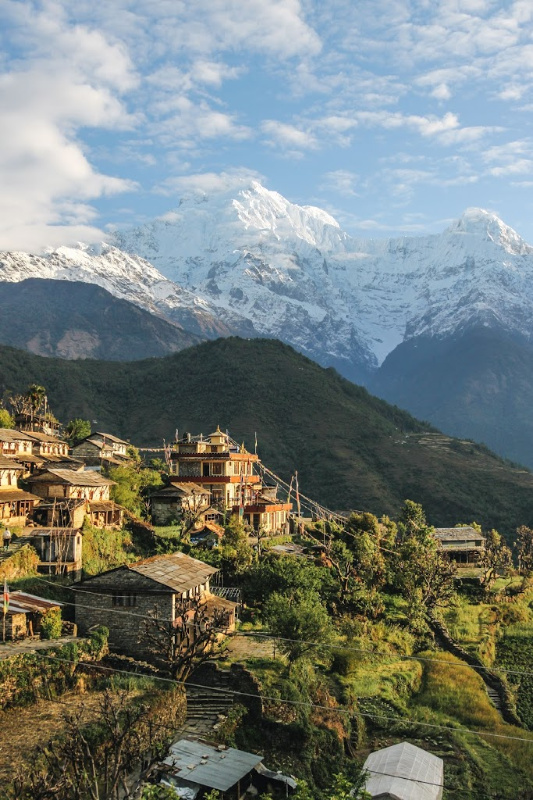 Situated at the foot of the Himalayas, Nepal is every traveler's dream destination. The mystical mountains, natural beauty, diverse culture, and raw wildlife of this country are a treat to the traveler's eyes.
With the growing popularity of backpackers around the world, Nepal is undoubtedly one of the ideal destinations for backpackers with its exotic landscapes and unforgettable sceneries.
Being one of the best naturally gifted countries, it is home to 8 of the ten world's highest peak and boosts some pristine flora and fauna. For adventure-seekers, this country has endless possibilities which can provide you with memorable experiences.
In recent years, Nepal is growing more and more popular amongst backpackers due to its affordable price and safety record. Each year the country sees thousands of tourists flocking mostly for treks or summits. The most popular treks remain the Annapurna Base Camp Trek and the Everest Base Camp trek which account for 40 to 50% of the adventure seekers every year.
Not satisfied yet? Don't worry! This article explains all the necessary details which will help you to understand why backpacking in Nepal can be a bliss.
Let's get into it.
About Nepal
Nepal is a small landlocked country perched between two giants, namely India and China. With just an area of 1,47,181sq km, it is one of the smallest countries in Asia. Despite having a smaller area, the country is rich in terms of natural beauty-boosting some significant peaks in the world and unique flora and fauna. The country is also popular amongst trekkers due to the abundant presence of lush green hills and snow-capped mountains.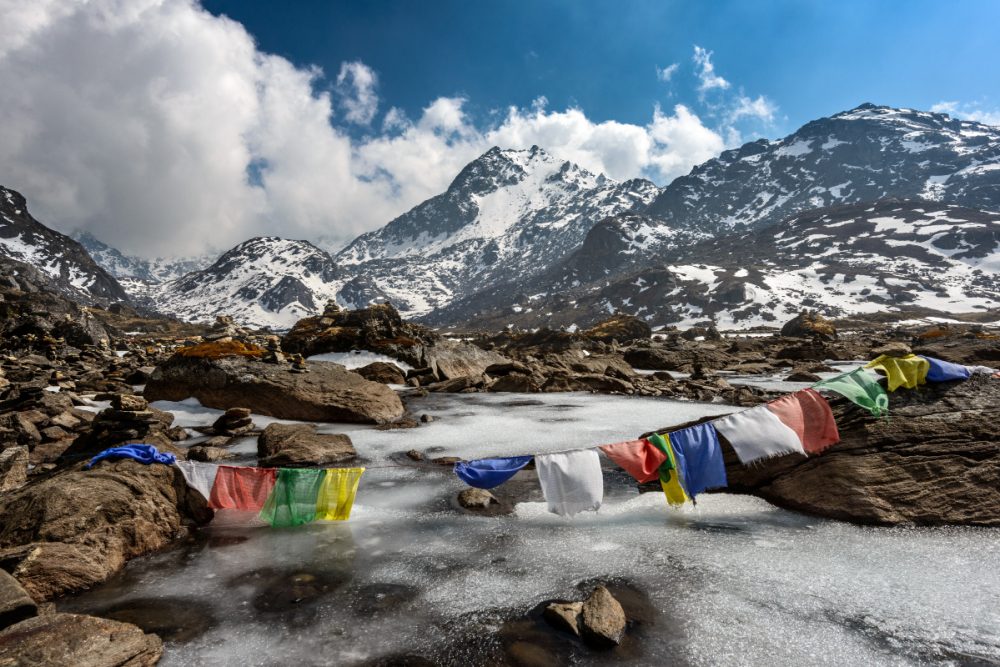 Language In Nepal
The mother tongue of the Nepalese people is Nepali. There are, however, a total of 123 languages spoken due to the diverse culture present here. Most individuals in the city commonly speak English. But, if you happen to travel to remote areas without the help of a guide or porter, communication might be a hassle as English is rarely spoken there.
Thus learning few Nepali sentences might be beneficial such as,
My Name is

– Mero Naam …ho

How much is it? –

Kati ho
How are you?

– Tapailai kasto cha

Help me

– Malai sahayog garnus

Thank you

– Dhanyabad
Currency In Nepal
The NPR or Nepalese Rupee is the most commonly used currency in Nepal, although some places do accept smaller Indian currencies. One US dollars is equal to approximately 110 Nepalese Rupees.
You can also find plenty of ATMs that allow you to withdraw your cash at a charge of 500 Nepalese Rupees per transaction
Entering Nepal / Visa
Acquiring a visa is not complicated in Nepal and you can obtain it upon your arrival at the international airport by filing an application. Indian individuals, however, do not need a visa. The rate of your visa depends upon the duration of your stay.
| | |
| --- | --- |
| 15-days Visa | $ 15 |
| 30-days Visa | $ 40 |
| 90-days Visa | $ 100 |
For more detailed information, you can visit Nepal's Department of Immigration's website.
Transportation In Nepal
Transportation in Nepal is quite cheap, mainly if you use the local buses for traveling. Buses and micro-buses are the dominant public transport here. Despite the roads not being in their best conditions, the vehicles travel even to remote places.
The buses are usually of two types, classified as 'Tourist' and 'Local'. The tourist buses are relatively more comfortable whereas many people cram inside the local buses. Finding a seat in the local buses can be quite a hassle. The remote places typically only have the facilities of the local buses unless you are willing to spend money on private vehicles or jeeps.
There is also an extensive flight network and local airlines operating domestic flights. So if you want to avoid the hassle of a long journey and the dangerously winding roads, you can always catch a flight. Prices of domestic flights usually start from 80$ and onwards.
Accommodation in Nepal
You can find various accommodations in Nepal, ranging from 5-star deluxe hotels to local guesthouses. The capital city features some luxurious hotels as well as cheaper lodges. If you're a traveler in a budget, it is better to accommodate yourself in more affordable rooms. You can find them generally around the areas of Thamel and Basantapur.
As you travel higher to remote areas, the accommodations start getting more and more basic with shared rooms and bathroom. Plus if you happen to be backpacking in Nepal during the peak seasons, make sure to book the rooms beforehand or else it will be challenging to find shelter.
Also, It's better to carry sleeping bags or tents if you're traveling to higher-altitude areas as you will find very light settlements there. Despite all these challenges, the warm hospitality of the locals is sure to make your trip much more vibrant!
Food in Nepal
Nepal offers a wide variety of cuisine when it comes to food. In the major cities, you get all the continental and western dishes as per your liking. The remote areas only offer limited selection with the Nepali Thakali Set being the primary choice.
The Thakali set consists of rice, lentils (dal), meat(according to your preference), spinach, curd, and a variety of pickles. One full plate in enough to keep you energized for the day.
You can also find some spicy Newari cuisines such as "Choila", "Sekuwa", "Bara" etc. One such place which provides these authentic Newari foods is Lahana situated in the outskirts of Kirtipur.
Mo:Mo is another dish that is widely popular in Nepal. It is a dumpling filled with buff or chicken minced meat. You can find the dish in almost all the restaurants and even roadside stalls, which provide them for a lower price. But, it is best to avoid street food if possible, to prevent the chance of catching water or foodborne diseases.
Best Time To Visit Nepal
Nepal witnesses four different seasons in a year. However, the weather is quite unpredictable due to the proximity of the Himalayan range. The lower areas of the country have hot and humid weather whereas the valleys and hills have tropical weather. The mountain regions face cold climate throughout the year with temperatures getting warmer only at daytime during the summer seasons.
December-February: This marks the winter season in Nepal where the mountain region observes heavy snowfall and cold climate. It is best to avoid this season if you're opting for treks.
March-May: March denotes the start of the spring seasons and possibly the best time for backpacking in Nepal. The flowers are blooming, the skies are clear, and the scenery is rewarding.
June- August: Since it is the start of the monsoon season, you can expect heavy rainfalls, mist, and snowfalls. The monsoon season is also not the best for travelers as the roads frequently become a victim of a landslide, disrupting travel.
September-November: This embarks the autumn season and is another perfect time for visiting Nepal. The autumn season is ideal with the climate not too chilly, and the fantastic snow-capped mountains coming into view.
Budget For Backpacking in Nepal
Nepal is a very affordable country when it comes to backpacking. It requires a decent amount of a budget that any regular backpackers can easily manage. Basically, it all comes down to personal preference when it comes to allocating the money for spending on the trip.
If you are traveling to Nepal on a tight-budget then allocating 20-25 USD or 3000 NPR for a day will be more than enough with all the food and accommodation.
If you prioritize comfort over budget then allocating approximately 30-35 USD or 4000-5000 NPR per day will grant you a comfortable stay.
However, if you want to complete the journey in absolute luxury, then allocating 45-50 USD per day or 5000-7000 NPR is the right option.
Top Activities To Do In Nepal
Trekking In Nepal
Blessed with magnificent mountains trails, trekking in Nepal is the most popular activity amongst thousands of tourists flocking every year in the country. The unique landscapes, abundant flora and fauna, and unique cultures make it one of the most popular trekking destinations in the world.
Some of the famous treks in Nepal namely are
1. Annapurna Base Camp Trek
The Annapurna Base Camp trek takes you through some fantastic landscapes and sceneries of the Annapurna region. The trail also blesses you with the incredible views of Annapurna South.
The Annapurna Base Camp trek is the most popular trek in Nepal, attracting about 50% of tourists every year. The route provides fantastic views of the major peaks, namely Dhaulagiri, Machhapuchhre, and Annapurna. Additionally, you also get to witness MBC (Machhapuchhre Base Camp) along the route.
The ABC trek is a definite recommendation for individuals who are looking forward to backpacking in Nepal!
Trip Details:
Duration: 10 Days
Difficulty: Moderate
Best Season: March-May and October-November
Highest Elevation: 4320 meters
2. Annapurna Circuit Trek
It is one of the most famous trekking circuits of the world. This 23-day circuit trek takes you through the diverse settlements and undisturbed flora and fauna of the Annapurna conservation area.
The main highlight of this circuit is the Thorung La Pass which sits at an altitude of 5416 m. The trail also offers you fantastic views of the Kali Gandaki gorge, Tilicho Lake, Rupse waterfall and the desolate terrains of Manang and Mustang.
Along the trip, you can observe the unique Tibetan inspired lifestyle in the deserted lands of Manang-Mustang with some ancient monasteries soaked in rich historical cultures.
Trip Details:
Duration: 23 Days
Difficulty: Strenuous
Best Season: March-May and October-November
Highest Elevation: 5416 meters
3. Everest Base Camp Trek
The Everest Base Camp Trek is one of the fascinating treks of the world where you get the opportunity to witness the world's highest mountain up close.
Passing through the magnificent settlements of Namche Bazaar, Tengboche, Lobuche and finally into the base camp, you get to witness the fantastic mountain views, lush flora and fauna, and unique sherpa traditions all along the way.
Despite its marvelous beauty, the trek also quite challenging and deserves a lot of physical endurance. Also, the ever-changing weather of the Himalayas can pose an issue. Thus you need to inspect the weather and the temperature before opting for the trek.
Trip Details:
Duration: 12 Days
Difficulty: Moderate
Best Season: March-May and October-November
Highest Elevation: 5600 meters
You may also like to Read: 5 Important Tips While Doing The Everest Base Camp Trek
Bungee Jumping
Bungee jumping is one of the thrilling adventures in Nepal which attracts thousands of individuals every year. Primarily, there are two bungee jumping destinations. One is in Bhotekoshi, and another one lies in Pokhara.
Bungee is definitely not for the faint-hearted ones! The drop is an astounding 160m drop in Bhotekoshi. The adrenaline rush is an incredible one as you freefall for a few seconds till you touch the surface of Bhotekoshi and bounce back!
Though not as extreme as Bhotekoshi, Pokhara has an 80m drop from a tower directly below. The location of this Bungee jump also provides magnificent views of the surrounding Himalayas in all its glory!

Rafting
Rafting is another adventure sport you can opt for when you are backpacking in Nepal. The wild flowing rivers guarantee to provide you with a complete adrenaline experience. The swift ever-flowing rivers make Nepal an ideal destination for rafting. Many tourists even visit Nepal for the sole purpose of rafting.
You don't need to worry though, as you will have all the required safety gear and will undergo training with the help of professionals before you start rafting. If you are in Nepal with some leisure time, then I definitely would recommend rafting as it is truly a once in a lifetime experience. Also, the satisfaction you get after completing your first rafting is a truly overwhelming experience.
Fishing
Fishing in Nepal is quite a rewarding experience! If you're passionate about fishing, then take some time and indulge yourself fishing in the waters of Nepal.
Nepal is home to some significant fish breeds such as Silver carp, Bighead carp, Grass carp, Rohu, Catla, Mrigal, Brown trout, and Rainbow trout. Amongst all kinds of unique fishes, the most popular one found in Nepal is the "The Himalayan Mahseer".
There are plenty of locations that you can fish on. The most well-famed ones are Trishuli, Marshyangdi, Betrawati, Indrawati, Karnali, and Koshi rivers.
Sportfishing is quite popular in Nepal, and due to the diverse topology, it offers countless opportunities to catch some unique breeds of fish.
Paragliding
Imagine flying along the lush green mountains with the glittering lake down below you and the snow-capped mountains surrounding you. This is the closest description of what paragliding experience feels in Nepal.
Pokhara, the jewel of Nepal provides surreal paragliding experience at a quite reasonable price. The price of paragliding depends on how long you plan to stay in the air. Some operators even do an hour-long gliding, taking you closer to the mountain views.
Paragliding commences from the top of a famous hill named as 'Sarangkot' and is an average 20-30 mins glide down to the banks of Phewa lake. The views are majestic during the glide with fantastic views of Machhapuchhre, Annapurna, Phewa lake, and the Pokhara valley.
So next time you're in Nepal sign up for paragliding and experience the magical journey of soaring through the sky in absolute bliss.
Jungle Safari
Jungle safari is a perfect opportunity for adventure enthusiasts looking to explore the wild. Local guides conduct jungle safari in Chitwan National Park, 200 km away from the capital and home to countless endangered species and plants.
The jungle safari lets you witness some of the rare species like One-horned rhino, Bengal tiger and sloth bears. You do not need to fear as you will be under the guidance of an expert guide throughout the safari.
Jeep safaris and Elephant safaris are also available where you get to witness the pristine and abundant flora and fauna of the Chitwan region up close.
Peak Climbing
Nepal is home to 8 of the ten world's highest peaks. So naturally, many adventure seekers come with a purpose to climb the mountains. The most common summited peak is Mt Everest, which sees about 700-800 summiteers every year depending on the weather conditions. The other less familiar attempted peaks are the Lobuche East, Island peak, Mera peak, Dhampus peak, etc.
If you're familiar with mountaineering equipment and have some experience in moderate climbs, you can opt for peak climbs in Nepal. Just remember, these are high-altitude and strenuous climbs, so you need to be in fantastic physical shape and sound to perform them successfully.
Significant Places To Visit While Backpacking In Nepal
Kathmandu Valley
With the mountains in the backdrop and densely populated settlements, Kathmandu is the capital of Nepal. Majority of tourists only use Kathmandu as a hub for a trek in the Himalayas, but it is worth spending a few days and observing the beauty of the capital.
Kathmandu is home to many ancient monuments and religious shrines built centuries ago. The most popular areas around Kathmandu are the Durbar square, Thamel, Pashupatinath Temple, Swayambhunath Temple, and Boudhanath Stupa
Pashupatinath remains the most famous shrine with thousands of devotees flocking every year to offer their prayers to Lord Shiva. Swayambhunath is mostly popular amongst Buddhist people. Also, since the temple sits at a mountain top, you can witness fantastic views of the valley.
While in Kathmandu, you can also visit the neighboring valleys of Lalitpur and Bhaktapur which are also quite popular amongst tourists for its ancient monuments, holy shrines, and delicious Newari cuisine.
Everest Region
Everest Region is home to the world's highest mountains, and it's gigantic neighbors. This region can take you closest to the world's highest point at 8848m. The area also features some impressive natural sceneries and jaw-dropping mountain views.
The Everest region witnesses many travelers during the year opting for summits or treks. Since it is at a relatively high altitude, many individuals fall prey to altitude sickness and other related complications. Thus having proper physical endurance is a must.
Alternatively, you can also take a mountain flight or helicopter tour to the base of the world's highest summit if you want to avoid the hassle of long treks.
Pokhara
Pokhara, also known as the city of Lakes is a majestic valley situated at the foot of the massive Annapurna mountain region. The city is also home to two beautiful lakes, namely Phewa and Begnas.
Pokhara is a gateway for tourists trekking to the Annapurna region. The city offers fantastic upfront views of the gigantic mountains. While Kathmandu was busy and bustling, Pokhara gives you a much calmer and relaxed vibe.
You can spend your time in Pokhara by going boating/kayaking in any of the lakes or opting for adventure sports such as bungee jumping, paragliding and ultra-light flight.
Annapurna Region
The Annapurna Region is one of the most popular destinations for backpacking in Nepal, and it rightfully deserves to be so! The fantastic views of the glazing mountains, deserted landscapes. ever-flowing streams and untouched flora and fauna guarantees to leave every traveler awe-struck.
While in Annapurna region, you can take up the ABC(Annapurna Base Camp) trek, the famed Annapurna circuit or trek along the deserted mountains of Manang-Mustang. Despite what you opt for, the Annapurna area blesses you with rewarding views and unforgettable experiences.
Since the Annapurna region also features the Annapurna Conservation Area, you will need a permit for the treks. Don't worry, though, as the procedure is relatively affordable and straightforward.
Chitwan
Chitwan is an ideal place for wildlife lovers. Surrounded by abundant species of trees and endangered species, you get to immerse yourself in the beauty of the pristine wildlife.
Chitwan is famous for the National Park which contains many endangered species and unique species of trees. Majority of tourists visit Chitwan to catch a glimpse of these flora and fauna. While in Chitwan, you can also observe the unique Tharu culture that has been residing there for centuries.
Other activities such as boating in Rapti river, jungle walks, and jeep safaris are sure to give you a memorable experience during your visit!
Lumbini
Lumbini is the birthplace of the worshipped and well-loved Gautam Buddha. It is one of the sole reasons which attracts many pilgrims from around the world every year. UNESCO lists it one of the world heritage sites due to its ancient and rich history.
The main highlight of Lumbini is the Maya Devi Temple, which is the birthplace of Gautam Buddha. The temple is a global hub for peace and prosperity. The architecture and carvings around the ancient temple is also unique and elegant. If you have a few leisure days out of your busy travel schedule, then this place is a must-visit!
What To Pack For Backpacking in Nepal?
Backpack
Whether you're walking around the valley or going on treks, a backpack is always a must. It can help you carry your goods with absolute comfort. You require different types of backpacks for various purposes. So be sure to choose the right backpack for the activities you are opting for.
First-Aid Kit
Medical emergencies are usually unpredictable. From a small sprain to a major headache, a lot of things can create a nuisance when we are traveling. So it is best to carry a first-aid kit with essential medicines for unexpected circumstances. These necessary medications can be painkillers, sprain ointments, digestive tablets, etc.
Hiking Shoes
A good pair of hiking shoes can be handy in numerous purposes despite hiking. You can even wear them on regular walks. Due to their robust build, they are quite resistant to abrasion and can keep you comfortable throughout your journey.
Rain Jacket
If you happen to visit Nepal during the rainy months, a rain jacket is a must as you encounter frequent showers. Though rare, rain can sometimes occur in the spring and winter also, so carrying a rain jacket might be beneficial. Plus they are lightweight and affordable, so carrying one might not be a bad idea after all!
Travel Insurance
Emergencies during travel though rare, are imminent. So always insure yourself before the journey to be on the safe side. Medical emergencies, thefts, or other unforeseen emergencies can disrupt your travel. But with proper travel insurance, you can lift the weight off your shoulders!
Water Bottle
Water found in the streets might not be as healthy in Nepal, so it is better to carry personal purified drinking water. Bad drinking water can lead to water-borne diseases which can force you to cut your trip short. You wouldn't want that, would you? So next time you're visiting Nepal, carry a high-quality water bottle to protect yourself against unhygienic waters.
Sleeping Bag
If you're looking to hike to some remote places, accommodation always might not be available. So carry a sleeping bag just in case. They are lightweight, durable, and will protect you from the chilly Himalayan climate.
Final Verdict
Backpacking in Nepal can be an electrifying experience if you're a thrilling adventure seeker. The magnificent scenery, warm hospitality, and adventurous activities can give you a pocket full of memories that you will cherish for your lifetime.
Whether you're considering summit peaks, strenuous and short treks or just a simple tour along the renown valleys, the sublime beauty of Nepal will provide you with an unforgettable experience! So what are you waiting for? Pack your bags for the next adventure at the bed of the Himalayas.