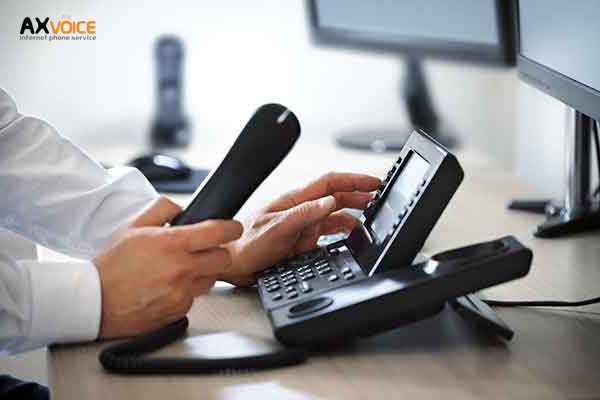 As your home-based business starts to expand, you would want to switch to a reliable communication solution for smooth business operations. Taking calls on a landline can get very expensive, especially if your customers are increasing or you have plans of expanding your business. You must consider using an internet phone service to not just reduce the expenses but to manage your business more effectively. VoIP technology can be extremely useful when you are on a budget. It can easily integrate with your existing broadband connection, too. You don't need any additional equipment; just the hardware which is usually provided by the VoIP service.
Why switching to VoIP is a better choice?
Consider the benefits of switching from landline to an internet phone service below if you haven't yet given VoIP a thought.
It's less expensive: By just paying a monthly price, you can make calls to USA or Canada or any other country your provider supports. Some providers also offer unlimited calling plans.
Affordable long distance and international calling: It can get really expensive if you have to frequently make long distance or international calls from your landline service. Switching to VoIP actually makes them affordable. A majority of the providers are offering lower monthly and per-minute international calling plans. Depending on what your calling needs are, you can pick a plan and reduce your bill drastically.
Free calling features: The best thing about a VoIP service is it's free calling features which traditional phones don't offer, of course. Call forwarding, call waiting, music on hold, conference calling, caller ID, and voicemail are some of the extra features you get when you switch to VoIP.
Mobility: VoIP service is highly mobile. You can make calls from anywhere in the world as long as you have the internet. Softphone apps let you use the service from your smartphone, too. So, even if you are traveling, you will be connected with your team.
Now that you know the benefits, you just have to find the right service to switch. Honestly, it can be very time consuming to search for internet phone service providers and then narrow down the best residential VoIP providers among them. If you want the most affordable service, then we recommend Axvoice. That's not the only reason why it's our recommended choice. Read the review below to understand what this VoIP provider is offering.
Introduction to Axvoice
If you just want to give Axvoice a try, you will be glad to know that there are no contracts involved. And if somehow you are not satisfied by their services, they are already offering a money back guarantee to compensate that.
With Axvoice you will get 30+ calling features regardless of the plan you choose and there are no strings attached. Once you subscribe to Axvoice, they ship free hardware to your address, so all that you are doing is prepaying for the first month, plus some standard shipping free. The hardware is a plug-and-play device which you can start using out of the box right away. All you have to do is connect the Axvoice phone adapter to your internet device and you can start making phone calls. They also have the Bring Your Own Device (BYOD) support for those who already have hardware and wish to use the same. The activation is completely free of charge.
Axvoice is giving its users the liberty to get a phone number originating anywhere in the United States or Canada and you don't necessarily have to be living in that area. Apart from that, you can also get a virtual number and add it to your account for $3.99 a month. Toll-free numbers are also available with complete coverage within USA and Canada.
Pricing
Axvoice isn't known as one of the best residential VoIP providers for no reason. You can make unlimited calls across USA and Canada for as low as $5.99 a month. You will have the following options to choose from, depending on your calling needs:
| | | |
| --- | --- | --- |
| USA/Canada Unlimited | USA/Canada 200 | Pay as you Go |
| $8.25 per month | $5.99 per month | $4.99 per month |
| Unlimited calls to anywhere in the USA and Canada | 200 minutes to anywhere in the USA and Canada | Call at 1.5c per minute to anywhere in the USA and Canada |
What are the prerequisites of getting started?
It's extremely simple to set up and use Axvoice. You will simply need a high-speed internet connection, an Ethernet port for connecting the Axvoice phone adapter, a phone and you can start using this internet phone service.
Softphone Support
If you are mostly on the road—no worries—you can manage your business operations on the go, too, with the softphone support. It means you can download any softphone app you want, configure Axvoice VoIP service on it and make and receive calls from your smartphone. Most of these softphone apps are available for free download.
Features

Here is the list of features you will be getting with Axvoice:
Caller ID Blocking: If you would like to keep your phone number discrete, you can block your caller ID.
3-way calling: Whenever you have to conduct a meeting, it's easy to add a new participant to an ongoing call. If you would like to drop a call, that's possible, too, and for that, you don't really have to disconnect the call with the original party.
Music on hold: When your callers are on the line, you can keep them engaged by playing music.
E-911 Support: As you dial 911 from your phone, it will automatically inform the authorities that you need help.
Call waiting: You can switch from one call to another without hanging up on either.
Do not disturb: When you are on a break or not ready to take calls yet, with the DND mode, you redirect all the incoming calls to voicemail.
Blacklist: You can block any number you want.
Caller ID: All incoming calls can be received with a caller ID. That way, you will always know who is calling.
Distinctive Ring: You can set up different ringtones for different numbers to recognize who is calling.
Call Forwarding: You can direct any call from to a specific number in USA or Canada
Find me/ follow me: With find me, you will have the ability to receive calls at any location. With follow me, you can enable incoming phones to be received at different locations and on different phones.
Failover: If your ISP is down or there is a power outage, you won't have to shut down your business operations. With failover feature, your calls will be forwarded to the number you have specified.
Call Logs: Through call logs, you will get to view all the incoming, outgoing, and missed calls in real time.
Free-in network calling: All calls to other Axvoice numbers are free. You can make unlimited calls.
Enhanced Voicemail: You can easily check your voicemail by using the online account provided.
You can port your number
Axvoice lets you keep your existing number if you want with number portability. This makes things so much convenient for the people who are switching internet phone service provider and don't want to change the number.
Online call management system
Axvoice's online account management system has eliminated the need for you to remember shortcodes to manage your VoIP. It can be hard to remember all the list of codes. This can get frustrating when you are taking one call after another. Productivity suffers when you have to check your sticky notes to find the code you need.
There is a dashboard that lets you manage everything online. Just click on the buttons to perform the desired function. You will be able to view call logs, make calls, send messages, and make the most out of the 30+ calling features.
Customer Support
It's extremely important to consider the customer support of a VoIP provider. You need to know if timely assistance will be available or not otherwise, your business will suffer. Axvoice is offering email support to its users. They don't have the live chat support yet though but the email tickets are responded to pretty fast, too. And for that reason, we haven't heard of any user complaint regarding slow or sluggish customer support. Whether you have a technical problem or need assistance with any of the VoIP features, you will find a representative from their support team to help you right away.
You shouldn't just be purchasing a VoIP service without analyzing its good and bad. Axvoice has mostly everything commendable to offer to its users but there are minor drawbacks which we would like to shed some light upon.
Pros
Regardless of the plan you choose, you will get 30+ calling features; both basic and advanced.
They have the most affordable pricing plans. If you are just a start-up and you can't afford to switch to an internet phone service, you might still find Axvoice affordable. Their Pay as you go plan is extremely affordable.
When your internet is down or there is a power outage, you can use the failover feature to keep on taking calls. This won't affect your business.
The online account is simple to use. You will get a hang of it in no time.
Cons
They don't have live chat support
Some users have complained about their 15-day money back guarantee. It's a pain to get a refund.
Conclusion
Overall, Axvoice is a great internet phone service, and you can count on its amazing calling features to run your business smoothly. It's very affordable too, which is why lots of small businesses are already using its VoIP service.