Aidells® Sausage Spanish Rice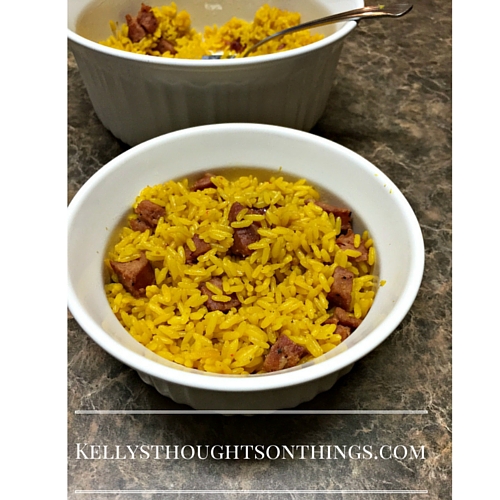 I've been working a lot of overtime lately so coming home and making dinner is not one of my favorite things to do but my family needs to eat. Last week we ate out way too much, and my family plus my wallet is exhausted of fast food. This week I'm going to make an effort to cook as many days as I can. I'm starting out with one of my favorite easy but yummy recipes with rice and sausage. My daughter wants to help make it, so I'm going to teach her too. She is going on 12 yrs old and loves to cook so the recipe below is the perfect dish for her to learn.
On my way home I went to Publix grocery store to pick up the ingredients I needed. I know Publix has Aidells® sausage, and I wanted the Cajan Style Andouille because it is jammed pack with flavors that will add to my dish. A package of sausage usually sells for $5.99 but starting on 3/17 – 3/25 there is In-store 2 for $10 promotion available. I plan to stock up on a couple of my favorite flavors.
The recipes are endless but here is our favorite for dinner:
Spanish Rice
2 tbsp. Olive oil
1 medium tomato, finely chopped, (about ½ cup)
1 packet Sazon
1 packet Chicken Bouillon
1 cup Extra long Grain Rice
3 links of Aidells® sausage
Directions
Bring 2 cups water to a boil. Turn off heat; set aside.
Heat oil in a medium saucepan over medium heat. Stir in tomatoes, chicken bouillon, and sazón; cook until warmed through
Pour rice into a pot; stir to coat. Cook rice 1 minute. Pour in hot water; stir to combine. Bring rice mixture to a boil. Lower heat to medium-low and simmer covered until rice is tender and water is absorbed completely, about 25 minutes.
While waiting for the rice to cook, Cut the Aidells® sausage into small rounds and sauté for 8- 10 minutes.
Mix the Aidells® sausage with the cooked rice.
Fluff rice with a fork and let it sit, covered, for 5 minutes before serving.
Now you can pick other flavors of Aidells® sausage, please check out the product list below. We love them all!
Product List:
Aidells® Cajun Style Andouille
Aidells® Chicken & Apple (also available in minis)
Aidells® Italian Style
Aidells® Pineapple Bacon (also available in minis)
Aidells® Spicy Mango & Jalapeno
Aidells® Roasted Garlic & Gruyere Cheese Smoked Sausage
Organic Links:
Aidells® Organic Spinach & Feta
Aidells® Organic Chicken & Apple
Product Information:
Gluten-Free
No Nitrites
No Added Hormones
All sausages are hand-crafted with real, hand-picked ingredients in small batches with care
Fully cooked and ready in just 8-10 minutes: sauté or grill over medium heat or bake at 375
Let us know what you like to cook with Aidells® unique flavored sausages- leave a comment!
This is a sponsored conversation written by me on behalf of Aidells®. The opinions and text are all mine.