By all of the pumpkin decorations in the stores and the smell of pumpkin spice in the air, you can tell that Halloween is coming up. How are you planning to enjoy Halloween this year? When you think about adding charm to Halloween, I bet you are wondering how is that possible. I have a couple of ideas to help you add some charm to your next Halloween party.
Adding Charm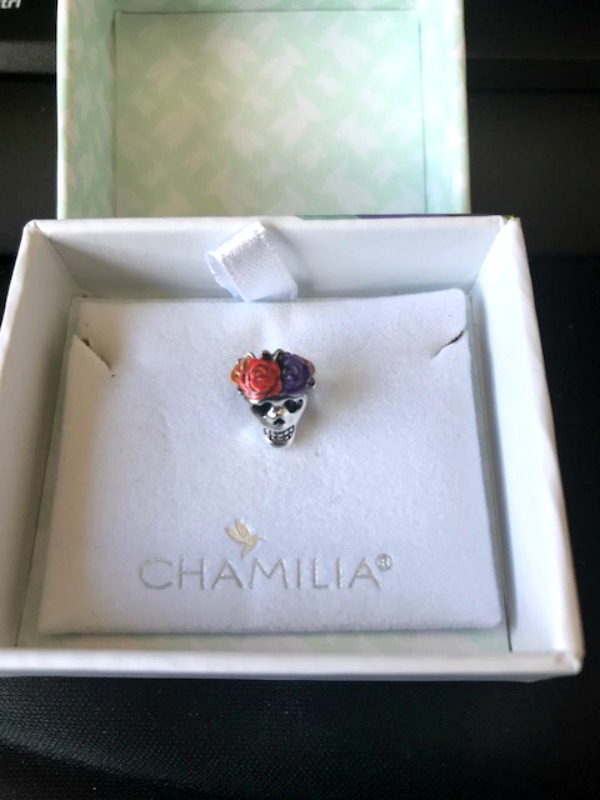 One way to add charm is by wearing some festive jewelry. Most people like to dress up, but when you dress up, do you take into consideration your accessories as well? It is easy to add a necklace, earrings, or a few bracelets to your entire costume. To take it up a notch, why not add some Halloween jewelry.
In true holiday spirit, Chamilia (www.chamilia.com), a Swarovski Company, is launching a new "Sugar Skull Charm" (MSRP $35 U.S.) in honor of "Day of the Dead" celebrations this year (October 31-November 2). The sterling silver charm features light oxidation. This charm also has colorful enamel detailing. It can be paired with any Chamilia bracelet or necklace.
The entire Chamilia line is made from sterling silver or 14 karat gold. The Chamilia line features genuine Swarovski Crystals and Swarovski Zirconia. The brand follows strict Swarovski Group guidelines for quality and aesthetic standards.
Adding the Sugar Skull Charm to your costume attire is sure to have people looking twice at your new accessory!
Other Ways To Add Charm
There are others ways to add some charm to your Halloween party besides charming jewelry. Another way is to add some spooky charm to your Halloween decor. No matter if it is inside, outside, or both. Have fun exploring new ways you can get your neighbors to look at your spooky, but yet oh so charming yard. You can add a witch with a pearl necklace or a scarecrow with sparkly crystal jewelry.
In addition, you can always make food that looks ghoulish, but is just a delicious bite in your mouth with fun and surprising things hidden in the inside of the dish.
What are your plans for Halloween? Do you know what you will be this year?
Connect with Chamilia: Site | Facebook | Instagram | Pinterest