Quesadillas are one of my favorite foods to eat. You can easily change the ingredients to get any flavor you want. You can make an all cheese quesadilla or all vegetable quesadilla. The possibilities are endless. Have you ever wanted to make quesadillas faster without using a skillet? I would like to introduce to you Toastilla.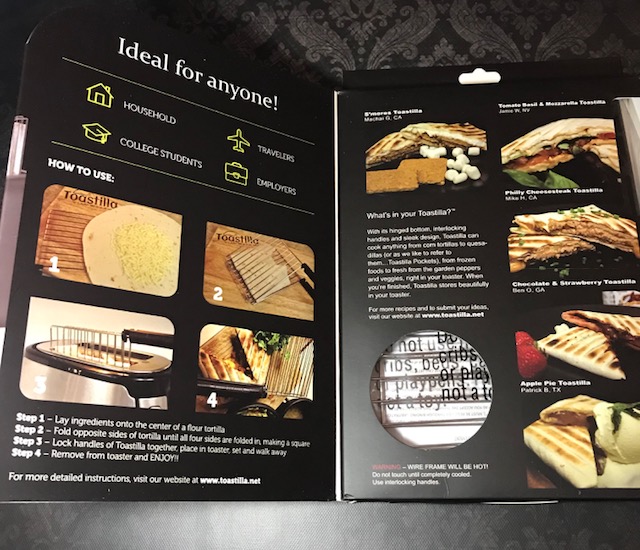 Cooking with Toastilla
Toastilla is a new way to cook quesadillas by utilization of a toaster. Toastilla was created to help people make healthier meals and snacks. When you use the Toastilla, you are eliminating the excess fat that you would normally get from cooking it in the skillet with oil or butter. To use the Toastilla, you get a flour or corn tortilla, put your ingredients in the middle. Next, you fold the sides until they are overlapping and then fold again until you form a square pocket. Then you put the tortilla in the Toastilla, making sure to interlock the handles to hold the tortilla firm, but not too tight. Then comes the easy part. You put the toaster on the highest heat, put the Toastilla in the toaster until it is time to take it out. After the Toastilla is cooled down, you can enjoy your quesadilla.
I really like how simple it is to use this product. Every night can be taco night! My son would love that. No longer is the toaster just for toast, but now you can cook quesadillas in it. The Toastilla provides so many options for you. You can change up the ingredients, you can place a tortilla in the toaster and make a tostada, filled pitas, vegetables. While you can use a dishwasher, to preserve the life of the Toastilla, hand washing is recommended.
Do you have a foodie or a busy mom that you cannot figure out what gift to get them? Try the Toastilla. Not only, can you cook so many wonderful dishes, but you get to help someone make healthier food choices in their life. The Toastilla comes in four handles colors (red, black, silver, and blue). Give the gift of endless possibilities.
Connect with Toastilla: Site | Facebook | Twitter | Instagram | Pinterest