Pastel colors are refreshing, rejuvenating, and add a touch of magic to the interiors.
Pastel interiors and home decors lighten up the mood and create a calming ambiance. Pastel exemplifies a revival of the Nordic and vintage style of interior décor.
The soft and muted color palette creates a sober, cool environment and brightens the room.
From pots to décor bottles to jars, there are so many DIY décor ideas with pastel colors that add vibrance to the space.
With the help of the internet, you can view tutorials and find raw materials online to turn waste bottles, jars, or anything else into pastel-shaded home decors.
Give your home a minimalistic yet calming and spacious look with these top trending DIY pastel decors.
1. Pastel-colored Painted Jars
Turn your ordinary glass jars into beautiful and classy home decors by painting them in pastel shades.
The use of different colored chalk paint in combination with white creates the perfect pastel shade.
These are inexpensive and allow you to create decors to brighten up the living space easily.
You can decorate the jars with either earthly shades of dry grass or white flowers to create a beautiful and sophisticated impact on the décor.
Mason jars can be painted in different types of pastel colors. You can also experiment with your creativity by drawing cute faces on the jars.
2. Pastel Shade Macrame Hanging
Wall hangings made from macrame can look stunning and give the interiors a Bohemian vibe. Macrame ropes are easily available in different shades.
Purchase pastel-shaded macrame ropes and make plant hangings or different types of macrame wall decors for a unique look.
Adding a macrame hanging to the living room enhances the vibe of the place.
There are tons of online tutorials to get you started with creating macrame decor.
3. DIY Letterboard
Letter Boards are versatile, and you can use a combination of any letters to put up any information.
Design stylish letter boards in pastel shades and put up your favorite quote or a motivational one-liner to feel inspired.
All you need is a letter board along with spray or chalk paints to create pastel-colored décor. Any dark color mixed with white turns into a pastel shade.
It gives you the flexibility to create many pastel shades of blue, yellow, purple, pink, green, etc.
4. Pastel Stools
It is quite easy and convenient to transform an ordinary wooden stool into a pastel-shaded one.
Using pastel colors is a great way to transform and refurbish or redesign old furniture like stools, tables, etc.
Use a combination of two to three pastel colors to give the stool an edgy and calming look.
The newly colored pastel stool will be a great addition to the living room.
You can also decorate flower vases or plants or any other décor item on the stool after it is re-colored.
5. Decorative Bottles
What if instead of throwing away the empty wine and beer bottles, you could turn them into beautiful home decor items?
There are pastel-shaded designer decoupage papers that can be used for transforming a plain bottle into a DIY interior décor item.
The papers are easily available at a very low price and can be pasted on the bottle.
Use a layer of white chalk paint, let it dry, apply water-based glue, and paste the pastel-shaded or designed decoupage paper on the bottles.
And voila! You are ready with a new décor item for the room. Additionally, you could tie brown jute rope around the neck to give it a vintage feel.
6. Pastel Painted Plant Potters
Mini plant potters in pastel shades are one of the cutest things for DIY décor.
You can easily color small planters in pastel shades; however, it becomes a little difficult to uniformly paint with larger planters.
The soft pastel colors lighten up the room, and the living plants add vibrancy to the room.
It is quite easy to transform planters into pastel-colored decor items by painting with either chalk paint or pastel-shaded spray paint.
7. Transform Old Cabinets with Pastel Shades
Instead of dumping or throwing away your old cabinets, transform them into calming and vibrant pieces of furniture.
Use pastel colors to paint the cabinet and apply two to three coats of the color to bring the color out.
Regular wooden cabinets transformed into pastel-colored cabinets in yellow, pink, or blue shades completely change the room's vibe and look.
Spice up the décor by adding monochrome décor pieces on top of the cabinet.
8. Tassel Garland
The pastel-colored tassel garland is a great piece to add when organizing a party or even as regular home décor.
The pastel combination of rainbow colors is a great idea to decorate a bohemian space. It is a great addition to your kid's room or nursery.
The best material to create a garland is jute and yarn of pastel colors or premium tissue papers.
You could layer multiple garlands with different pastel shades to add a burst of colors to any room.
Use a jute rope to tie the tassels together for a more natural and rustic look.
9. Pastel Lamp Shade
If you are bored with your regular lamp shade, it is time to use your creativity and turn it into an eccentric one by using pastel colors.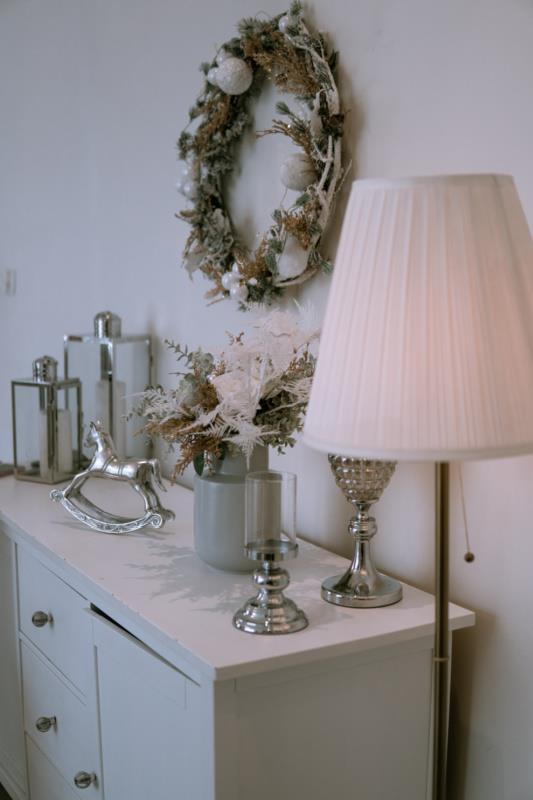 The best way to do this is to paste pastel-hued decoupage or tissue paper on the lampshade to create a subtle effect.
Alternatively, you can decorate the lampshade with pastel-shaded flowers and create a unique décor piece.
A pastel lamp shade adds volume and an element of sophistication to the overall interior décor. The ideas for DIY décor items using pastel colors are limitless.
Using your creativity and artistic ideas, you can create all kinds of decor to spruce up your room, from pastel shades resin art to wall painting to pastel paintings.
Make sure that you do not combine dark and pastel shades as it dims the influence of the pastel decors.
The combination of monochrome colors and furniture with pastel interior decors lends a rich, vintage style to any room.
Pastels are great for creating a friendly, homely, and calming atmosphere.