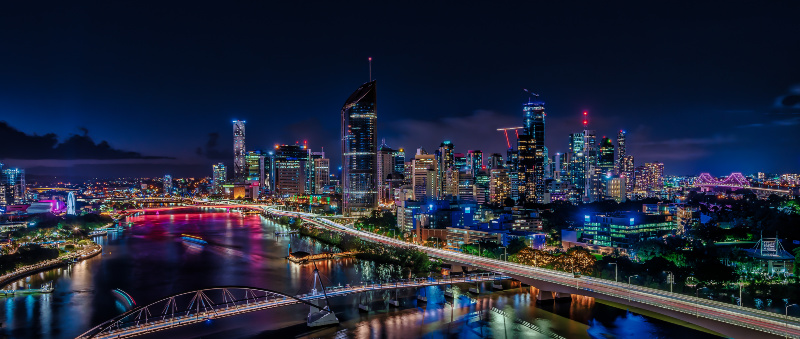 When most people think of Australia, Sydney or Melbourne come to mind. But Brisbane deserves recognition in the same breath with the other two destinations.
It's a hub for culture, wildlife, and tourism. So if you haven't already, look into the possibilities of a trip to this wonderful city.
Why Brisbane?
Brisbane is the capital of Queensland, and the largest city on the Brisbane River. Its population numbers about 2.4 million people, and the city has plenty to offer both locals and tourists. If you're looking for specific reasons to visit Brisbane, here are seven of its most appealing factors.
Do you love wildlife? Are you looking for an opportunity to see and interact with animals you simply never see in your everyday life? You'll find Brisbane a haven for that.
Brisbane teems with fascinating and unusual wildlife. Depending on when you come and where you go locally, you could view kangaroos, dolphins, koalas, platypus, wallabies, stingrays, turtles, and humpback whales.
Brisbane offers so much wildlife and natural beauty, you'll have no trouble finding plenty of outdoor activities to satisfy your need for adventure and excitement. From feeding wild dolphins and exploring shipwrecks at Moreton Bay, to feeding kangaroos and playing volleyball on the beach … there's something for everyone.
Brisbane is a cultural hub that serves as home to many different artists and creatives. Whether it's the middle of the week in the offseason, or a weekend in the middle of the tourist rush, there's always something to see or do. Check out the Brisbane Powerhouse schedule and see what's on the calendar.
Brisbane has also upgraded its food scene in the past few years; the city now boasts a number of highly rated restaurants. If you're a foodie, these hot spots are worth checking out.
If you're looking for good weather, then Brisbane is a fairly safe bet. The coldest month is July … but "cold" is a bit of a misnomer. The average low is just 51 degrees Fahrenheit, while the high remains 69.
The hottest months tend to be December and January when the highs top out around 85 degrees. In other words, you may expect basically pleasant weather all year round.
Brisbane is known for its street markets, which typically operate in the evening and feature crafts, art, craft beer, clothing vendors, live music, and dancing. One of the more popular markets is the BrisStyle Indie Market that occurs in King George Square on a single Friday night each month.
If you happen to visit the city on a day when the weather isn't cooperating — which is rare — don't be dismayed. There's plenty to do indoors, such as visit one of the many museums scattered throughout the region.
Some of the top museums in Brisbane include the Opal Museum, the Gallery of Modern Art, Sir Thomas Brisbane Planetarium, and the Henderson Gallery.
Finally, all of Australia is acknowledged for its friendly citizens. Regardless of who you are or why you're visiting, you'll enjoy the laid-back vibe. "When you visit Australia, there aren't many expressions you'll hear more often than the maxim 'no worries, mate," travel blogger Tom Smith explains.
"Maybe it's all the sunshine, the miles of beaches, or the pristine nature, or the excellent quality of life, but nothing much seems to get under the skin of Australians. Even when something does go awry, there's another phrase in the Aussie vernacular that keeps things nice and chilled: 'she'll be right, mate'."
So if you're tired of the hostile and polarized society you've found yourself in, spend a little time among the Aussies, and that should do you some good.
See Australia at Its Finest
Of course, Brisbane is just one Australian city that's worth exploring. According to Tourism Australia, 9.1 million international visitors come to the country each year.
For three straight years, tourism has outpaced the growth of the national economy. And this isn't by chance, or the result of some clever marketing strategy. People flock to Australia because it has so much to offer.
Brisbane could serve as a microcosm of the entire nation. Whether you visit Brisbane, Sydney, Melbourne, or some of the smaller towns and cities between them, Australia has a lot to offer. Come Down Under and discover what all the fuss is about.