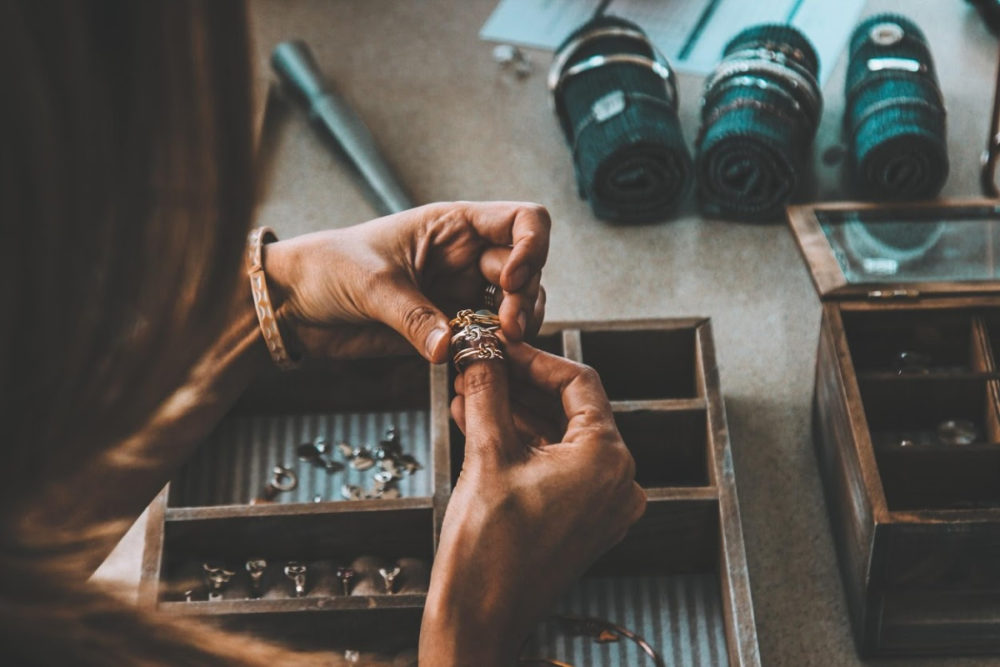 Jewelry has never lost its shine throughout the ages. It's those bits and pieces of something stylish, sophisticated, and sparkling that magpies covet or not. And although men can appreciate rings, earrings, and necklaces and have their niche, the variety of shapes, sizes, and settings available for the ladies is simply blinding.
Take a look at cool and chic ornaments to spruce up your daily garb this season or possibly the next. Fads come and go, but there will always emerge timeless pieces.
Embellished Hair Accessories
Barrettes, bobby pins, and snap clips adorned with pearls, gemstones, flowers, and Swarovski crystals are the talk of the town. Today's hair jewels are a modified, if not more glittery, version of clips seen back in the day. There are also custom clips that spell out names or words in sparkly letters.
Although brides typically wear this type of accessories, bejeweled pieces are versatile for school, parties, or whatever calls for casual and comfortable. Any woman can get her hair done with these ornaments. They are effortlessly wearable that you can line them up nicely.
Layered Necklaces
Two or three chains of gold are a thing nowadays. Coin pendants add weight to these gold-plated strands of varying thickness, texture, and length with the longest chain falling in the bust area. You can buy a multistrand set or play with your basic and colored necklaces.
If you hate tangling, shorter chains are an option for any outfit and mood. Layered necklaces add volume, character, or pomp to your ensemble. Lockets, antiques, and cameos make suitable layering necklaces too.
Hoop Earrings
Hoops continue to dazzle the womenfolk of today as they did to the people of Sumer a long time ago. These earrings are a classic with updates and renditions from fashion designers over the years. Fast-forward to the current time, and gold hoops are bulkier, heavier, and chandelier-like. Some versions are also bigger, bolder, and angular, losing the often-perfect circle.
Nonetheless, there's room for tiny hoops that hug the ears. For a double or triple effect, put two or three on one ear. Hoop earrings nowadays combine metals, tassels, resin, and fabric for a statement.
Charm Bracelets
Dig out those bulky, clunky, and tinkling bangles because they are back in spring. Charm bracelets staged a comeback a few years ago, but the word does take time to spread on the catwalk and Instagram.
You create your bracelet with all sorts of charms like fruits, seashells, and random objects dangling on your wrist. The luxurious ones have pendants decked with diamonds and precious stones.
Cocktail Rings
Those rings with oversized gems have always been playful and perfect for dress-ups. Fine Jewelers have made their take on such rings, which remain chunky, costumey, and cost thousands of dollars too.
These flashy pieces mix well with princess necklaces that are what they are—pieces heavily adorned with emeralds, pearls, or rubies fit for royalty to a charity event or an A-lister to an awards' night.
Mismatched Earrings
Have you lost one of your earrings? Pair it with another a stud or dangling. The mixing and matching can result in an edgy or fancy look, depends on what you are aiming. You may want to wear your hair in a bun with some tendrils.
There are earrings sold as singles or as asymmetrical pairs. Some duos share a common theme, like Yes and No or a teapot and a cup. More piercings mean more linear or drop earrings to wear.
Shell Jewelry
Summer is about fun, and shells run the seaside show. Rings, cuff bracelets, and combination earrings are brimming with cowries, puka shells, pearls, and the occasional fish motif.
Shell jewelry can be straightforward or stunning accents worn to formal events or dress-down affairs. You can see seashell pendants in gold or silver or string alongside colorful beads. It's like The Little Mermaid all over.
Personalization Is In
As the world favors minimalism in clothing—and really it's not every day that you go out all dolled up—jewelry steps in and refines any look with pieces that are unique, handmade, and special. Indeed, accessorizing is about beauty and self-expression.
Like a diamond ring. An engagement ring is one of those exquisite pieces of jewelry a woman will own. And the two-carat affair will not disappoint as it sparkles on a maiden's hand. While it does get intimidating as the rock attracts onlookers, it is the significance attached to the ring that makes it valuable and personal.