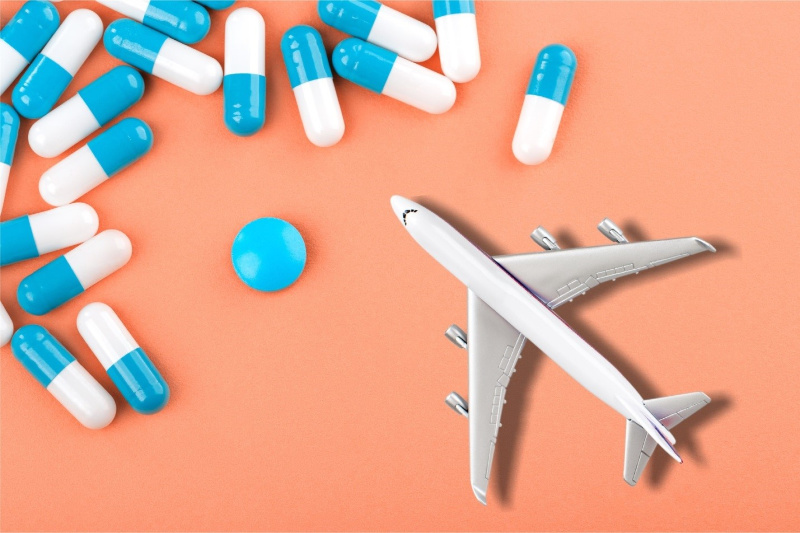 In the United States, 1.8 billion people traveled for leisure in 2018. 463.6 million people traveled for business.
While the number of travelers is on the rise, there are people who still hold back on traveling, especially those who need prescription medications.
If you want to travel but your prescription medications hold you back, this article is for you. We'll share tips to make traveling with prescription medications a breeze.
Read on to learn how to pack prescription medicines for air travel.
Get the Approval From Your Doctor
The first thing you need to do when traveling with prescription medications is to pay a visit to your doctor. Not only can your doctor let you know if you're fit to travel, but you will get all of the prescription medications you need for your condition.
Since you plan on traveling with prescription medications for your condition, ask your doctor to draft a letter stating your condition and all of the medications you need. In the letter by your doctor, ask that they outline the treatment for your condition.
If you have any issues traveling with your medication, showing them the letter from your doctor will be quite useful. For added security, make sure you always travel with a paper copy and an electronic copy of the letter.
Keep a copy in your email account, so you always have access to it. Also, keep a paper copy with your passport and other travel documents.
Have a Consultation with Your Pharmacist
Before you travel, make sure you also take a trip to the pharmacy.
Make sure you have enough of your medication to last you the entire trip. If you need more pills than you usually get, your pharmacist can help you obtain the necessary quantities.
If necessary, your pharmacist will contact the insurance company and your doctor for authorization.
Since medications also have different names, your pharmacist can provide you with a list of generic names for all of your medications. Your medication might be known by another name at your destination, and you can avoid problems by having the generic names.
Also, ask your pharmacist to put your name on all of the documents you get. As a safe practice, make sure you keep an electronic copy of all of the documents.
Keep All Your Medication in Your Carry-On
If you plan on traveling with prescription medications, it's extremely important you bring all of it in your carry-on.
The last thing you want is to put your medication in your checked bag. If you check your medication, there's a risk your luggage could get lost, delayed, or damaged.
You cannot afford to lose your medication, especially if you're traveling to another country. Imagine if you needed your insulin when you arrived in Phoenix, but your bag was on its way to San Francisco.
According to TSA rules, you don't have to immediately notify an officer you have prescription medication unless it's in liquid form. If you bring liquid prescription medication with you, TSA allows you to bring more than 3.4 ounces.
Although you don't have to place it in a zip-top bag, you do have to inform a TSA officer you have it before they screen your bags.
As a formal practice, they will put your medication through X-rays. If you don't want your medication to get X-rayed, the officer can inspect it separately.
Bring Your Medications in the Original Container
Although TSA does not have specific rules about bringing medications in original containers or prescription bottles, individual states or countries have specific rules.
To avoid violating local laws, make sure you always bring your medications in the original container. The last thing you want is to get questioned by an officer for hours about why your medications don't match the description.
If this happens you could end up missing your flight or getting stressed if you get questioned.
Ask Your Pharmacist
If you plan on traveling with your pills, ask your pharmacist to pack them for you in sustainable containers.
For example, if your pills come in a box, your pharmacist might be able to place them in a plastic container with your name on it.
You could also ask for an empty container with the prescription on it so you can switch your pills and put them there.
Learn About What You Cannot Bring
Although you're allowed to bring prescription medications since they're necessary for your health, there are a few restrictions.
For example, TSA allows people to carry nitroglycerin sprays and tables because they treat angina and coronary artery disease. However, there are different rules when it comes to other medications.
If you have to travel with needles, it's important you dispose of them responsibly. You should also warn the TSA officer beforehand that you require the use of needles.
You also have to keep in mind that some medications might be illegal in other countries. Some countries such as Japan allow people to bring up to two months worth of prescription medications.
However, many of the over-the-counter medications used in the U.S. are illegal in Japan. Many medications used to help with allergies and sinuses such as Actifed, Sudafed, and Vicks inhalers are prohibited in Japan.
Any medication that contains pseudoephedrine and codeine are also not allowed. Japan also doesn't allow people to bring Adderall into the country.
Japan is not the only country that has specific rules when it comes to prescription medications. Before you travel anywhere, make sure you figure out what the rules are.
Many countries will allow you to bring your medication with a letter from your doctor.
Now You Know How to Pack Prescription Medicines for Air Travel
Now that you know how to pack prescription medicines for air travel, it's time you book your flight.
Start by getting a letter from your doctor, keep all your medications in your carry-on, and bring all medications in the original container.
If you enjoyed this useful article, check out the rest of our blog.