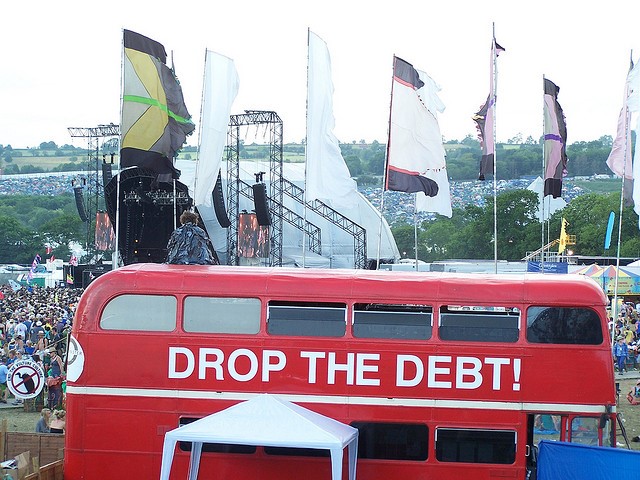 Image by reds on tour via Flickr
When you already have a lot of debt, another loan might not sound like a good idea. But in many cases, it might be just what the doctor ordered.
When you consolidate your debt into a new special loan, it usually comes with a reduced interest rate not typically available to the average person.
With debt consolidation you're able to put all your debts under one loan that is amortized over a longer period which means your payments can be made smaller and more manageable.
However, as with any bold financial move, debt consolidation comes with its caveats. If you're considering debt consolidation, be sure to consider these tips.
Plan for the Worst, Expect the Best
If you find yourself thinking "as soon as we have a bit more breathing room we'll be able to make this work" instead of "I have just a bit more than I need to pay this minimum payment" –you might find yourself in trouble.
You can't blindly accept a debt consolidation plan; you need to thoughtfully plan for the worst while sure, hope for the best all you want. But debts never got paid on hope. Have a plan, a real plan, one that is founded in reality.
If you're not fully straight up and/or honest with your debt consolidation professional, you're only kidding yourself.
Who Are You Dealing With?
Your debt consolidation professional might happen to work with a company that charges more than the bank for the exact same loan, and gaging reputation or trust is difficult the first time around.
Consider using online tools like Google's mortgage widgets which let you explore and compare mortgages from all over, so you can make sure you're getting the best deal possible.
Some lenders won't deal with brokers, so also be sure that the lender you're eying will be open to working with your broker, and vice versa.
Take Interest in the Interest
Don't be surprised if a few of your debts that are giving you so much pain actually come with a lower interest rate than the debt consolidation loan you are about to sign up for.
If you do have debts with lower interest rates than your new loan, you'd be nuts to include them within the debt consolidation agreement. Try to make it work in these situations, and see if there's a way you can negotiate minimum payments with your creditors.
Is Your Credit Report Mistaken?
Sometimes errors get put on your credit report and it can wreak havoc on your overall credit rating and finances as a whole.
Before you approach any mortgage broker, debt consolidation professional, or bank –check your credit report and get to the bottom of any errors or inconsistencies.
Still Borrowing?
If you're still borrowing to get by, debt consolidation is a big fat NO. No way, no how, it makes poor financial sense, and that is the end of the story my friend.
Get to the Core of the Problem
Why. Why are you in this situation? What got you here in the first place? Where did your debt come from? If you're still battling a gambling addiction or worse, be honest with whoever you talk to about your financial situation. There may be further opportunities to get help in more ways than fixing your credit rating or paying back debts in a sustainable way.
In Conclusion
Money is a real meanie sometimes; it can seem pretty dire at the bottom, so keep an eye out for opportunities that are conducive to the rational handling of your debt problems. Do not cede defeat until you've explored every single one of your options!
Have any thoughts on this subject? Please let us know in the comments!