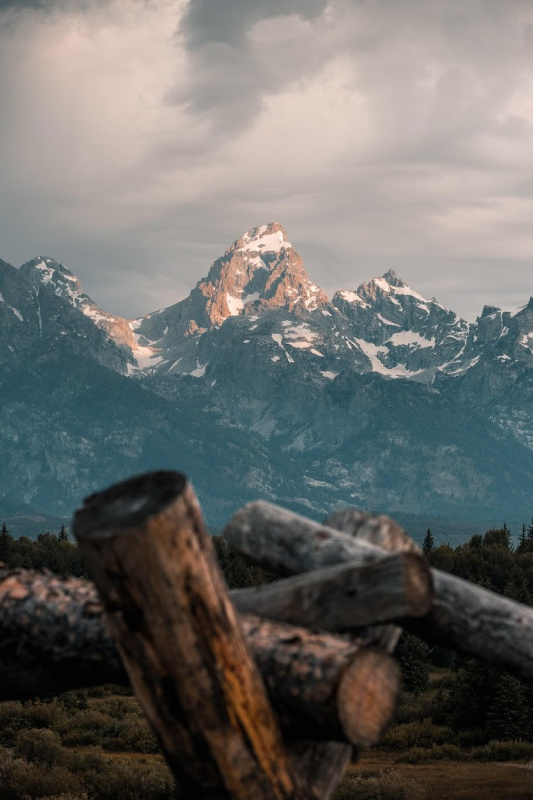 Photo by Ben Emrick from Unsplash
Jackson Hole is a beautiful and posh little place. The unique stores, great restaurants, beautiful scenery, and nearby wildlife make it a destination worth the drive. When you travel to Jackson there really isn't a way to do the trip wrong, but here are 5 of my favorite things to do in Jackson Hole.
Antler Arch
When you travel to Jackson, you have to get a picture under the iconic arch. I take back what I said earlier about there being no wrong way to do the Jackson trip wrong – not taking a picture here is wrong. The arch is such a picturesque Jackson monument. The antler arch is exactly what it sounds like, it's an archway made of elk antlers. There are actually four antler arches; each arch is made of about 10,000 to 12,000 pounds of antlers.
You can find all four of these beautiful antler arches in the Jackson Hole town square. Admire the beauty of the antlers themselves and admire the amazing architectural work it took to create such unique and breathtaking archways.
Wildlife Tour
Jackson Hole is right next to Yellowstone National Park. The surrounding area is full of bison, elk, mountain sheep, coyotes, wolves, bears, and other animals. It's not very often that you find yourself in an area so rich with wildlife. Take advantage of the opportunity and go on a wildlife tour. People like Jeffrey Soulliere guide wildlife photography tours. He can guide you through the Jackson Hole area to help you have greater chances of spotting animals like wolves and bears. Find out more about his tours at lifesowildtours.com.
Sleigh Ride
Jackson Hole is full of elk. In fact, the National Elk Refuge is located right in Jackson. The National Elk Refuge offers sleigh rides through the refuge to get a better look at these herds of elk. A large open-roofed sleigh is pulled by two large horses through the snowy fields of the refuge. The drivers will get you close to the elk and you'll have opportunities to take stunning pictures of the shocking amount of elk. These sleigh rides happen during the winter, and Jackson Hole gets cold. Be sure to wear warm thermals, sweaters, hats, gloves, and scarves to fight the cold and enjoy the ride.
Eat Out
There is a wide selection of gourmet restaurants in Jackson Hole. I can't list my favorite restaurant because I still have so many restaurants left that I need to try. Jackson has great restaurants for burgers, pizzas, salads, soups, and drinks. Simply walk down a Jackson street and you are bound to pass a restaurant that will catch your eye and make your stomach rumble.
Candy Shop
Jackson Hole has a cute little candy store called Yippy I-O Candy Co. This throwback candy shop is tucked back on Broadway Ave. Inside the store, the bright candies stored in barrels make you feel like a kid again. From the giant lollipops on display to the bricks of fudge at the counter, everything in this store is charming and delicious.
Conclusion
Whatever you decide to do in Jackson Hole, it is a sure thing that you will enjoy yourself. The wildlife, town, and food are all excellent and will make your trip worth the while.