Are you planning your first camping trip with kids? It could feel like a mixture of emotions with excitement, fear, nervousness, and optimism.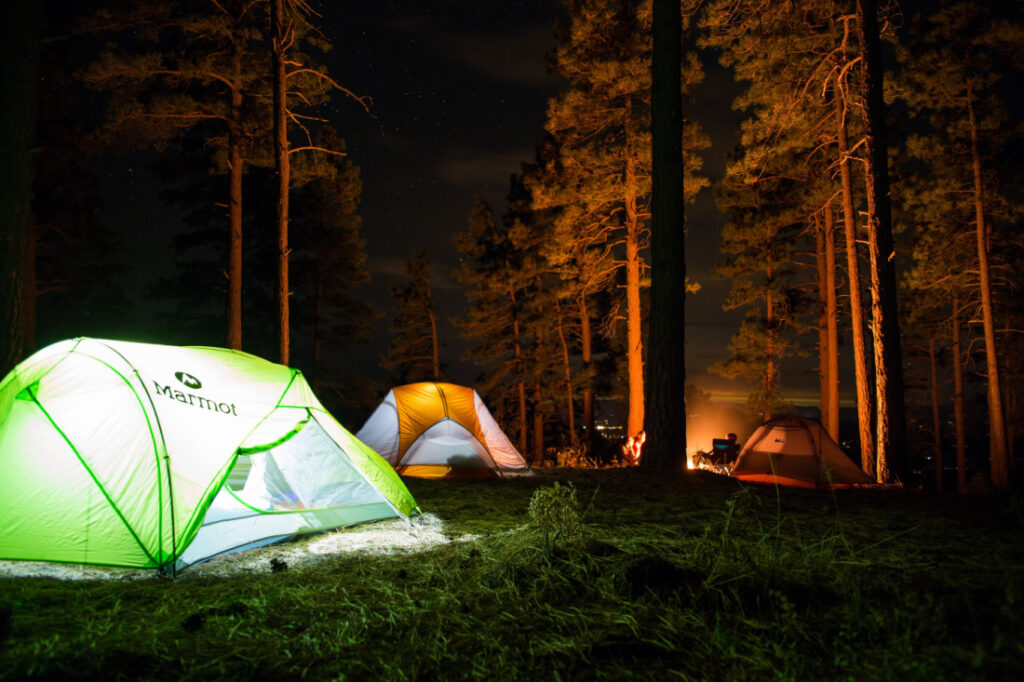 A stay in the wilderness is not an easy task; it requires lots and lots of preparation and planning to enjoy. The most interesting pastimes of our family are to spend time outdoors, including hiking, camping, trekking, going for a walk on the beach, and so on. Kids love to enjoy campgrounds involving them putting a tent, building a campfire, cooking camp foods, and playing games.
Find out the right camping gears you'll need to pack for the adventurous trip. I went on a camping trip with my family when I was a kid; it's tricky to explain the beauty and feel of waking up in a tent on top of a mountain. The rugged mountains, rain, and the activities we enjoyed on the front country was bliss. Kids will have a blast!!!
To feel relaxed and comfortable in the campgrounds just check out our list and ensure that you've packed all the essentials. Come on, let's dive into the list!!!
What to take camping with kids?
Overnight camping with kids may sound thrilling but with courage and some right gear, camping with kids can be fun and enjoyable. Plan and pack what type of camping essentials will be perfect for your family.
Camping Sleeping Gear (Tent, Air mattress, sleeping bags, sleeping pads)
Camp Kitchen Gear (Camp stove, Cooler, BBQ, Lighter, cooking utensils, frying pan)
Campsite Gear & Camping Equipment (camp chairs, table, insect repellents, flashlights, lanterns, firepit)
Clothing Camping Items (Sunglasses, raincoat, jacket, shirts, hiking shoes or boots, sleepwear, gloves)
Health & Hygiene Camping Items (Sunscreen, Lip Balm, Toilet Paper, Hand Sanitizer, toiletries)
Fun Items for Camping with Kids (Camera, Cards or travel games, Beach toys, Beach Blanket, Glow Sticks, Scavenger Hunt list or Camping Bingo, Books or magazines, Coloring books & crayons, Binoculars)
Camping Sleeping Gear
Camping is a fun-filled experience but if you don't have proper gears to combat the climatic conditions then you'll suffer. Ensure that you're properly equipped with the required campsite gears to keep warm.
Check your campsite during the night to ensure safety, animals may go for a walk in the forest so stay safe, thermal imaging camera will be useful in such cases as it works efficiently to monitor the surroundings compared to other gadgets.
The shelter is mandatory wherever you go outdoors, the tent will protect you from insects, bugs, rain, fog, breeze and provide safety. Get a good quality tent and build it with your kids, it's a kind of refreshment that is different from regular activity.
Weather is unpredictable right so even if the temperature is hot while you're camping it's better to bring a packable sleeping bag with a pillow. Heads can't rest stably without a pillow as you could be facing rocky areas.
Pillows can help to rest in a car comfortably, especially for long rides. Grab the one for your kids and enjoy!
These are the usual sleeping items to enjoy the warmth even during rainy and chill climates. Carry a lightweight blanket in your backpack because the weather changes rapidly.
Kitchen & Campfire supplies
Camping is boring without healthy and energetic food, cook with your kids over a campfire, and enjoy. Campfires are useful for cooking as well as keeping you warm; it's a natural pest repellent. Bring the campfire supplies like dry firewood, tinder, etc, build the fire, and set the mood for camping
Pack a portable stove to cook food, in case of rainy weather it's quite challenging to start a campfire. So be smart and carry the stoves as they are easy to work with. Lighters are enough yet pack extra fire starters like matches, papers for liting up soon.
A camping knife, plates, cups, bowls; spoons should be packed without fail. Prepare the delicious foods using utensils and keep them minimal. If these are reusable it's much better.
For more than a day of stay in campgrounds you can't carry the foods right, so cook the food which is easy to prepare and travel with. Soups are highly nutritious and also keep you warm for a long time. Also have peanuts, pistachio, almonds, bread, and dates as they are high-energy foods.
Clothing & Personal Hygiene
Most of us would be prone to cool climates right, when camping with kids it's advisable to wear out appropriate clothing to combat all types of weather. Pack sufficient clothing which is lightweight, waterproof, breathable, and rainproof, it's not a big deal to have an extra set of clothes, pack it.
Woolen dresses are better than cotton in some cases as it has the benefit of being moisture-wicking. It keeps you sweat-free. For winter camping, smartly pack gloves, socks, fleece jackets, and hats to maintain the body temperature.
Hygiene is significant wherever you go outdoors, kids must be given extra care as they may get easily attacked by viruses, insects, bacteria, etc. Be sure to pack toiletries such as
hand wash gels,
soaps,
deodorants,
sanitizers,
toilet papers,
toothpaste
Place all these essentials in an airtight container or double-layered plastic bags. Wash your hands adequately to get rid of germs.
Animal protection & medical supplies
To stay safe while out camping, it's recommended to pack the supplies, the bugs, mosquitoes, wild animals such as mountain bears; lions are dangerous and may cause potential harm. Right gears will protect you from these hazards.
Pack an insect repellent to stay away from mosquitoes and ticks, it may cause malaria and ticks carry Lyme disease. Bug sprays are a must-bring item to keep bugs at bay. Ensure whether the spray you buy contains a chemical known as DEET, it is harmful to children so get a doctor's advice to spray bug sprays while camping with kids.
A first aid kit is essential to protect you against camping hazards. Pack the basic medical supplies including bandages, gauze pads, blisters, insect repellents to make your trip smooth.
Fun Items for Camping with Kids
If you're taking kids camping, they will get bored by viewing dirt, rocks, and bugs to entertain them and pack toys so that they will enjoy themselves. Bring camp-friendly items and stay away from electronic gadgets thus your camping trip will be a treat. Choose board games, cards, chalk, squirt guns, camping bingo, coloring books, bubbles, soccer ball, football, crafts, bug catcher cases to keep your little one busy and engaged with useful activities.
Night camping will be thrilling and exciting, to visualize the deep detailing of the camp area, use a night vision camera that aids you in clear vision. Some kids may love to explore nature instead of sticking in the same place, for those binoculars will be interesting.
If your camp area is near the lakes, rivers, streams then get fishing poles for your kids which are a great time passing activity.
Wrapping Up
Gear yourself with all the essentials and enjoy the night camping with your kids. Planning and preparing is the most important part of any adventure because your plan can make or break the trip, it's all in your decisions.
While you're camping with kids extra effort and care must be given to them in all aspects right from clothing to entertainment.
Pack appropriate sleeping gear with proper insulation, carry healthy camp foods, water bottles, campfire supplies, survival tool kit, fun & entertainment tools, repair tools, etc. to head your rest comfortably.
Opt for flashlights or headlamps to bright up your tent, kids love to wear headlamps and watch the surroundings. Have a fun trip with your dear ones and enjoy!!!