"Our unique and colorful Art Deco packaging is integral to our brand with patterns and colors inspired by the 1920s with a modern twist to give it a modern vintage feeling. The Art Deco period harkens back to a nostalgic time and can give us a moment away from the overwhelming times in which we live, bringing a person's imagination back to a simpler time where there were no cell phones or computers. A time where romance was in the air. We also bring creativity and branding to shipping when we ship our products in colorful packaging which delights our customers."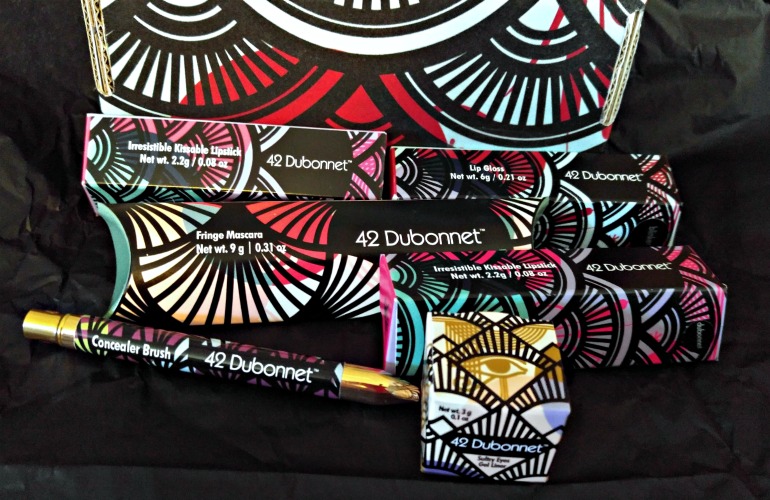 When you receive that good night kiss, you hope you feel it from your head to the tip of your toes. While using Irresistible Kissable Lipstick in one of three shades – Pinky Shimmy, Sweet Vermouth or Dubonnet. And enticing him all night with vibrant pouty lips with this color that glides on effortlessly. And will last just as long as the memory of that goodnight kiss. Full coverage formula, lip smoothing vitamin E, and petite enough to slide into any pocket.
I have always heard that your eyes are the windows to your soul. And with Fringe Mascara that is long-wearing, volumizing, and smudge proof, your eyes will let your intentions be known. Framing your eyes with beautiful thick and full lashes. While containing Keratin to help nourish and thicken your lashes.
Sparkle with this long-lasting lipstick for a provocative, velvety pout that is irresistible. Creating beautiful, rich, sexy lips that are sparkly. The built-in applicator brush creates a flawless look. Choose from three dynamic colors – Blinker, Xanthia or Grenadine. Perfect size to fit into your purse.
A mini concealer brush that expands to a full-size brush when you need it. And then collapses back to the petite size that fits perfectly into your pocket. Traveling or simply just out and about and need to touch up your makeup.
Such a dramatic gel eyeliner that helps you have the sexiest eyes in the club. And don't worry about it coming off or smearing. But it is waterproof and smudge proof. Apply easily with the angled brush that will help to enhance your eyes. So get ready, while knowing you look fabulous!