We are currently living in a world full of nothing but positive progress on many fronts. Especially when it comes to things coming from the architectural point of view. Think about it, the majority of the existing and new buildings often require roof access that is safe. This is mainly for reasons in regard to the ongoing maintenance of the building. Then you have the service equipment to think about as well, like skylights, elevator machinery, PV panels, telecommunications masts, and much more. Needless to say, failing to plan can lead to an overall failure altogether. Incorporating fall protection systems into any building design should never be forgotten. That note pertains to the designing itself, construction, and any maintenance as well.
Construction will always be a high-hazard industry where work safety is going to remain paramount. Keep in mind, The U.S. Department of Labor's Occupational Safety and Health Administration (OSHA) plays a huge role in it all. Essentially it helps ensure workplace safety standards by requiring fall protection equipment. Although, even with this knowledge you'll often find owners who are still unaware of fall protection systems.
This matter isn't just a benefit to the building itself, but it's highly beneficial to roofers or construction workers. Being highly desirable is just one thing, but easing and safety will always be significant.
Key Benefits Of Fall Protection Systems
With most buildings, both old and new, the most important safety concerns often deal with preventing accidents. Not just average accidents, but falling/fall-related ones. Statistics have shown that falls are the leading cause of death in construction. This is why fall-prevention planning is often under high regard. There are a few benefits of doing so as well:
Helps with maintaining the integrity of the original building design, giving architects more aesthetic control over the building
Can protect roof structures from potential damage caused by post-construction add-on systems
While these are just a couple of benefits, there are several that stand out on the matter. While knowing the key benefits is one step, you also want to take note on different prevention options as well.
The 360 Mobile Safety Rail
Now, the 360 Mobile Safety Rail system is a cost-effective OSHA compliant rooftop guardrail system that is designed for flat roof edge protection. Although, it can also be properly utilized for leading-edge fall protection hazards of all types as well. This freestanding safety rail system utilizes cast iron bases and powder coated safety yellow or galvanized steel guardrails.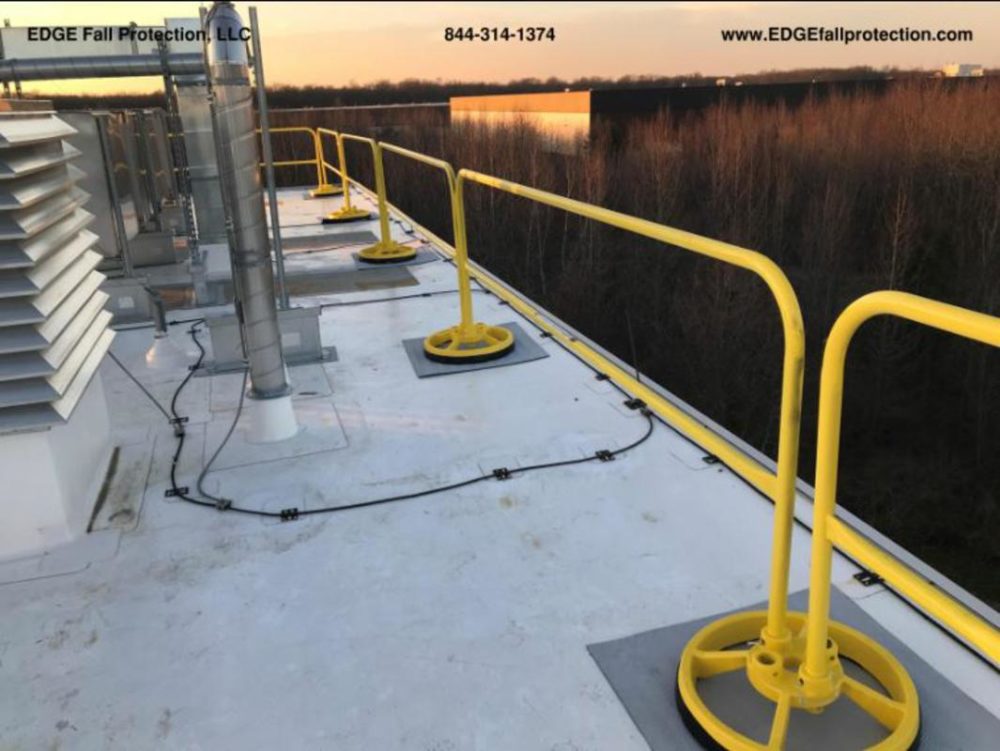 This helps eliminate fall hazards by providing a passive protection barrier for employees, contractors, and construction workers who are exposed to leading edges greater than 42". You want to be able to go with an option that's dependable, which is where the 360 Mobile Safety Rail comes into play. Here are some key features:
Prefabricated steel guardrail sections mean that installation of this free-standing safety rail system is simple and quick
Completely non-penetrating and has been independently certified and tested to meet all OSHA Fall Protection regulations and standards for guardrail, sections 1910.23 & 1926.500-1926.503
Designed as a permanent flat roof fall protection guardrail at leading edges, skylights, and roof hatches, but can also be used as a temporary fall protection solution at construction sites, excavation sites, mezzanines, rail or shipyards, confined work areas, or shipping and receiving areas
And More! Look further into it just click here.
While there are several areas to cover when it comes to safety, this is one of the most important ones. With all of this information in mind, you will be able to take any fall prevention plans to the next level.