My daughter starts the 8th grade next week (too bad you can't hear the excitement in my writing…but WOOHOO). I want to share with my readers a few products that are Back To School Gear Ideas that are NEEDED: earphones, daily planner, and a backpack are a must for my daughter.
EARPHONES:
Earphones are very important to my kids, not sure if they could get through a day without wearing theirs but hey at least I don't have to hear what ever they are listening too…wait I might need to with my son but my daughter she loves pop music, so we are good. She also is FaceTiming on her iPhone with friends a lot lately, so earphones are required for that. She will be taking the city bus to school and to help with that trip, she listens to music, so she doesn't have to hear all the noise on the bus. We both have learned when you have earphones in; people tend to leave you alone, which is a good thing on the way to school. Her brother will be with her, and yes he will have his earphones in too!
Oh well, my daughter, she loves unique fun items, so the Magic Pencil Earphones were a perfect choice for her. She likes them a lot, being able to listen to her music and talk to her friends is very important. She says they don't get too loud, so that is a plus in both of our books. The price is under $23, so that is very decent for kids earphones. These are way too cute plus sturdy. Like I said earphones are a MUST with kids so might as well make them FUN!
PLANNER:
Another item that is MUST is a Planner. My daughter is a straight A student, and one of the things that help her is a daily planner. When I saw the 2018 Animal Pals Notebook / Planner, I knew she would love this because it is small and will fit perfectly in her backpack or purse. Also, she is an animal lover, so I knew this would be perfect for her.
It has everything she needs to keep track of school schedules and events. Plus an area where she can't write notes and like I said it fits right into her purse and backpack. She is super excited to use this planner for school. I wish I had one too, so darn cute.
You can find both above products plus much more on Apollo Box who offers creative and trendy products for the consumer. There are so many fresh fun products on The Apollo Box and make sure to follow on Facebook–Instagram–Twitter, so you don't miss updates and new products!
Backpack:
Well, what about the BACKPACK, that is a critical factor in Back To School gear! When we were introduced to Africa On My Back, we knew this was the bag she wanted to start 8th grade with for sure. The colors are amazing, and the cause is even better. Let's talk about how unique the backpacks are too.
Africa On My Back is a durable, very lightweight, Kente-print, functional and stylish! There is also the African culture and heritage that my daughter feels very honored to be connected with while wearing this backpack because they are handmade by artisans in Ghana, West Africa. Africa is a place she wants to visit after she graduates High School and as her parent, I will do everything I can do to make that happen.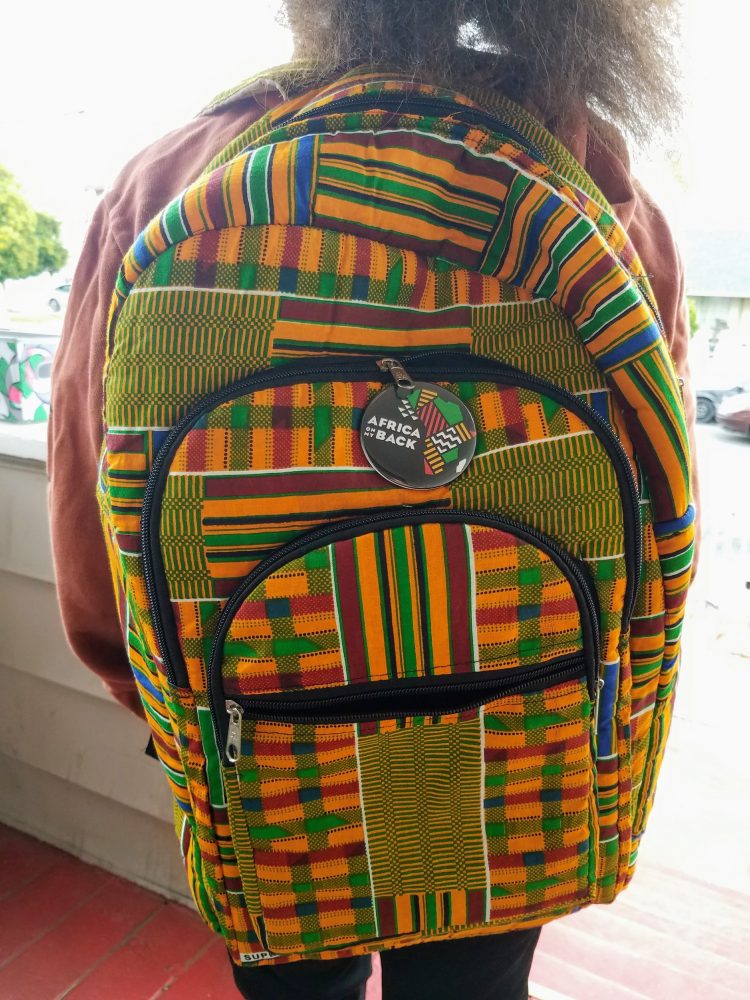 Africa On My Back
is a feel good company that supports international travel for Brillant Black Boys, creates cultural inclusion & awareness, plus provides Ghanaian artisans with access to global markets. Shannette Prince and her two boys founded Africa On My Back after their trip to Africa in 2016; they wanted to showcase the talents of the artisans. Plus provide opportunities for #BrilliantBlackBoys to study abroad in Ghana and learn about their heritage. We are honored to have an Africa On My Back backpack! These backpacks for anyone who wants to CARRY AFRICA EVERY DAY! Amazing prints for everyone- young and older! Also, works when we will be traveling as her carry-on too.