There is nothing like coming home to a clean home that smells good. I love to walk in the front door after a hards day of work to smell my favorite scents throughout my home. One of my favorite ways to do this is with Floral Simplicity Sachets.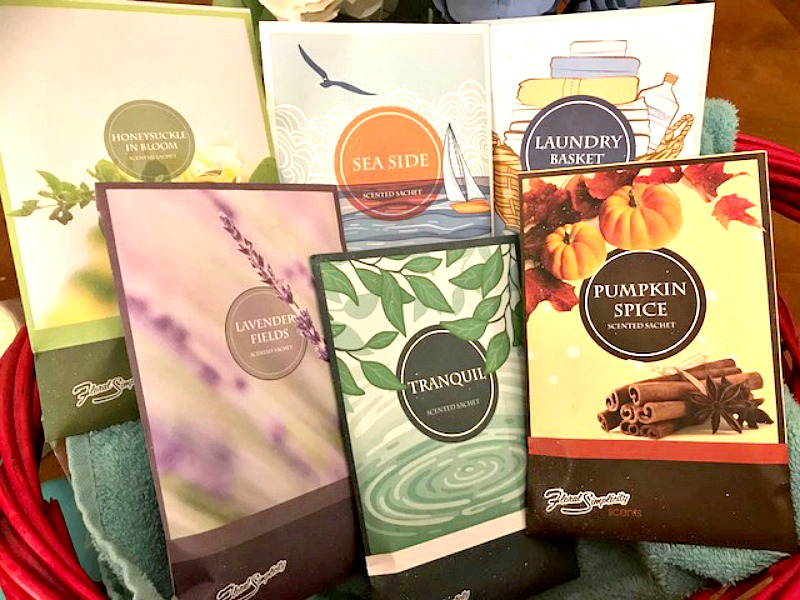 Eco Friendly
Floral Simplicity is an eco friendly brand that offers scented sachets and home fragrances for every season, occasion and lifestyle. They are committed to bringing people "Made in the USA" fragrance products at everyday affordable prices.
Their sachet packets is made of recycled paper with biodegradable inks and the materials inside is a natural inert material often used in potting soil. The fragrance oil is formulated from some natural oils as well as synthetic, non-caustic fragrance. It is also nice that that there's not a chance that it will be floating in the ocean for years like the plastic air fresheners out there.
The Many Ways To Use Sachets
1.) Linen Closet/Laundry Room! Scent Recommendation: Laundry Basket: The perennial favorite fragrance of freshly laundered linens! Inspired by fluffy, fresh warm laundry, this classic scent combats odors with a crisp and clean aroma. Throw a sachet in your laundry basket as well.
2.) Office! Scent Recommendation: Pumpkin Spice: While at work, enjoy the cult favorite year-round! No one can resist the rich smell of buttery pumpkin bread with hints of cinnamon and clove.
3.) Car! Scent Recommendation: Open Road: The pure smell of "brand new car" is just one sachet away. Put a sachet in the pocket of the passenger seat back.
4.) Sock Drawer! Scent Recommendation: Sandalwood: Treat your socks to a deep, rich & woody aroma.
5.) Gym Bag! Scent Recommendation: Pine Lands: Keep post-gym grunge at bay with a clean, simple bouquet of earthy freshness.
6.) Garbage! Scent Recommendation: Sage and Citrus: The aroma of sage balanced with clean citrus is perfect for underneath trash bags.
7.) Luggage! Scent Recommendation: Lavender Fields: The calming and relaxing scent of fresh lavender is a favorite among many. Bring tranquility and restfulness into your trip with a single sachet.
8.) Diaper Bag! Scent Recommendation: Peony: Sweet, powdery & delicate, just like your little one.
9.) Coat Closet! Scent Recommendation: Honeysuckle in Bloom: Ever so sweet, honeysuckle evokes the memories of warm sunny days and springtime on the horizon. An instant refreshing mood-booster.
10.) Bathroom! Scent Recommendation: Tranquil: Keep calm and bubble bath on.
11.) Carpet or Floor – some people vacuum up the contents to have it smell like their favorite scent.
12.) To make Lavender Fields.
13.) Candy Cane (Peppermint) – used to deter any unwanted critters.
14.) Moving – when boxing up clothes for a while.
15.) Traveling – when your clothes have that "not so fresh", you might just have to wear it again.
Beautifully designed, Floral Simplicity has expertly hand-crafted fragrances that last for up to 6 months! Made by American hands from start to finish and designed with minimal environmental impact, these sachets are created for everyday life.
Connect with Floral Simplicity: Site | Facebook | Twitter | Pinterest | Instagram