There are many different ways to spice things up in the bedroom. You can check out our list of kinky sex ideas by clicking here.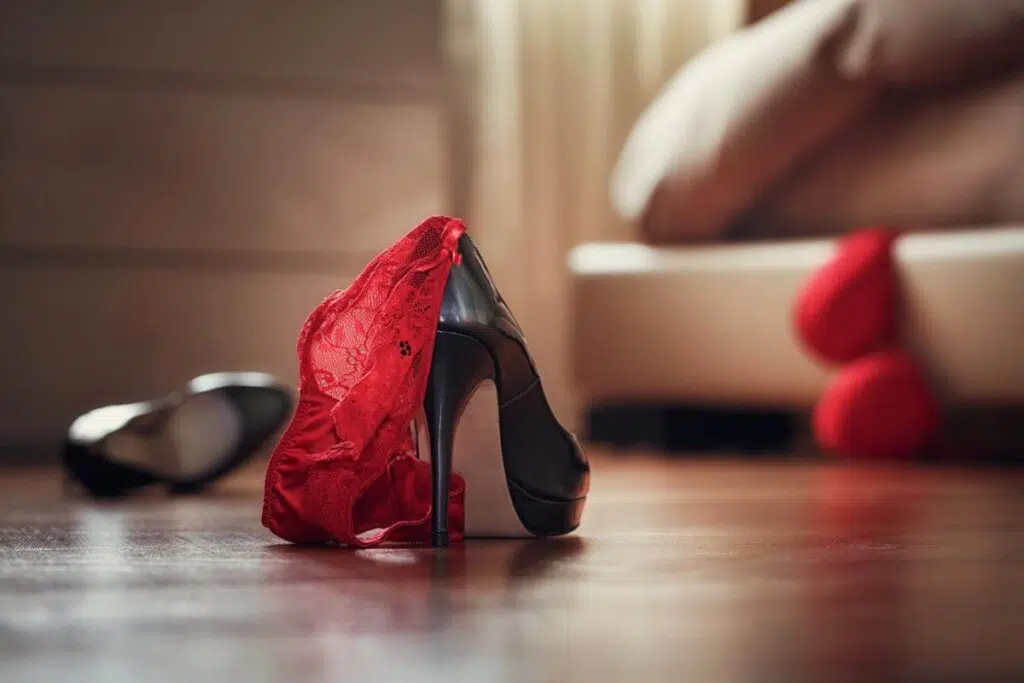 Nearly 40% of Americans consider themselves kinky.
Spicing up your sex life is a fantastic way to bond with your partner and go on a sexual adventure with one another.
Perhaps you're planning to add more kink to the bedroom but you're unsure where to start.
Sound familiar? If so, you've come to the right place. Here are 11 of our favorite kinky sex ideas.
1. Watch in the Mirror
One of the kinkiest things to do is placing a mirror next to your bed and watch yourselves in various positions.
You get to watch your partner enjoy themselves while they view you from the back and front, an excellent way to turn up the heat.
2. Talk Dirty
Talking dirty is the key to kinky sex.
Describe the sensations you're feeling, give them encouraging directions, and tell them what you want.
Whispering about how they touch you enhances the experience and connects you further.
Plus, talking dirty in public is guaranteed to build up sexual tension.
3. Try BDSM
Get your bondage lingerie ready and venture into the world of BDSM.
Decide who is dominant and who is submissive before starting.
Go in with an open mind and create a safe word that you both agree on to end the session.
Blindfolding your partner is an easy to way build tension because once you subtract one of the senses, you heighten others.
For example, when your partner is blindfolded, whisper into their ear to make things more exciting.
Restraint is another common BDSM practice.
Ropes are versatile but handcuffs also work, as they're user-friendly. And don't forget about the swing. The sex swing door jam kit is the easiest to use because it is reliable and after use, you take it off and put it in the closet.
The School of Squirt team just may be able to lead you in the right direction.
Before starting, discuss which activities you'll do with your partner so you know what they like and what to stay away from.
4. Spank Them
Spanking is one of the best kinky things to try.
Don't give them a whack out of nowhere; otherwise, it'll kill the moment. Instead, during sex, give your partner a light smack on the butt cheek with an open palm.
If they're into it, spank them a little harder. It's a great way to get naughty in the bedroom.
5. Experiment With Role Play
One in four Americans are keen to role play with their partner, making it one of the best kinky ideas.
Roleplaying lets you get loose and act in a way you wouldn't normally.
You can try the boss and secretary or doctor and patient dynamic to turn your partner wild.
To make role-playing effective, let the scenario come to you naturally so you're both fully relaxed.
6. Play With Sex Toys
Head to your local sex store and stock up on goodies like a vibrator, lube, handcuffs, and edible panties.
They're fantastic if you're stumped for sex ideas and are guaranteed to spice things up.
First-time buyers should ask themselves whether they want to use it inside or outside their body and consider what turns them on.
Once you've found your dream sex toy, check the "body-safe" label, as there are many phonies on the market.
As a general rule of thumb, non-porous silicone, glass, and wood are body-safe. But do extra research on the toy so you're 100% certain. We like the realistic ones over at Mr Hankey's Toys – they're 100% silicone and custom-made (so they'll fit your body perfectly).
7. Only Have Oral Sex
Sometimes, we move too fast, so slow things down with a long session of oral sex.
Have an oral sex day where your partner can't do anything else, a surefire way to build the sexual tension for the main event.
8. Watch Porn Together
If you both love watching porn, why not do it together?
Your attention will quickly turn to each other rather than the screen and the moans in the background keep the mood sexy.
A major plus is how watching porn together further strengthens your relationship.
9. Get Down in Public
There's nothing kinkier than having sex in public.
Whether it's an elevator, airplane, or park, the fact that someone may catch you during the action makes it even kinkier.
If you don't feel comfortable doing it in public, try having sex in front of the window.
10. Record Yourselves
Another one of the top kinky sex ideas is recording your lovemaking.
Every time you watch the recording, you'll have the same passion and lust you had the first time.
You can even start a collection of steamy scenes to make things kinkier.
Remember to be yourselves and let your movements naturally flow.
Stick to positions that you and your partner love because it's more enjoyable to rewatch rather than watching your body move into awkward positions that don't necessarily feel great.
And because nothing beats natural light, record a session in the morning or afternoon for the best results.
11. Tease Their Orgasm
An amazing way to build up lust and passion for each other is by getting to the edge of an orgasm but not letting it happen.
Teasing your partner will get them wild and once you finally climax, it'll be the most intense experience you both have ever had.
Those Are Our Favorite Kinky Sex Ideas
Now you have a collection of kinky sex ideas to try with your lover.
Whether it's turning your fantasies into a reality or getting steamy in public, there are many easy ways to turn up the heat with your partner.
Kinky sex is a brilliant way to enrich your sexual connection especially for those in long-term relationships.
Always run kinky sex ideas with your partner first so it's fully consensual and have fun! Did you find this article helpful?
If so, check out our articles on everything from Relationships to Parenting.