You might not think of the coast of England for your next vacation getaway, but Cornwall is actually a picturesque dream spot of stunning beaches, fairytale cottages, a sprawling history and a lively sense of community. All that, and it's much less crowded than other tourist hotspots. Here's why you should take a relaxing trip to Cornwall for your next holiday.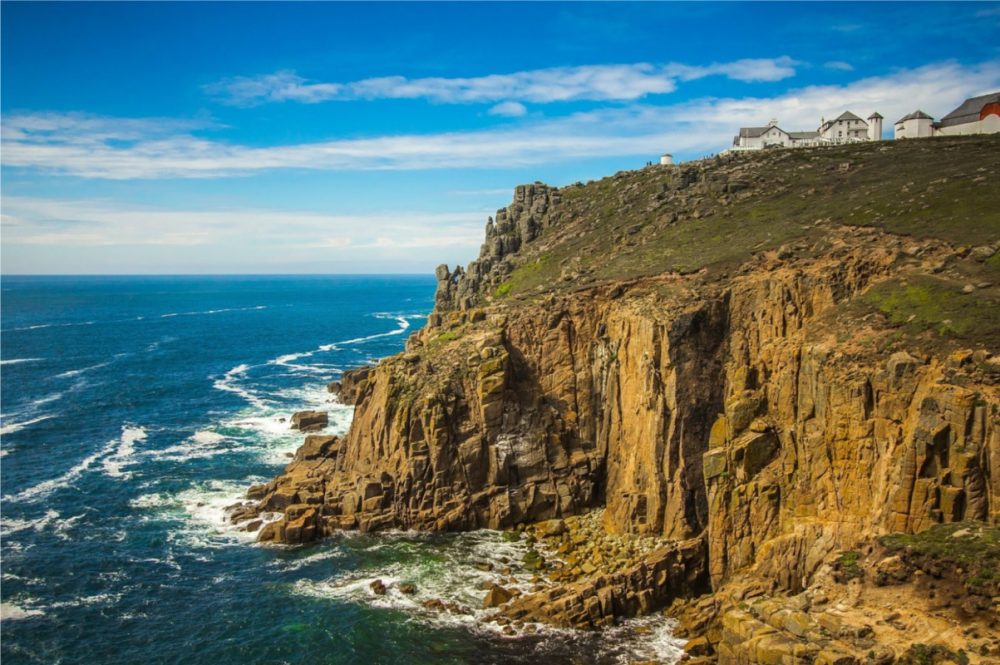 Cornwall has quite a few fishing villages scattered along the coast, ready to be explored
1 – Beautiful beaches
The beaches in Cornwall look straight out of the Caribbean! You can visit sandy beaches with clear blue water, or rugged cliffs and caves perfect for exploring. Since Cornwall is located on the southern peninsula of England, it gets warmer weather (including the water) thanks to the Gulf Stream coming from the Gulf of Mexico. It's not exactly island weather, but with an average temperature at around 25 degrees Celsius, it's warm enough for a day at the beach!
2 – Pretty fishing villages
Being surrounded by water means Cornwall has quite a few fishing villages scattered along the coast. Towns like Padstow, St. Ives and Mousehole are picturesque towns with quaint homes, cobblestone streets and, of course, colorful fishing boats dotting the water. You can stay at pet friendly cottages and explore the streets and beaches like a local!
3 – Excellent food
Those fishing villages aren't just for show! Cornwall is known for fresh seafood and supplies much of the fish across England. If you dine out at a restaurant, there's a good chance your meal was caught that day! But Cornwall is perhaps best known for the Cornish pasty. This unique dish was developed to feed miners back in the day: meat and vegetables wrapped in a D-shaped pastry crimped around the edges.
4 – And don't forget the tea!
Another Cornish creation to whet your appetite is clotted cream! Clotted cream is a vital component to the British tradition of cream tea, where you serve scones, jam and cream alongside a pot of tea. A Cornish cream tea is almost required when visiting Cornwall! Cornwall is also home to England's only tea plantation, Tregothnan, if you want some education while you sip. You can visit the grounds, learn about the tea-making process and enjoy a cream tea right from the source.
5 – There's a rainforest — seriously!
Cornwall is home to The Eden Project, an indoor rainforest inside a giant biome in the countryside. It's a sight to behold! Over 1,000 types of plants are inside the biome, a waterfall, banana and cacao trees, and a canopy walkway where you can look down on the wildlife below. The Eden Project is also home to outdoor gardens, beekeeping, a play area for kids and a Mediterranean restaurant.
6 – Surf the seas
Move over, Australia and Hawaii, here comes Cornwall! The region is actually regarded as one of the best spots to surf thanks to the waves coming off the Atlantic. Spots like Fistral, Sennen, and Perranporth are surfer's favorites, and there are a few hidden gems off the beaten path as well. You might even spot some diehards in wetsuits catching a few winter waves! If surfing's not your style, there's also plenty of places to canoe, paddleboard or kayak.
7 – Get lost in legends
Cornwall has myths and legends abound! King Arthur is believed to have been born in a rugged Tintagel castle, and tales of giants living in the villages are still passed down today. There's also the history of pirates in the region, from Penzance (yes, as in The Pirates of Penzance) and the smuggler's tunnels to the shipwrecks of Scilly.
The Cornwall region is actually regarded as one of the best spots to surf
8 – Visit the Minack Theatre
Cornwall's famous Minack Theatre is worth seeing, even if you don't take in a show. The open-air theatre has been carved out of the cliffs and overlooks the ocean. You can wander up and down the steps and enjoy the stunning views, but it's best to try and actually catch a play! The Minack hols performances every summer or everything from Shakespeare to opera. Bring a blanket, enjoy a glass of wine and the cool breeze coming off the ocean, and enjoy one of the finest nights of theatre in the country.
9 – You can star-gaze
If you're from the city, you might forget that the sky is actually filled with stars and not just streetlights. That's not the case in Cornwall, which has several locations that have been awarded Night Sky Status. This means there's no light pollution, and you can see the stars with just your eyes. St Agnes Head is one such spot located on the North coast. The area is renowned for hiking as well, so you can make an evening of it before lying back to take in the night's sky.
10 – The diverse marine life
While seagulls are everywhere, Cornwall is one of the only places in the U.K. where you can see other marine creatures! Dolphins and whales are often spotted swimming along the coast, and many companies offer sightseeing tours and cruises throughout the year. There's also an occasional shark sighting!