Becoming a mom changes a lot about you.
Most new moms soon find out their priority shifts to keeping their child safe, clean, healthy and happy.
It almost becomes a full-time job with sleepless nights and tight schedules becoming a routine.
You rarely have time for yourself.
If you're desperate to recover "You" again, but you find yourself struggling for the time, you'll find these 10 great beauty tips for busy moms really helpful.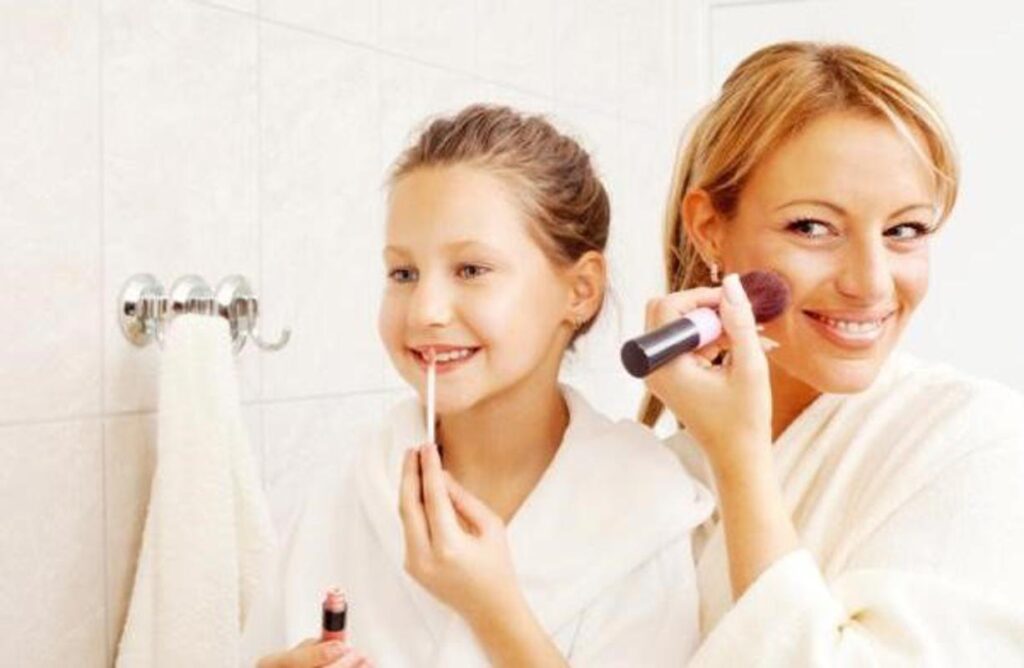 1. It's in the Planning
The key thing that will really help you have more time to get ready in the morning is planning. Get your outfits ready and get a shower the night before as soon as the baby is asleep. And, in the morning, all you need to do is straighten your hair and you're good to go.
Also, ensuring you've got together all your beauty items in one place the night before will also help speed up your morning routine.
2. Adjust your wakeup timer
I agree that sounds crazy! If you've had a long, sleepless night, the last thing you want to do is set your alarm to wake up early.
Yet just 15 minutes will give you the chance to wake up, grab a coffee and spend a little time on your own before you have to deal with the baby.
Plus, it's easier to get ready if you don't want to multitask!
3. Stick to the basics
Even if you've planned all the night before, there's always going to be days where there's just no time to do a complete make-up routine.
It's best to stick to the basics on these kinds of days.
You could only use mascara and a little lip gloss.
Perhaps you could dab a little blush on your cheeks.
By sticking to the basics, it just takes a couple of minutes, and you're always going to feel a million times better about yourself than if you hadn't done something.
4. Drink plenty of water
Sure, gulping enough water isn't going to give you more time, but you'll look and feel better.
You probably got used to drinking a lot of water when you were pregnant to stay hydrated.
If you cut your water consumption down, it's time to get it up again.
By hydrating your skin, you will achieve a beautiful glow that will encourage you to skip the foundation on busy days.
5. Take advantage of quick eye fixes
It's always your eyes that give away how tired you are.
And if you've just got time to concentrate on one thing in the morning, your eyes are what you're going to want to concentrate on.
Here's what you can do: Apply a cool, relaxing eye cream.
It also helps to flatten the puffiness under your eyes, so you look more alert and springy.
Even if the night had been a bit rough trying to keep your little one soothed and asleep, using a cooling eye gel could make it look like you had a blissful, long night's sleep.
Complement your fresh and relaxed eyed look with eye drops to help remove "red-eye" – which is an annoying symptom of inadequate sleep time.
Don't forget to care for your brows. Some simple brushing and gel application routine will make the brows look well-groomed.
In fact, you'll tend to look brighter and well made up – even if it's all you were able to do.
6. Use the whitening stripes
Most moms like to skip this tip, but it is one that can actually make a big difference in how you look and feel.
As a new parent, you 're likely to want to drink more coffee and red wine to help get you through days and sometimes long nights.
The problem is, these delicious beverages can seriously get your teeth stained.
But you can easily achieve whiter, brighter smiles with whitening stripes.
Some are even designed to give you result in about 2 hours, after only 30 minutes to an hour of wearing them.
7. Get trendy headscarf or headband
For a lot of women, it's their hair that triggers the most anxiety.
Doing your hair will take a long time – a time you probably don't have as a new mom.
On days you're very busy, it's better and smarter to cover your hair with a trendy headscarf or band than trying to keep it tame it.
It can help to make you look effortlessly stylish.
8. Oilskin moisturizer
One dilemma many new moms have when it comes to looking their best is that they simply can't afford it when the baby comes along.
Find naturally formulated skincare products you can use to make your skin look and feel amazing.
Great skincare ranges out there like Okana Radiant Gift Box helps to simplify your daily skin ritual and transform your skin.
You'll have less need for foundations on mornings that are just too busy.
9. Exploit the magic of the dry shampoo
Don't have enough time and energy to wash your hair fr a few days?
The dry shampoo can fill the gap for you.
Just spray the shampoo into your locks and dry out for a clean, shiny look.
But be careful not to use dry shampoo every day.
It's great for occasional use only as it contains chemicals that could damage the hair if overused.
10. Give your skin 'a world of glow' with a self-tan
Self-tan used to be hard and time-consuming.
But with lots of good self-tanning products to choose from these days, you can get your tanning on in as little as a few minutes.
If the streaks worry you, try out the gradual self-tan moisturizers.
With a healthy glow on your skin, it's another way of giving you less to think about with make-up on busy days.
Conclusion
Overall, it 's certainly not easy finding time to getting "You" back when you've become a new mom.
But the tips above are surely handy to help you look and feel in just a few minutes.
Do you have some amazing new mom beauty tips you'll also like to share?
Let's hear it in the comments section below.