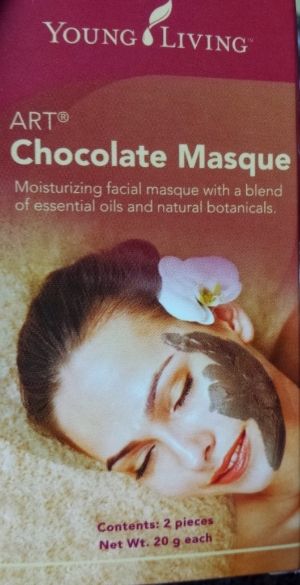 Young Living is the world leader in essential oils with products for every individual, family, and lifestyle.
Pam's Review:
Today- Dec 16th is Chocolate Covered Anything Day and I choose to cover my face with ART Chocolate Masque – moisturizing facial masque that happens to be chocolate. Here is the proof: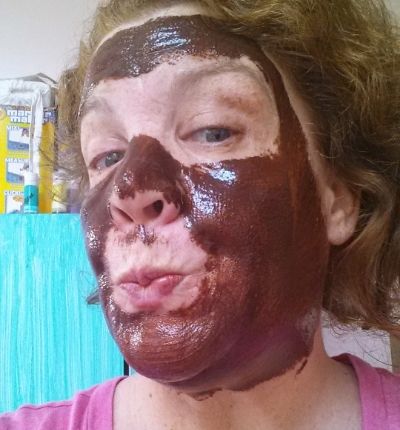 It says to use a double broiler but I don't have one so I boiled some water and put a cup with the chocolate bar in it and it melted just fine. I let it cool down and then came the fun part. I painted my face in chocolate that also has a blend oils and natural botanicals. It smelled so good too. I waited the suggest time (25-30 minutes) and had no issues with it dripping or making a mess. It washed off easy too. Ever since I did the treatment I've been touching my face because I'm amazed at how soft it is, especially my neck. I'm impressed indeed. ART Chocolate Masque is a product I would use again!
I checked out Young Living online and WOW there are so many things I would love to get in my stocking or under the tree this year. Also if you want to start your own business from home they also have opportunities to become a Young Living Distributor
Please check out their 2014 Holiday Catalog- Jam packed with great gift ideas!
Essential Oils & Blends– oils, diffuser, and more
Home ~ cleaning, cooking, oral, pets
Wellness~ weight, vitamins, aging, energy
Beauty~ hair, aging, oral, kids, life
Balance~ Spiritual, Mental, Stress

From Young Living~
The ART Chocolate Masque combines pure essential oils with exclusive Ecuadorian cacao to help nourish, sooth, and hydrate your skin. Our essential oil infused, ART® Chocolate Masques moisturize and revive your skin, awakening your radiant glow. This natural spa treatment comes in a holiday gift bag that holds two chocolate masques and a fan brush for application.
Blog Post written by Pam Allen -Check out my blog~ PinkMama's Place