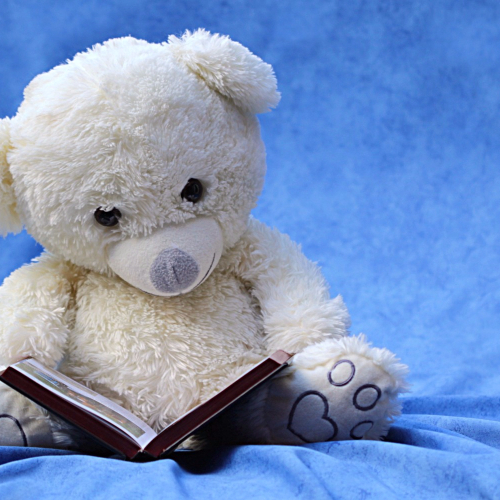 The holiday season is creeping up on us pretty darn fast, and I want to prepare now, so I've been stalking Amazon for their 100 TOP TOYS (for all ages). I have seen some fantastic toys, and I want to share them with our readers. You want to enjoy the holiday season, right? Well then get all that shopping done now and sit back when December gets here. You can do your holiday shopping now and let all those last minute shoppers go crazy trying to find all the cool gifts. Yours are all wrapped and under the tree already!
Now babies are easy to shop for, and they have the cutest toys! Here are a few Amazon's featured products that look pretty darn cool, I would play with them if I were a baby! Check out these top toys for birth to 24 months!
Price: $7.80 Free Shipping for Prime Members & Free Returns.
100% Food Grade silicone teething toothbrush for kids 3-12 months of age. Specifically designed with "a-peel-ing" handles that are easy for baby to hold, while preventing choking. Bendable soft silicone reduces the risk of injury, providing the safest learning experience possible. Dishwasher and Freezer Friendly. BPA, Phthalate, Latex, and Toxin Free. Helps to soothe sore teething gums with durable massaging bristles. Inspired by a Registered Dental Hygienist. Brings teething and brushing together, helping babies to develop healthy oral care habits from the earliest age possible, literally taking dental care "into their own hands."
Oh, I can see why this is on the top toys list, it looks fun, and we all know baby teething is harsh, so this toy looks like it will help plus build brushing teeth skills.
List Price: $19.99
Price: $11.39 Free Shipping for Prime Members & Free Returns. Details
You Save: $8.60 (43%)
The Baby Einstein Octoplush is a soft, multi textured, developmental plush toy. Young babies can hug Octoplush to hear a Baby Einstein melody and explore the textures for tactile development. As the baby grows, colorful stitched satin patches on velour legs invite baby to learn color names through repetition. Squeeze each leg to hear color names in English, Spanish and French. Patterns of the color names are also printed on the underside of each leg in multiple languages.
This is one of my favorite top toys because it is so darn cute.
List Price: $39.98
Price: $11.98 Free Shipping for Prime Members
You Save: $28.00 (70%)
The foam tile floor mat is a must have for all little ones. This solid foam Play Mat is an excellent option for taking care of all age kids. Ideal for the Play room, Excise room, Daycare & School. Because of easy to use with innovation interlocking tiles, this foam tile also can cover the wall around the kid's activity area. This colorful high-density EVA foam mat is Safe, soft and durable. It is Non-Toxic, tested FREE of Lead, BPA, and Phthalates
I highly recommend this top toy because it saves your floors from baby messes plus it is a lot softer for the baby to crawl on than hard wood floors!
List Price: $19.99
Price: $16.19 Free Shipping for Prime Members
You Save: $3.80 (19%)
Exploring the alphabet is so much fun with Talking ABC Elmo! Just press his tummy for fun phrases or to hear him sing the alphabet song!
Of course, ELMO is in top toys list; everyone loves Elmo! Both my kids had their own talking Elmo, pretty much their first friend.