I want to introduce you to five of the cutest and lovable detectives! They use their skills and detective gear to help guide your kids through their ever-changing moods and emotions. There are so many different feelings. Happy, sad angry, afraid and love. The feelings are all normal. But sometimes your child may need a little encouragement and acceptance. Encouragement to be themselves and acceptance to know that it is ok. These five detectives help solve the mysteries of all your moods.
LOLLY is the six-time world champion cuddle champion. As she says, When in doubt, hug it out!
SNORF sometimes has a good cry. This helps make him feel better. Pardon his puddles. It's tear time!
COZ is super happy! He likes to dance and celebrate. When he is really happy he does his crazy happy dance.
RAZZY is the angry one of the bunch. It's ok to feel angry sometimes. When he gets mad he stomps his feet and sometimes he blows his top! But he takes a deep breath and relaxes. Then he is razzy-ma-tazzy and ready to roll.
QUIGLY is the nervous and scared guy. He can be shy when he meets new people. When he gets scared sometimes he wants to hide. But he knows even if he is scared on the inside he still has courage. So just be brave.
Moodsters Notebook & Crayons Set
With this creative notebook you will get five jumbo crayons – one for each emotion. A 50 sheet notebook that your kids can draw and color about their feelings. Let your children color thru their emotions. While you read about the techniques of how to help them cope with them.
Moodsters Quigly Plush Sound & Activity Book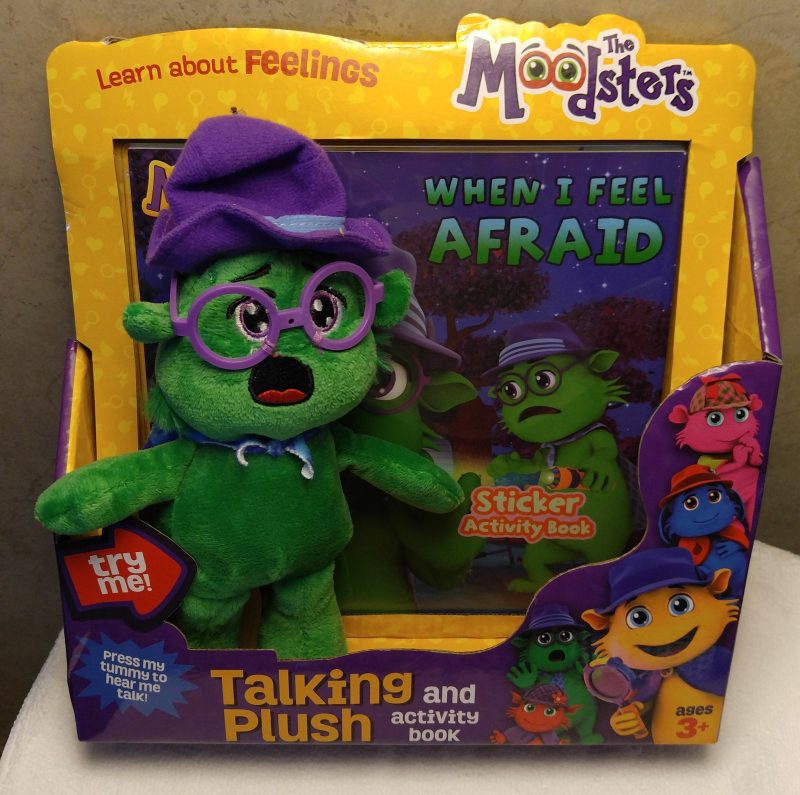 Quigly says " Even when I'm scared, I still have courage inside!" I absolutely love Quigly. He says 7 different phrases and lets your child know that fear is ok. The sticker activity book helps your child know that experiencing different emotions is ok. That they are weird or odd. It is normal and so are they. Kids need to know that all of their feeling are okay. Even if you are mad or sad that it will be ok.
Purchase yours at Amazon, Toys R Us or Target.
Keep up with their latest news and all of their newest products here: Website/Twitter/Facebook