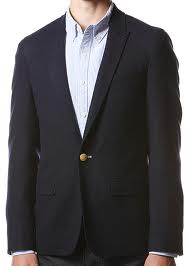 Now that you've decided to wear a blazer, you've got to know exactly how to pull it off so you can achieve the desired look. The most important part about wearing the jacket is pairing it right. These tips will help you step out in complete confidence with a blazer that looks classy and paired appropriately.
Finding the right shirt
Possibly the most important part of wearing sport coats would be getting the right shirt. Although you will see some people wearing T-shirts with their jacket, that's not the look you're going for. Keep it classy with a classic navy wool blazer or pinstripe pattern. The look is similar to wearing a suit; you'll want at least a little bit of cuff showing, perhaps as much as half an inch of cuff coming past your jacket's sleeve. You should also have about a half inch of collar coming out above the jacket's collar. The collar is not typically the problem; it is almost always about the length of the shirt sleeve. It would be helpful to keep this in mind when you are thinking about the dress shirt you'll be wearing with the jacket. As far as color goes, you don't necessarily have to go for a solid colored shirt. The important thing is to make sure it goes with the jacket. If the jacket has a pattern to it, the shirt will need to be solid or have a pattern that is on the smaller side. If the jacket is solid, you will have the option of bringing in more of a pattern with the shirt.
From the waist down
What you aren't looking for here is something that matches your blazer too closely. The idea of this jacket is that it isn't supposed to go with the pants; that's what men's suits are for. If they do match pretty closely, it will just look like you've got on a low quality suit. Instead, you will want to go for a neutral color. Try a nice gray flannel or some tan khakis. The beauty of these pants is that their color will stand out in opposition to your jacket and the neutral color will not draw a lot of attention. This will allow the focus to go to the jacket, which is where you want it to be.
Finding the right shoes
Once you've got the right slacks, you'll want to be certain that you find shoes that complete the package. If you go for tennis shoes, you will have taken the look down too far in most cases. Think about some casual dress shoes and match them with your belt. The shoes are the second most important piece you'll be adding, even though not as much focus goes to them. It simply won't do for you to work so hard to pull together the entire look and get it wrong by choosing shoes that send the wrong message. If you have any questions about whether the look is working, it may be a problem. You would be better served starting off being too conservative and trying something more adventurous as time goes by than to go too far the first time and deciding never to try again.