Teachers are AMAZING! Most teachers teach because they want to make a difference in a child's life. Teachers don't get paid what they are worth, but there is a way we can show our support during Teacher Appreciation Month. Did you know a lot of teachers pay for supplies and other classroom items out of their own money? That is so frustrating from a parents view. We have a couple of exciting things for our readers on how they can help TEACHERS!
Teacher Appreciation Month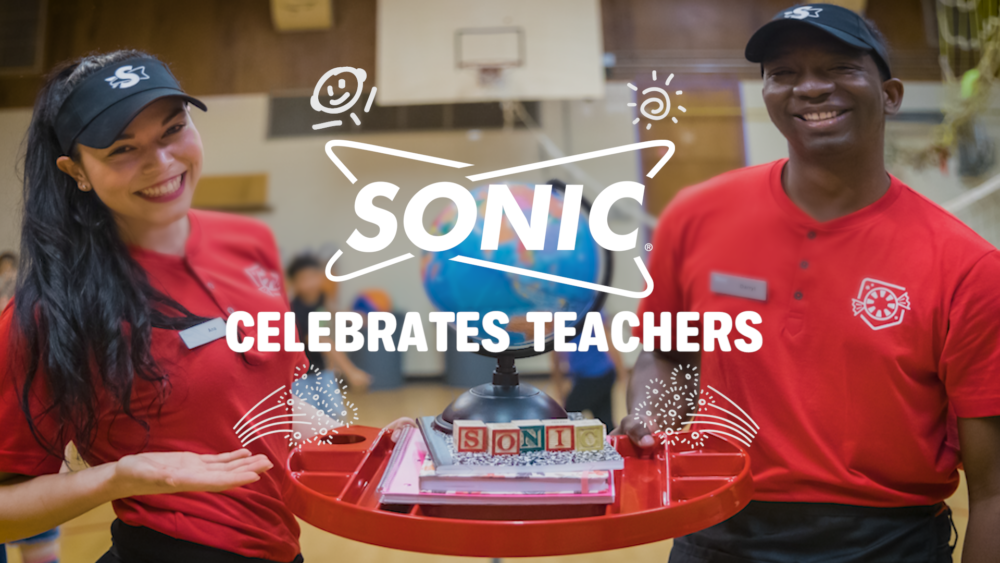 May is all about the TEACHERS! When my kids were in elementary school, we would hold a week-long celebration. Teachers deserve all the support and appreciation all year long but so thankful they have a month that we can shower them with goodies. SONIC is celebrating Teacher Appreciation Month through its Limeades for Learning philanthropic initiative. Starting Wednesday, May 8, SONIC is launching a $1 million donation match with DonorsChoose.org to help public school teachers get the essential supplies they need to inspire their students.
LEARN MORE: Limeades for Learning blog and donate. Then, SONIC will match their donations dollar for dollar!
SONIC's Limeades for Learning program
Recognizing public school teachers needed more support, SONIC Drive-In partnered with DonorsChoose.org ten years ago.
Through Limeades for Learning, in partnership with DonorsChoose.org SONIC has donated $11,902,421, supported more than 27,407 classrooms, and provided learning materials and teaching resources to impact more than 822,210 students.
Limeades for Learning® is an award-winning national initiative to support U.S. public school teachers in local communities.

SONIC® Drive-In FREEBIE
We have more exciting news, starting Tuesday, May 7 SONIC is offering every teacher (and everyone who appreciates them) a free Route 44® Drink or Slush with purchase when they use Order Ahead in the SONIC app! Anyone is eligible to get a free Route 44 Drink or Slush in honor of Teacher Appreciation Month. Download the SONIC app and use the code TEACHERS for a free Route 44 Drink or Slush with purchase when ordering ahead. Each guest can redeem this offer once May 7 through Friday, May 31! Please see the app for details. To date, SONIC has donated more than $11.7 million to public school teachers, funding more than 26,509 classroom projects and supporting more than 795,270 students.
Please follow on Social Media:
More About DonorsChoose.Org
DonorsChoose.Org has been helping teachers and of course the KIDS for a long time. They provide an opportunity for people (not just parents) help teachers fund certain projects they want to do with their students. It can be for books, computers, a field trip or anything they feel will assist in their teaching. Every year I pick a project from my kid's school and DONATE after I do that I always get such a warm thank you from the teachers plus progress reports on the project. Supporting my kid's school is a must in my book because not only at home it takes a tribe, but it takes a tribe at school too. We want our kids to excel and get the best darn education they can get so why not help the situation.
I can't say enough about DonorsChoose.org– you need to take that step to help.
FREE PRINTABLE:
You are more than welcome to download and PRINT this printable up for your favorite teacher. Gift idea: get an 8×11 frame and print this freebie out then put in a frame- now you have a cool picture to give to a teacher! Just click on the image!
$200 DonorsChoose.Org: Teacher Appreciation GIVEAWAY
This will be an EASY ENTRY giveaway…all you need to do is tell us (in comments) WHY YOU WANT TO WIN? Parents and Teachers are encouraged to enter but anyone can enter! We will pick a random winner on May 31, 2019. The winner will be mailed a gift card in the mail within a week.
Good luck and please share with other parents and of course TEACHERS! Plus let them know about SONIC Limeades for Learning and the FREE DRINK with the APP.