Tea Gallerie- Product Review
Pam' Review:
It's that time of the year we all think about what we can change or improve in our life. One of my aspirations (I don't do resolutions) is to get healthier. I know I drink way too much coffee and have been thinking about switching to tea in the afternoon. Tea seems to calm me too so the other day I made a wonderful cup of Earl Grey. Oh my goodness, when I opened the tea bag the smell was so amazing and I couldn't wait to see what it tasted like. I love loose leaf tea. When I tasted the tea I was in Heaven! It had so much flavor and so smooth. Tea Gallerie takes pride in making their tea a sensory experience and they do just that! I might just have to turn into a tea drinker if I can have this tea everyday!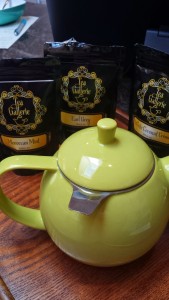 Check out some of the teas Tea Gallerie offers
Plus they also have White ,Mate, Pu-erh, Oolong, Ki, Flowering and much more. Tea Gallerie has something for everyone! My daughter tried the Moroccan Mint and the that tea had our house smelling so minty- LOVE IT! Tea Gallerie offers tea from all around the world! You can try classic flavors or something new!
Please check out Tea Gallerie on Facebook. I learned a lot on their website, especially about Tea Health Benefits . We highly recommend this product.
We also have a Tea Gallerie Giveaway going on HERE.