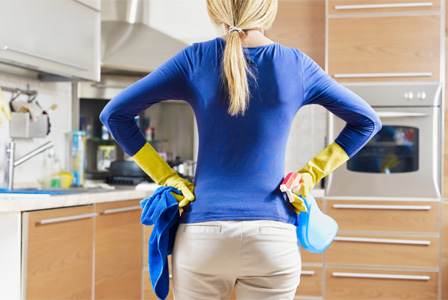 Everyone knows that cleaning is an incredibly boring and tedious process and only reason we are doing it is because we basically don't have a choice (unless you're a bachelor or a college student, don't have people over very often and can pretty much handle the mess; trust me, I've seen all sorts of traumatizing premises). However, there are a few ways in which you can significantly speed up this process. I'm not saying you're going to like it – I'm just putting it out there as an option. You will basically have to do less work but more often. Are you up for the challenge? If you are, let us begin.
How to speed up
The trick here is to actually slow down. Confused? Let me elaborate. You don't have to try cleaning more quickly, you just have to do it more often. The more often you clean, the less you have to clean, because there will just be less to clean up. The problem most people face when cleaning is that they postpone it until they can't postpone it anymore. Which causes an even bigger problem later when they have to waste hours from their weekend so they can handle the mess they themselves had created. People don't realize how much simpler it would be to just clean their regularly and have everything ready by the time they've even managed to process the fact they had to clean. Seriously, I've sometimes managed to clean my apartment before I even realized it, before even thinking about how much time it would take. It's that simple.
If you're not a fan of regular cleaning…
So you don't want to listen to common sense, do you? Fine, then, let's talk about other alternatives. A good tip I can give you about speeding up the process of cleaning is actually listening to music while you clean. Make sure it's something fast. It may or may not have lyrics (depending on your preferences) but make sure it's not the sort of music you would sit around listening to. It has have a motivating component about it. Let me tell you, there is nothing more epic than cleaning the living room while listening to Eye of the Tiger while singing the lyrics you don't really know.
Logistics is often another common problem. A huge chunk of time is wasted for you to go around looking for the broom (or the vacuum cleaner if you're in touch with the times) or something else you need at a given time. This is absolutely pointless. What you should do is have what you need where you will need it. This way you don't waste so much time tracking it down. Think about it this way. Imagine you just went to the bathroom and you need to wash your hands. However, the soap isn't where you keep but is instead in the bedroom (where you supposedly don't need it all that often). So what do you do? Go to the bedroom, take it, get back to the bathroom and wash your hands. Did you picture how much time you wasted just to wash your hands? Now imagine doing that with all of your cleaning supplies. That's about it. If you want to spend less time cleaning, you have to up your game one way or the other. You could even consider a maid service to get the job done as well. There are services to consider like the Maid service in Austin.