Selma's Dolls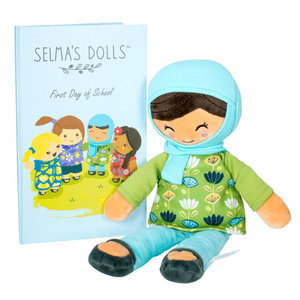 When my kids were young, and they saw someone that didn't look like them, they would start to stare. Of course, I would tell them to look away, feeling a little awkward, and not knowing exactly how to handle the situation. Once they were in school, I loved that they were put into classrooms with others that they might consider "different." We should all teach our kids to accept anyone that is different than us.
That is why I love the message that Selma's Dolls teach!
Selma's Dolls has many dolls to offer your kids. Some examples are a Muslim doll (Ameena), Mexican-American (Lola), and one with Down's Syndrome (Annie). These dolls, or friends, show kids that it is ok to accept and learn about someone who looks a little different than yourself. What a great message for them.
Teaching Children Acceptance
As children, we all just knew how to be loving towards one another. It isn't until later in our lives that we learn bad behaviors. That's why I'm glad these dolls are made for kids ages 2 and up. They don't need to be taught to care, not to be scared of differences.
Now that my kids are grown, I know what to say to my granddaughter. I've had enough practice now! She asked me the other day why a child was in a wheelchair and couldn't talk like her. I explained to her, in a way she would understand, that even though he might look different, he is still the same as her. He has feelings, loved ones, and wants to be treated like anyone else.
Teaching Children Diversity
Selma's Dolls are also teaching little ones to understand that others may have a different religion, race, or culture than them, but it is ok. Let's celebrate and learn about each other. Their message is a beautiful one. Showing children, you can have beautiful friendships with anyone, even someone with a different view, race, etc. Each sweet ragdoll comes with a storybook, which you can use as conversation starters.
What better way to educate your kids than talking to them and answering their questions. The doll that I received is named Ameena, and she is a Muslim friend. I was going to give my doll to my 5-year-old granddaughter. However, as you can see in the pictures, my 9-month-old granddaughter decided she wanted Ameena! I will be reading the book to them both, but the doll is hers. She loved her and wouldn't put it down.
Giveaway- Doll Of Choice
You have a chance to win your choice of a Selma's Doll- One Winner -USA ONLY. The Giveaway will run from September 11, 2018, until 11:59 pm EST on September 30, 2018. This blog is not responsible for prize fulfillment. Please enter by using the Giveaway Tools Form Below. Good Luck
What a great gift any of these dolls would make. Give your little one a new friend.
Connect with Selma's Dolls/Facebook/Instagram/Amazon