Mythical Creatures are one of my favorite creatures. Anything that isn't suppose to exist I love. And so do my grandkids. In this Find It Game you can find fairies, dragons and trolls! So many other creatures that you will be surprised to find. For centuries people believed that these creatures existed, not just in tall tales but in remote parts of the world. Have fun looking for all of these wild creatures, like the sphinx, Pegasus, bigfoot and mermaids can be found in THIS game!
Mythical Creatures Find It Game
We love playing this game. Made for the entire family, It is not only a fun game it is educational. Me and the kids shake, twist and spin the game to try to find all the creatures. My son saw a jackalope while traveling with his dad so he likes to look for him. They have included 40 strange and unusual items in the cylinder. Look at the shape of the cylinder. It is the perfect shape to set on the table. Roll or twist or shake. Great for little hands to hold on to. Even my youngest had fun looking for the hidden items. He thinks it is so funny when he finds one.
Which Side Do You Like Better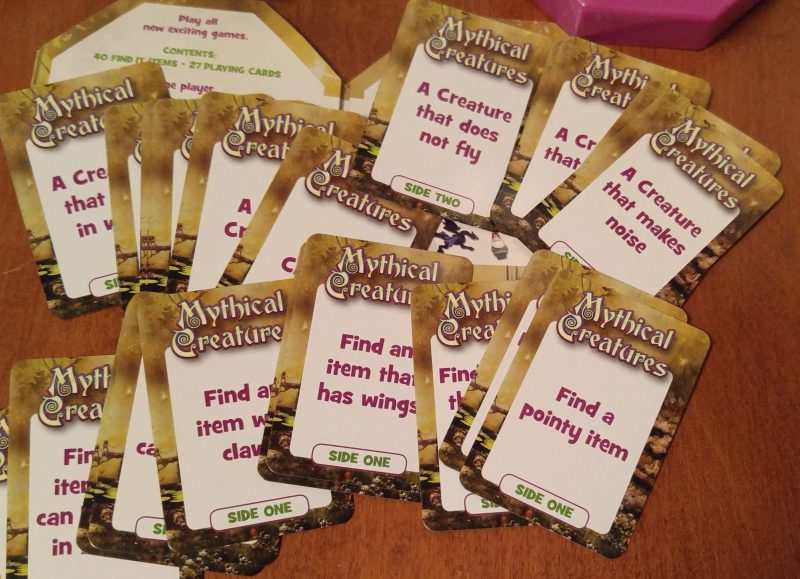 You can choose between side one or side two on the cards. Take turns trying to find the animal on the card you pick. Or you can go down the list and try to find each of the animals listed. Or you can take turns and race to see who can find something first. It offers hours upon hours of play. It is great to play alone or with the entire family. Always finding something new.
Head on over here to check out the latest news and newest products:
Website/Facebook/Twitter/Instagram/Pinterest