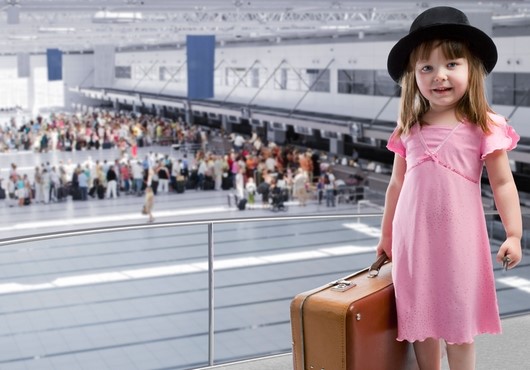 Image credit: travelhotplace.com
Going on a trip with children can be quite stressful for parents due to numerous trips to the bathroom, sudden outbursts, and travel sickness. Therefore, some advice may be necessary whenever parents travel with children. All essential items should be packed, and a well-thought out plan should be made to keep the children engaged during the trip. It is essential to take some things into consideration whenever parents travel on the road or in an airplane with children.
The children should have a meal prior to the trip. The meal can be taken at home, or at the airport. Since food is served in airlines after around an hour of flight, it may be possible for the children to become hungry during the trip. Children can become ill-tempered due to psychological or physical anxieties. This may result to temper tantrums.
It is essential to keep children occupied with games, books or toys during the trip. Lightweight books and toys are advisable, and long trips may require stuffed toys or hand puppets. However, don't overload the carry-on luggage with games and toys.
Parents can also use available technology to keep their children engaged. Children can watch animated movies or cartoons on the television screen inside the cabin. Although many kids may be engaged, there may be instances when they find the shows on the screen boring. Due to this, parents should download poems, animated movies and cartoons on their smartphone or laptop. This small gadget will keep the children entertained during the entire trip.
A number of mothers will consider the destination whenever they dress up their children for the trip. However, it is not advisable to overdress kids. Give children something comfortable to wear, such as pajamas and a nice sweatshirt that make them comfortable enough to sleep during the trip. It is also advisable to provide children with comfortable footwear during the trip.
Carry-on baggage should also contain medicine for children in the event that they get sick. The attendant should be informed about certain conditions such as asthma that children are experiencing. It is also essential to have an inhaler accessible during the trip.
Parents should also prepare an extra set of clothing for children in case they feel uncomfortable or throw up during the trip. Fresh clothing will reduce the uneasiness the kids will feel throughout the trip. It is also essential to prepare a suitable number of diapers for young children who may not be toilet-trained.
Snacks may also be handy to pacify kids during trips. These snacks can be used to avert tantrums from children. It is also important to pack a hand sanitizer to clean the hands of children while they are on their seats before they take their snack.
Since it is not easy to monitor the activities of teenagers when parents are traveling with young children, it is advisable for them to use the mobile tracking software. Such application will provide parents with the location of teenagers in real time. Moreover, the app also facilitates the location of a device whenever it gets misplaced or stolen. Users can remotely engage password protection as well as wipe personal information stored on the device. So, this app can be a great parental control tool that provides numerous benefits to parents and their children.
Linda Waters, works for http://www.mspy.com/text_message_spy.html and does her best to enhance the benefits of mobile monitoring tools. Writes about data security tricks, kids safety tips and mobile apps.