"This post is sponsored by Sivan Social. All comments and opinions are my own."
By now you may already know the holidays are upon us and closing in fast.
Which means there is a lot of preparation to do! First, you have to figure out what to get, how to save, and where to go.
While getting ready for the holidays, you can head on over to Sam's Club.
You can get everything you need for fun treats, special gifts, and delicious meals too!
Sam's Club is the perfect place to shop for your everyday items, but they are perfect for holiday shopping too.
Keep in mind that buying in bulk and purchasing larger quantites can be beneficial.
With that being said, you should know that Sam's Club has a few big things going on that you may want to take advantage of.
Incredible Instant Savings On Everything You Could Need
When you think about instant savings you imagine that you'd be saving a good bit, right?
You'd be gaining access to $4700 in instant savings in categories like seasonal decor, tech, home, and health & beauty.
The Instant Savings that's offered by Sam's Club is simply incredible. You don't have to clip any coupons or load any cards. Its as simple as getting the savings as you checkout.
There are a number of items on that list that I love, but here are a few that stand out:
While these are just a few selections, you can check out the Instant Savings book to see everything there is that's offered.
It doesn't stop there, though.
You can find out more details about upcoming sales, club hours, delivery cutoff dates, and holiday categories right here!
All-New Sam's Club Membership Deals
Now if you aren't a Sam's Club member yet, now is the time to join here.
When you join for $45, you'll get a free Rotisserie Chicken, Take & Bake Pizza, and 8 count cupcakes, valued at $20.95!
If you think about it, you'll be paying less than $25 for a year long membership.
This is an opportunity that you just don't want to pass up.
A Gift Card Giveaway Opportunity
Starting 11/16/2020 and through Thursday 11/19/2020 at midnight you'll be able to enter to win one of $100 E-gift cards from Sam's Club RIGHT HERE!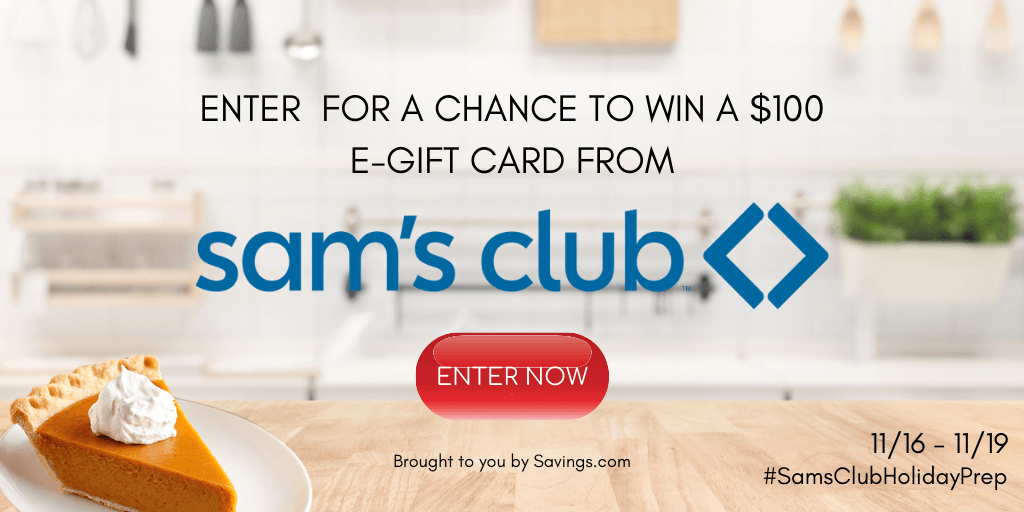 To enter, simply head here and enter your email address to qualify.
The winners will be chosen through a lottery drawing and notified on Friday, November 20th (11/20) via the email address they used to enter.
See complete Official Rules for entry instructions, full prize descriptions, restrictions and other important details.
Sam's Club's Response To COVID Efforts
Sam's is being very safe with Scan & Go and Curbside Pickup options that allow you to shop safely.
You can see all of the information here!
Start getting ready for the holidays the right way, with everything you need in one place, Sam's Club