Looking for the perfect gift stocking stuffers for your family? If so, check out our gift guide for those ideas. We here at Kelly's Thoughts on Things are working to bring you the coolest stocking stuffers of the season.
Just click on the product URL and it will bring you right to the product page.
---
TOP PICKS
---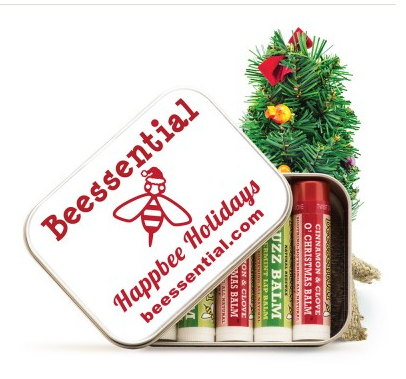 Now you can make up your own Custom Five-Pack of Lip Balms. Chose one flavor, or go crazy and chose five different flavors for those days when you need to change things up. Beessential's Pick Your Own Lip Balm Gift Tin is the perfect present for friends, family, teachers, the babysitter or just bee-u-tiful you!
Made with Coconut and Olive Oils
Gentle, All-Natural Beeswax Lip Balms
Healing Shea and Cupuacu Butters
Nourishes with Pure Ingredients
Attractive Colorful Assortment
FREE SHIPPING UNTIL CHRISTMAS
BUY ONLINE $15.95
Connect: Facebook–Twitter–Instagram
---
Beach Gladiator prevents and heals the dreaded "chub rub". It helps protect commonly rashed areas. Rubbing clothing often causes a painful rash. Beach Gladiator creates a slick protective barrier that shields the skin from rubbing and friction. It's great for those who surf, swim, boogie board, paddleboard, kayak, or scuba dive. It's also great for walking, running, biking and playing in the beach elements. Surfers rave about its effectiveness. Moms love that it works for their kids at the beach. No more Spandex under your board shorts, or rash guard clothing to buy – this is a rash guard in a bottle!
COUPON CODE: KTOT15 for 15% off
---
More Ideas
---
COFFEE, yes, please!
Nescafe Latte Caramel it is a NEW Flavor, right on time for the holiday! I have to admit I'm a bit addicted to this coffee now, it is so tasty and gives me the right push I need in the afternoon. So smooth and not sweet at all, you know what I'm talking about- some caramel coffees are way too sweet. Not Nescafe! I will be buying more packets in the future. I want to try the Mocha flavor next.
About this coffee
Made with a blend of high-quality coffee beans, liquid creamer, and sugar
Infused with real New Zealand milk
Deliciously smooth, milky and frothy
No bitter, just caramelicious
It is imported directly from Malaysia and cannot be found in the local stores. However, it can be purchased on http://MyCoffeeStix.com.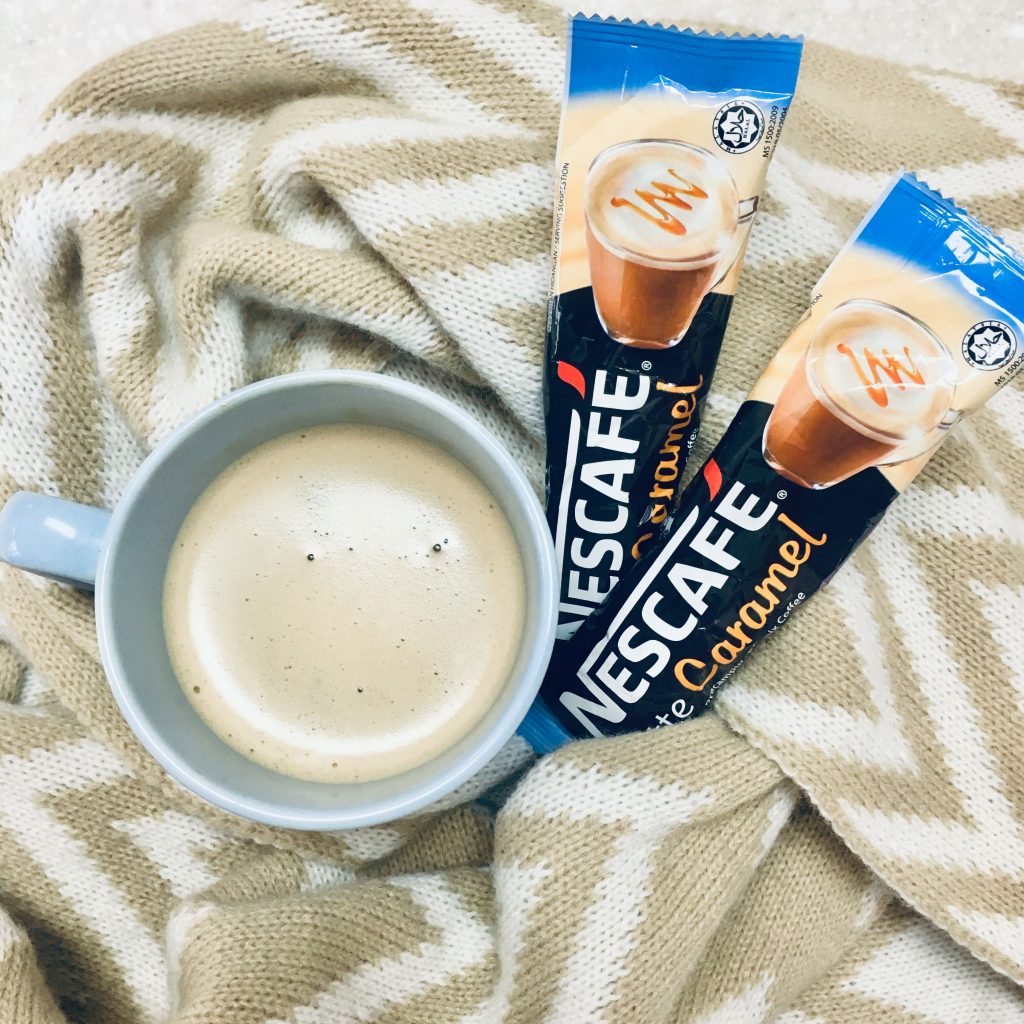 Perfect for

Campers, hikers, frequent travelers, mobile workers

Running late in the morning

Late night coffee (lazy to brew and clean up)

Avoid long lines at drive-through /coffee shop


Gave up on brewing because never get the taste right

Run out of creamer and sugar
10% OFF coupon Use code: HOLIDAY10 (Valid until 1/15/2019 11.59pm EST0
Follow on social for future deals and giveaways?
Facebook: http://Facebook.com/MyCoffeeStix
For more info about coffee
http://promo.mycoffeestix.com/presentation
---
SNACKS
Otis Spunkmeyer's Grab-N-Go portfolio is on the shelves at convenience stores across the country, giving you the perfect treats to fill out your carefully hung stockings! The best part? Otis Spunkmeyer's Grab-N-Go foods are made with'No Funky Stuff', which means NO artificial flavors or colors, NO high-fructose corn syrup, and NO partially hydrogenated oils. They're a better-for-you treat that you can feel good about eating.
Chocolate Chunk Cookies – with molasses and dark Swiss chocolate chunks
Iced Lemon Loaf Cakes – lemon loaf cake with tangy, lemon icing
Cinnamon Crumb Loaf Cakes –cinnamon flavored cake with a crunchy, sugar topping
---
Ozone has set the benchmarks for what's cool and hip in footwear. "There have been more innovative and new design concepts that have come out of Ozone than any other sock company in history." The list is impressive: shoe socks, safe sox, hemp socks, radionic socks, tattoo socks, motorcycle socks, the replacement sock, etc.
Check out more SOCKS!
---
Skincare
C&C by Clean & Clear-A brand new line of skincare products, the line was released in mid-July and has products to cleanse, treat and boost your skincare routine. The line was made with teens busy schedule in mind. Teen girls are always looking for products that actually do what they say- clean the skin and C&C by Clean & Clear is extacly what they need.
Our no glow anti-shine stick and mask one rubbery peel-off mask is the perfect stocking stuffer for your daughter or niece. While the anti-shine stick keeps oil and shine at bay the rubbery-peel off mask applies bright pink and is perfect for a girl's night in.
Couple items to mention:
Black Out Blackhead Clearing Scrub: This oil-free, coffee-scented blackhead scrub is no exception with its gentle exfoliation and deep pore cleansing qualities. It is formulated with salicylic acid to help combat active breakouts, and help keep skin balanced to help prevent future blackheads and acne.
Mask One Rubbery Peel Off Pink Face Mask–The blackhead face mask clings to dirt and oil, then peels away to reveal unclogged pores and a refreshed complexion. Good for a mid-week refresh or a DIY spa day, it also helps to dissolve the stresses of the week for a cleaner, more relaxed you!
Check out all the products that C&C BY CLEAN & CLEAR
---
Condoms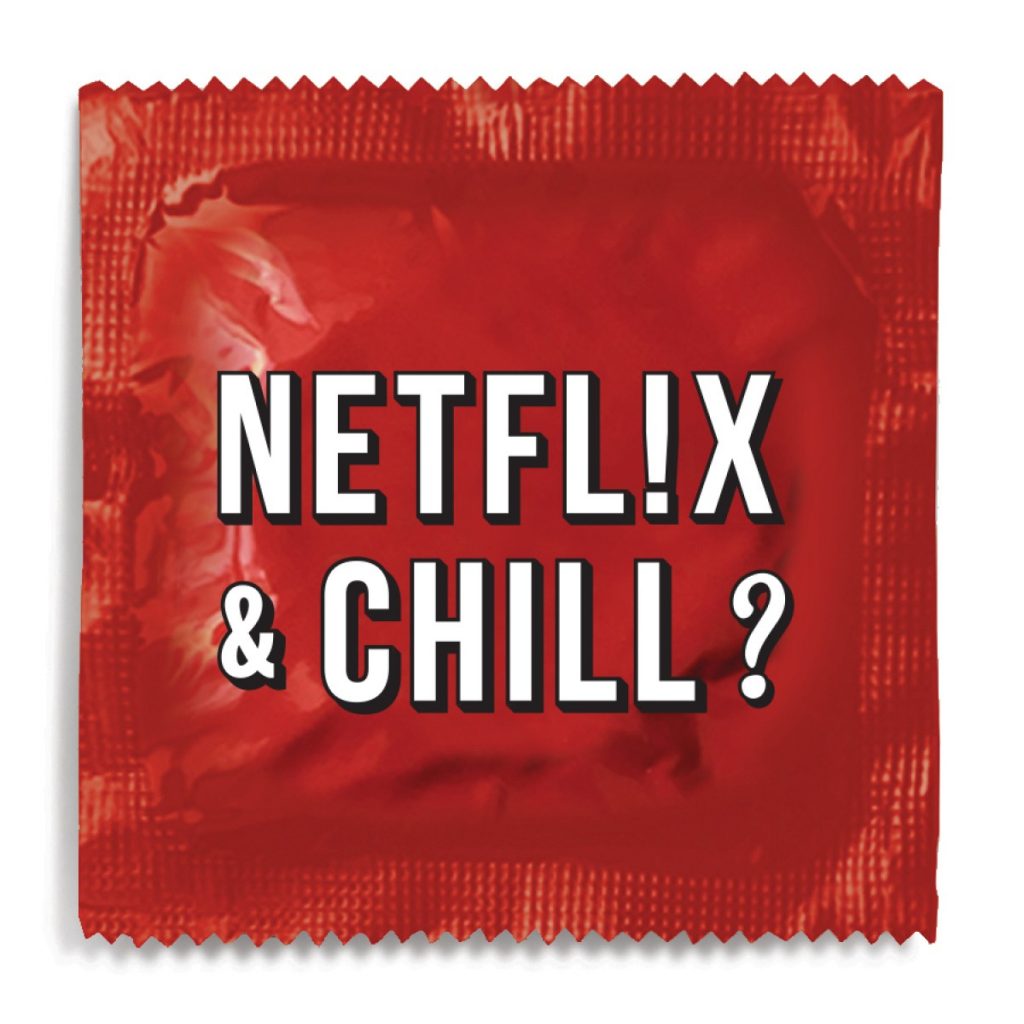 Yes, condoms are the perfect stocking stuffer! Now of course not for the young kids but what about older teens, young adults and even older individuals will get a kick out of these condoms.
You can design your own which by the way is a wonderful advertising opportunity too. Say It With A Condom™ believes that condoms are a powerful tool to start a conversation about your brand, product, service or event.
Follow on Facebook–Twitter–Instagram
---
Happy Hair Ties Tin $4.99

Personality-filled hair accessory tin perfect for people on-the-go
Compact and loaded with 25 black hair ties for easy access – even on the go!
Affordable, adorable, and useful for styling the perfect bun, ponytail, or updo.
Available at select CVS pharmacies in the US.
Check out at: CVS
---
---
ADJUSTABLE BELT FOR EXTREME COMFORT AND SUPPORT
The JeltX is the 2.0 version of the original Jelt Extreme adjustable belt. We added a super strong, low profile magnetic buckle on the highest quality elastic. The belt is finished with a non-slip inner grippy gel designed to hold on tight and keep your belt and pants in place.
Designed for heavy pants and hardcore adventure
Made for men and women
Flat, no show magnetic buckle with an interlocking design to avoid unappealing buckle bulge
Can be worn with or without belt loops
One size fits everyone up to 50"
Belt: Recycled polyester/rubber/nylon
Magnetic Buckle: Acetal
Belt width 1.25"
Weight 2.2oz.
Proudly Made in Montana, USA
BUY: https://jeltbelt.com/products/jeltx
Price $35
Coupon Code: Gift10 for 10% off
Social Media: instgram.com/jeltbelt , facebook.com/jeltbelt , twitter.com/jeltbelt
---
---
Bel Essence Intensive Anti-Wrinkle and Anti-Aging Moisturizing Cream for Normal to Dry and Mature Skin – 1.5 oz
Nine natural plant oils containing important vitamins, fatty acids and antioxidants help your skin fight environmental damage and reverse aging for a natural anti-wrinkle treatment that works. These oils contain vital nutrients to hydrate your skin and help it repair, rejuvenate and retain its youth and glow. The Bel Essence Anti-Aging, Anti-Wrinkle Cream is an easily absorbed cream to help your skin maintain its health, and over time, smooth lines and wrinkles. The gentle, natural formula is perfect anti-aging skincare for sensitive skin.
Read More Price $31.00
---
CAT PAWS is an 88-page photography book which is sure to put a smile on anyone's face. The first and only book focused solely on angle shots of the furry, purrr-fect paws of Japan's most Instagram-famous felines, CAT PAWS has already sold over 15,000 copies in Japan. The English language edition contains short profiles of each of the forty cats featured and highlights the fun and fascinating trivia about how cats use their paws to express their emotions.
Buy On Amazon: Price 12.95 USD
Follow on Instagram: https://www.instagram.com/cat_paws_book/
---
JUNKLESS CHEWY GRANOLA BARS
It's hard to find better-for-you snacks that your kids will eat. They love the highly processed, high-sugar offerings from Big Food but won't touch those organic snacks with a ten-foot pole. Great for breakfast and after-school snacks.
JUNKLESS is the better-for-you granola bar that you'll love because each is made with a few simple, clean, non-GMO ingredients—and they're relatively low in sugar too! And the whole family will love the soft, moist texture and classic flavors.
Follow on Twitter–Facebook–Instagram
Kid Delicious-Mom Nutritious! https://www.amazon.com/junkless
---
Kinsey Falls Books (2 books–Hightail It/Putting Down Roots)
Joanne Faraday comes to Kinsey Falls to find her birth parents. What she doesn't expect to find is eccentric Greta Parker and her band of Silver Sleuths. The amateur "detectives" mistakenly think that Joanne is hiding something and start following her all over town. Joanne doesn't know whether to be amused or horrified, but their antics are a welcome distraction from her own worries.
If you like fiction with humor and heart then this is a series fiction you need to read or give as a gift.
Read more: www.gayleleeson.com
Follow on Facebook–Twitter–Instagram–Pinterest
---
Once opened the red card reveals the quintessential Christmas tree adorned with gold ornaments and topped with a lovely gold star. One look at this design and suddenly we were whisked back to our childhood, reminiscing about baking cookies for Santa and trying oh so hard to wait up all night for him and his reindeer.
Lovepop cards are perfect for those on your shopping list who deserve a little more this year. Plus they can use it for decor year after year!
Lovepop pop-up card with one blank envelope- You can personalize too!
Read More: Lovepop
---
Welch's Christmas Fruit Snacks
The Airhook
The Airhook is a two-in-one solution for airplane travel comfort: a stable drink holder and a secure mount for an electronics device (cell phones to tablets 8.5 inches tall when horizontal) that attaches to the tray table in its locked position. Designed to elevate the level of convenience by allowing for maximum legroom, The Airhook uses the tray table in its vertical and locked position as an anchor, rather than horizontally across your lap as a platform. Passengers no longer need to sacrifice space with the folding down trays!
Buy HERE use FLYWITHME for 10% off
---
Learn how to draw kawaii with Mini Kawaii Doodle Class!
Kawaii is a Japanese word that translates to "cute," and popular YouTube artist Pic Candle shows you how to doodle your way to adorable in this miniature, portable, and even cuter version of her best-selling Kawaii Doodle Class.
This mini-master class in cute features nearly 100 lovable, huggable characters and includes simple step-by-step illustrations and instructions, search-and-find puzzle patterns that you can color, inspiration boards that show you how to give your characters different facial expressions and zany accessories, and drawing pages to get your doodle party started. Your adorable drawing subjects include tacos, sushi, smoothies, clouds, rainbows, cacti, and more.
Soon you'll be enhancing your notebooks, stationery, artwork, and more with your own unique kawaii world. Mini Kawaii Doodle Class is now in session!
---
Bananas™ – Great Stocking Stuffer!
Smell-able, Peel-able Bananas™ from Cepia, LLC are an exciting new collectible line of six brightly colored and scented Bananas that look, smell and peel like a real banana! Peel the Bananas™ to reveal tons of mini surprises inside, including: a cute Crushie character, two mini squeezable friends, gemstone stickers to decorate the Crushie or Banana, a collector sheet with character stickers, and a hanging vine to display your Crushie friends. Keep on the look-out for the Rare and Ultra Rare Crushies to add to your collection! Display Bananas by hanging them on your backpack, or reseal them to take on the go and trade with friends.
MSRP $9.99 for bunch of 3, or $3.99 for single Banana; ages 4+
---
Cuddlekins Unicorn Plush – Great Stocking Stuffer!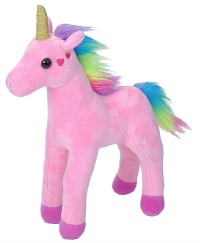 Standing unicorns are the latest addition to Wild Republic's popular Cuddlekins line. Irresistibly soft fabrics are perfect for petting and cuddling. Multi-colored mane and tail and embroidered beauty marks add style. Available in two designs: white stars unicorn and pink hearts unicorn. Unicorns are approximately 8" in size. MRSP $9.99
---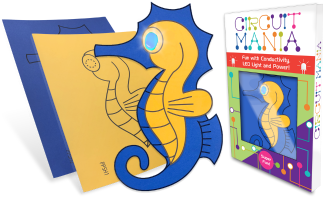 Fun with Conductivity, LED Light and Power!
Learn all about conductivity, power sources and circuitry all with this fun, easy-to-do project right at home.These exciting projects help cultivate a host of important skills: problem solving, trial and error, following instructions, and the basics of circuitry and conductivity. Designed for STEAM learning, kids will be engaged and their creativity will flow with this easy to use kit. All key components are included: conductive tape, LED light, colorful construction paper, template and cell battery. Templates available in a flower, lighthouse, seahorse, unicorn, and rocket; and kids can collect them all! Ages 6 and up. $9.99
---
Skooob – FOR TANGLE FREE EARPHONES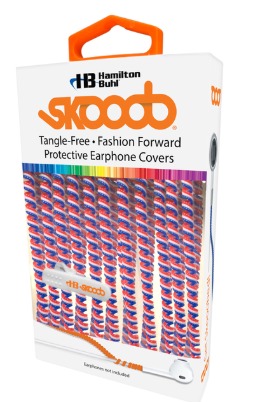 Enjoy your music and take calls uninterrupted by eliminating the need to untangle your headphones with Skooob, the new hassle-free and stylish accessory for your earphones! Skooob eliminates the tangle mess while adding a personal touch to any pair of earbuds or headphones. Features a wide selection of colors and easy to use, simply twist the Skooob around the cord starting at the jack and work your way up towards the earbuds. Then simply cut the Skooob when it reaches the two separate earbud wires. Continue to twist each individual earbud until done and your all set! TPU plastic covers are made to slide in and out of the pocket, without attracting lint, stretching, or kinking. You're earbuds will NEVER tangle again! For all ages! $6.95-$8.95
---
Original Pedi-Sox® brand toeless socks for pedicures, yoga, and wearing flip-flops year-round! Feet stay comfy cozy, toes spread, the polish dries flawlessly, and life is just better!
$ 7 – $ 11 USD
---
Sign Up For Holiday Gift Guide: GUIDE Options
Other Gift Guides:
Her-Him-Kid/Baby-Teens-Stocking Stuffers-Pets-Tech-Home-Foodie