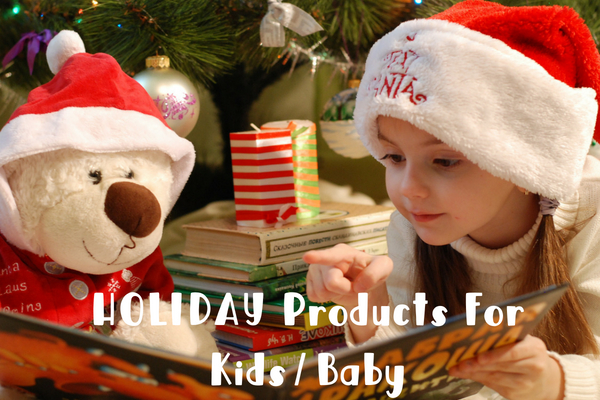 Looking for the perfect gift for the kids in your life? If so, check out our gift guide for children of all ages. We here at Kelly's Thoughts on Things are working to bring you the coolest children's products and toys of the season.
Just click on the product URL and it will take you directly to the product page.
---
Top Picks!
Here are our favorites for the season.

Screen-free, The Teach My Baby Learning Kit is the multi award-winning all-in-one learning toy for babies 6 months+. Full of activities for babies, the kit has everything necessary for teaching baby the basics! Teach My Baby is divided into four sections to teach babies – First Words, First Numbers, Self, and Sound & Touch. From finger puppets and books to blocks and puzzles, the kit is full of learning toys for babies that will give your mini scholar a head start. Teach My Baby promotes fine motor skills, hand-eye coordination, parent-child interaction, and self-esteem.
$29.99 Available online at Amazon, Walmart.com, Target.com, Bed Bath & Beyond.com, Staples.com, Teachmy.com and more.
Connect with Teach My: Site | Facebook | Twitter | Instagram | Pinterest
---
Beach Gladiator prevents and heals the dreaded "chub rub". It helps protect commonly rashed areas. Rubbing clothing often causes a painful rash. Beach Gladiator creates a slick protective barrier that shields the skin from rubbing and friction. It's great for those who surf, swim, boogie board, paddleboard, kayak, or scuba dive. It's also great for walking, running, biking and playing in the beach elements. Surfers rave about its effectiveness. Moms love that it works for their kids at the beach. No more Spandex under your board shorts, or rash guard clothing to buy – this is a rash guard in a bottle!
COUPON CODE: KTOT15 for 15% off
---
Boxitale Knights of Nature Interactive Craft Game Adventure for Kids uses Phone / Tablet Free App, Stem Skill Development
Boxitale, the new gaming concept from Akibabus Ltd that blends craft-based imaginative play with digital technology, is available at Hobby shops, retail and online.
BoxiTale is an immersive story-based experience that is streamed on a tablet or smartphone and solved on a board game. The BoxiTale stories lead players into original, animated adventures where they are the heroes, building, designing and solving the challenges presented to them in the story as they try to save the day. Once the player's design is ready on the board, they take a picture of it and upload it using the BoxiTale app; the picture is reflected in the story.
Buy on AMAZON $36
Hour of unique playtime that can be played again and again. BoxiTale stories available now include Knights of Nature, Elite Explorers, and Boxitale – Mini Stories
---
MORE IDEAS
---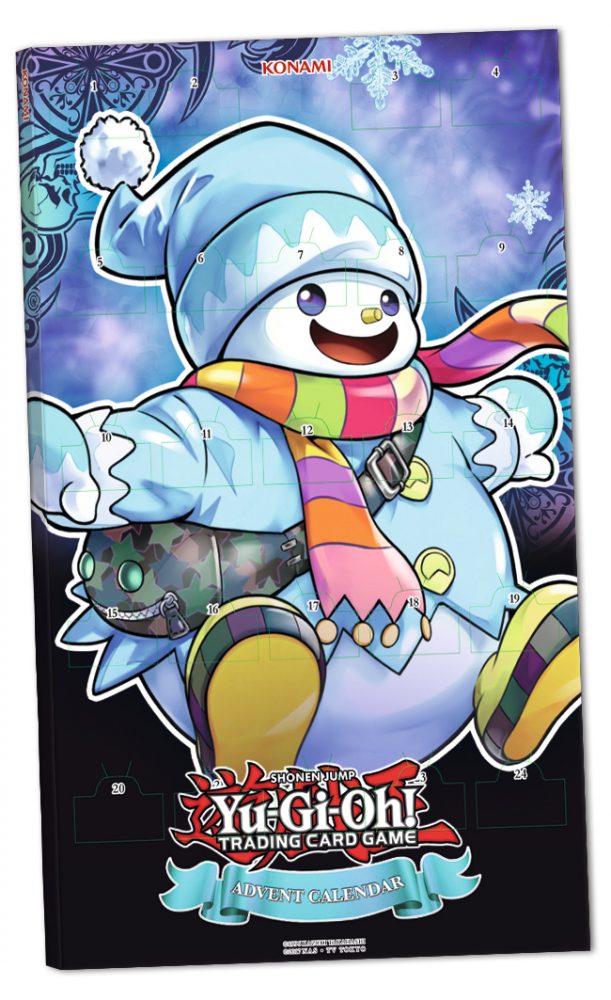 The Yu–Gi–Oh! TRADING CARD GAME Advent Calendar is here to honor the old-time tradition of counting down the days to Christmas, in a way fit for a Duelist! The Yu–Gi–Oh! TRADING CARD GAME Advent Calendar contains 24 doors, full of holiday-themed cards to add to your collection and power up your Decks. Box of Friends, Toy Magician, and many more cards can be found to get Duelists into the holiday mood!
Purchase in-store, but additional information can be seen here: https://www.yugioh-card.com/en/products/advent_calendar.html
Prize: $19.99 Per Calendar
Connect: Twitter–Facebook –Instagram
---
You can use this "Sneakz Organic is taking vegetables from YUCK to YUM with a delicious line of milkshakes for kids that sneaks in a half-serving of vegetables into a lunchbox drink. The drinks are free from the bad stuff. No GMOs, antibiotics or synthetic hormones. Just simple ingredients, and nothing artificial, ever. Our Chocolate Milkshake stars five nutrient-rich vegetables – carrot, cauliflower, sweet potato, spinach, and beets. And we are proud of the resulting nutrition.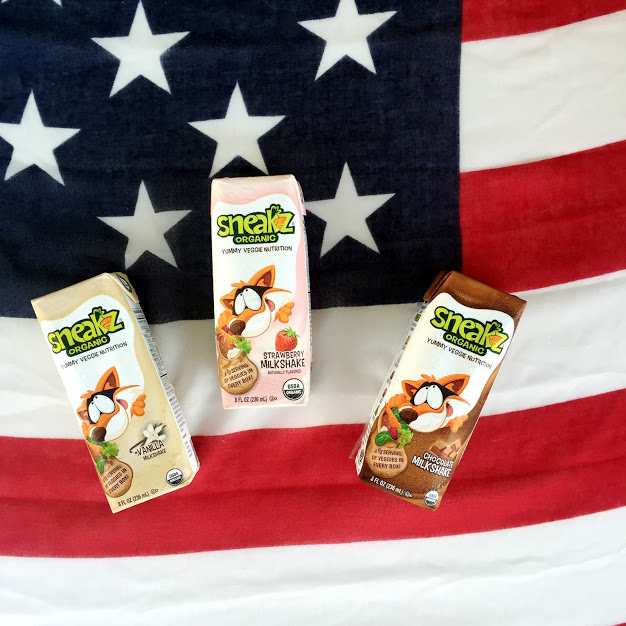 The drinks have more fiber and less sugar than other chocolate milk, and our vitamins come from whole foods, not fortification. Each drink also contains 5g of Protein.
Purchase: https://sneakz.com/collections/all
Price:$21.00 Kids Nutrition Smoothie, $9.99 Sneakz Flavored Milkshake
Follow on Twitter–Instagram–Facebook
---
Hair Ties-Scen-Ties!
Since the holidays are fast approaching, and we begin to look for unique gift ideas for the loved ones on our list! An exciting product for the ever-so-difficult to please kids might be is Scen-Ties Scented Hair Accessories!
Created by a mother of four who grew up in the 80's, when scrunchies, Rubik's cube, Strawberry Shortcake, jelly shoes, and stickers were all-the-rage, CEO Kara Dahn is setting a new trend, channeling her love of Scratch n' Sniff stickers – with a unique twist- hair elastics and headbands that are scented! Scen-ties hair ties are available in a variety of scents, including Cotton Candy, Sour Apple, and Bubblegum. Their fragrances last up to or more than a year! Each hair tie and headband contains a small fabric tag and once you pull it, the fragrance is released and refreshed due to a patent pending scenting process. Clever gift indeed!
Scen-ties hair ties retail for $5.99 for a package of 5, headbands retail for $12 for a pack of 3, and can be found at fine retailers nationwide, directly on the
Scen-ties site
, and on Amazon.
---
Kid'sRed Union Suit Onesie Pajamas "DANGER BLAST AREA Sign on Rear Flap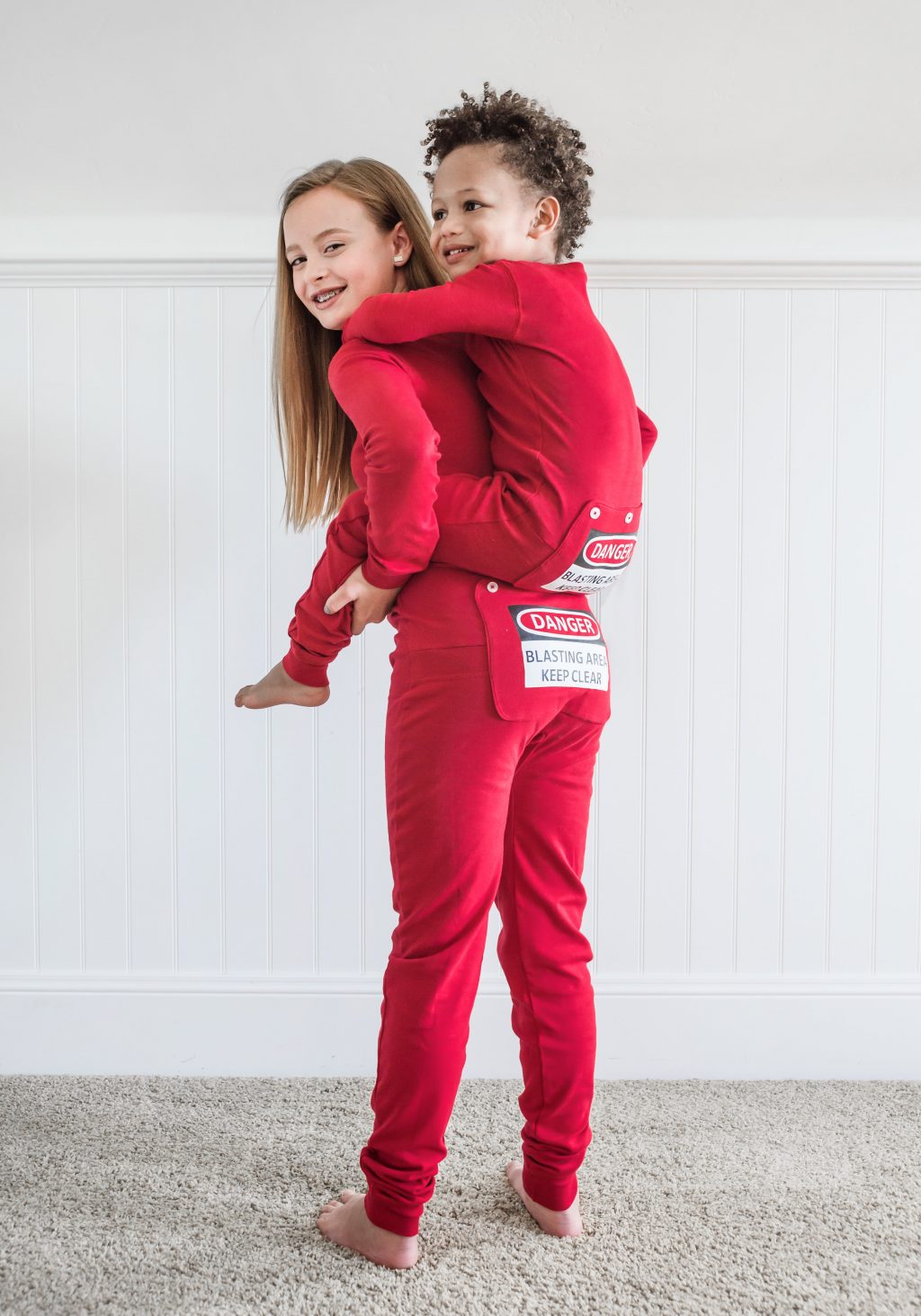 BUY NOW– On SALE NOW for 29.98 (reg $43) Plus Free Shipping
If buying for the family then get a $25 Instant Rebate Orders over $150 with CODE: FREE25
Follow Big Feet PJ'S- Facebook–Twitter–Pinterest–Instagram
---
Read Your Story is an innovative new book publishing company that creates and sells personalized children's books. We work with vetted children's authors and illustrators to produce high-caliber stories, which feature your child's name and face throughout!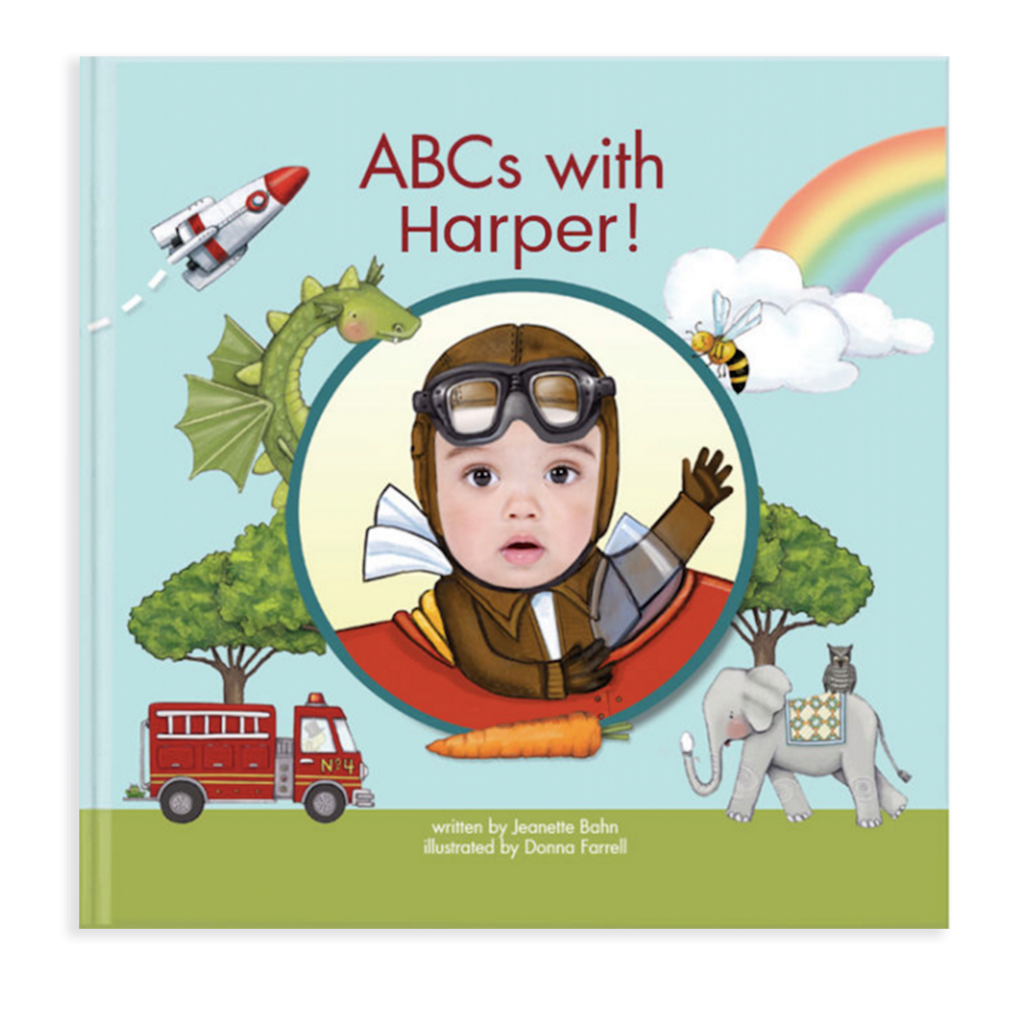 Discover letters, words and an adorably familiar face in this unique, award-winning alphabet book, starring your child. And long after mastering the ABCs, this personalized book will make a wonderful keepsake for your child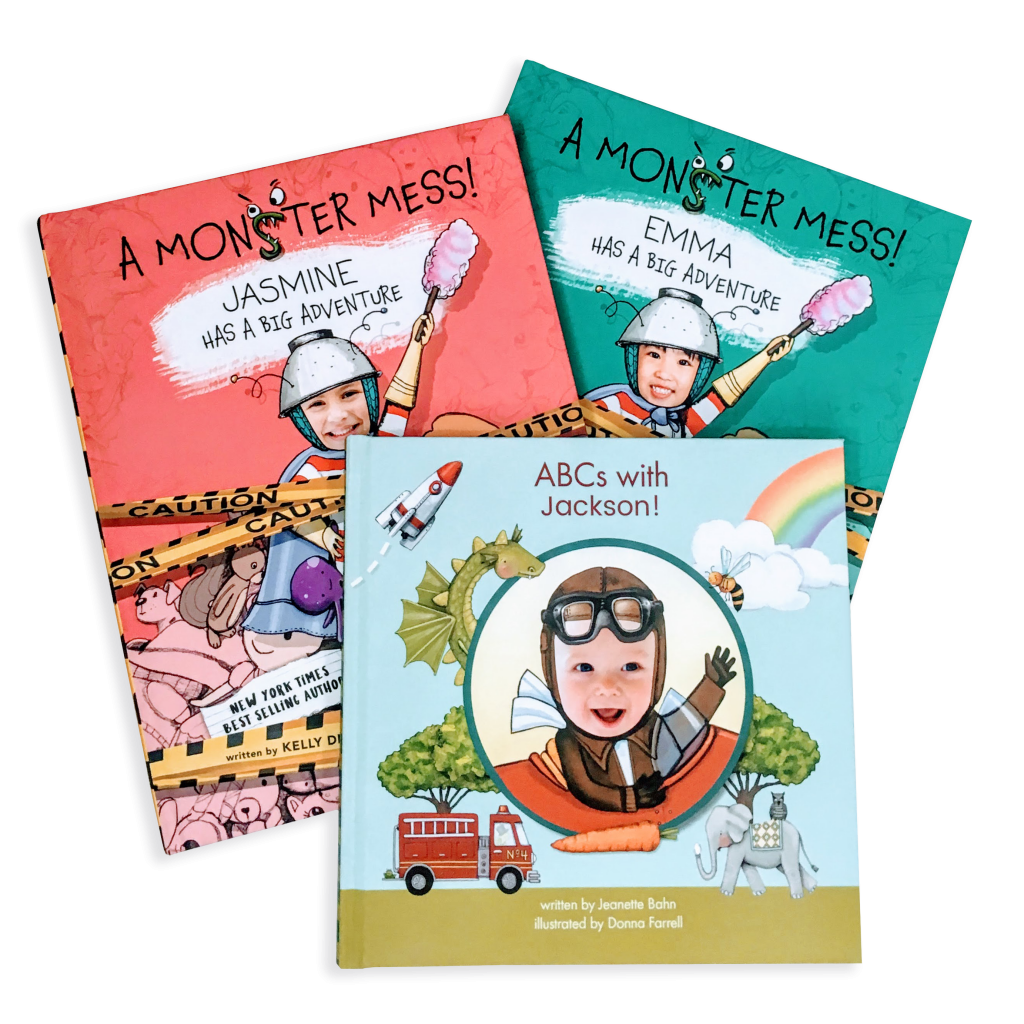 Mystery and mayhem await your child in this personalized story, written by New York Times bestselling children's author, Kelly DiPucchio! Follow the clues as your child discovers who…or what created such a monstrous mess and almost made a clean getaway!
In addition to your child's name, photo and dedication, choose from 5 book cover colors and add up to two family photos.
---
"Fireflies" by Mister G

Latin GRAMMY Award winner and four-time Parents' Choice® Gold Award recipient Mister G (Ben Gundersheimer) calls upon his musical roots to celebrate children's wonder for the natural world with the release of his ninth album for families, Fireflies.
Fireflies marks a return to Mister G's beginnings as a songwriter and musician. Quintessentially American, the album draws from a rich tapestry of roots influences including folk, bluegrass, soul, and vintage country. The music reflects the freedom and excitement of exploring the outdoors in summer, celebrating such iconic pleasures as eating s'mores by the campfire, 4th of July fireworks, paddling a canoe, and family cookouts. The songs also encourage children to see themselves as budding eco-activists who are connected to all beings on the planet.
The album, which was released on Sept. 28, is also available on iTunes, CDBaby, and Amazon
The suggested retail price is $9.99 for a digital download or $14.99 for a CD. You can purchase it HERE!
Follow Mister G's Songs – Twitter–Facebook–Instagram–Pinterest–Youtube
---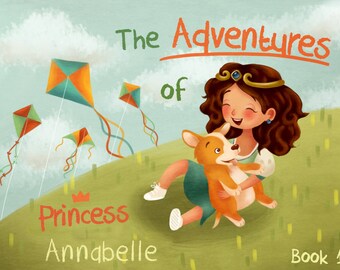 Welcome to Princess Adventures! My goal is to turn a banal, wilting, simpering Princess into a force of nature and good! Our products are customized to look like your little girl, and multi-cultural. Enjoy!
ETSY: Read More
---
Evan and Vanessa's In Our World There Are No Strangers/En Nuestro Mundo No Hay Extranjeros
Louisville's beloved husband-and-wife duo, Evan and Vanessa, are thrilled to announce the release of their new bilingual (English/Spanish) album for children and families, In Our World There Are No Strangers/En Nuestro Mundo No Hay Extranjeros.
Evan and Vanessa have spent years creating their own highly refined, one-of-a-kind sound, combining with it a philosophy rooted in the idea that international harmony can be enhanced by teaching children empathy, respect, and understanding through the songs and stories of other cultures. Their efforts are bolstered by Evan's exemplary musicianship (he sings and performs on over 20 instruments) and Vanessa's beautiful voice, her extensive training in Montessori education methods, and the fact that, not only is she a native Spanish speaker, but her experiences as a child in Ecuador have given her a "hands on" feel for an intrinsically Hispanic way of seeing the world. In Our World There Are No Strangers/En Nuestro Mundo No Hay Extranjeros is, in its entirety, performed in both English and Spanish, with numerous multicultural references and instrumental sounds threaded through each song in intriguing ways.
Purchase HERE
---
Sukey Molloy puts a big smile on traditional favorites and mixes them with original songs, poetry, and a story for the release of her fifth album, Five Little Oysters! Listeners are invited into a personal, intimate world of familiar, old-time favorites as Molloy changes up the lyrics with lots of special effects, creative rhythmic nuances, and colorful percussive textures, and highlights educational, learning fun with counting, farm animals, and cozy family listening for children of all ages!
You can Buy it HERE!
---
Thumb Wrestling Champions by The Green Orbs
Exploding with musical creativity and loaded with brainy, tickle-your-funny-bone humor, Thumb Wrestling Champions, is the debut album from The Green Orbs, the brother-and-sister team of Eddie RosenBerg III and Heather Hirshfield, who grew up in a fun-loving, music-filled household listening to the Beatles, oldies radio, and '80s songs. These influences are front and center in this brilliant, zany album. Thumb Wrestling Champions celebrates exceedingly silly situations through cleverly inventive songs that tell stories and introduce unforgettable characters like Ruby the Tooth Fairy, Toby the Turtle, and The Duck of Whistleburg.
To Purchase Click HERE!
Follow them on Facebook/Instagram/Twitter/Youtube
---
Total Eclipse of the Rainbow by Rainbow Rock Band
One of the brightest stars to come out of the DC metro area kids' music scene is Parents' Choice Award-winning Rainbow Rock Band, which performs more than 120 live shows each year. Kids and families around the country can now enjoy the band's second album, Total Eclipse of the Rainbow.
Since 2012, guided by the hand of singer/songwriter/educator Dr. Kate Moran, Rainbow Rock Band has been praised for its positive, joyful, high-energy music, which engages young listeners and gets them moving to an irresistible beat while also enhancing their learning and social development. Rainbow Rock Band's thoughtful lyrics emphasize being kind to one another, as well as sharing a wonder and appreciation of the beautiful and fascinating.
Recording in Nashville's Secret Sound Studios, producer Kurtis Parks and Kate Moran collaborated on Total Eclipse of the Rainbow to create a fun album that serves a dual purpose. Kate enthuses, "Having worked in education for over 25 years, I wanted to provide teachers with a resource to use for circle time or when they are teaching lessons on colors, numbers, animals, plants, or the weather, while also serving as a catalyst for parents to support this learning at home or in the car. My artistic vision was to create an album of beautiful songs rooted in authentic musical styles that connect with the real-life experiences of a child."
Facebook/Twitter/Instagram/Youtube
---
Happy Land is Tierra Feliz by Mi Amigo Hamlet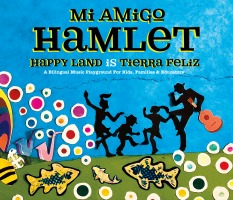 Guatemalan native Hamlet Meneses is a bilingual educator and musician who, in his persona as "Mi Amigo Hamlet," writes and performs music in English and Spanish that he describes as "Bilingual Latin Alternative." Over the past eighteen years, Mi Amigo Hamlet has taught hundreds of Chicago area children through his GoCreative Programs, an organization he founded to promote bilingual education for kids through art and music. He is a positive advocate for kids and families, teaching love and acceptance through all his activities.
Produced by Grammy winner Dean Jones, and bilingual throughout, Happy Land is Tierra Feliz is Mi Amigo Hamlet's debut album. It abounds in creativity, color, Latin rhythms, and lyrics that convey their own special message of beauty, love, and caring for one another. The sweetness of Hamlet's voice and the gentle purity of his musical delivery speak to the heart in any language. Hamlet brings merengue, salsa, rumba flamenco, bossa nova, and more into the mix, while combining Spanish and English in very effective alternations that help expand children's second language skills.
---
Laurie Berkner, "the queen of children's music" (People), pairs the lyrics of her beloved hit with Camille Garoche's gentle illustrations in this winning bedtime picture book—a must-have for fans of Laurie's music and all things soft and sweet.
I know a place, a kingdom far away,
where people wear pajamas every night and every day.
Where all the houses, the buildings, and the trees
are made of fluffy pillows that are soft as they can be.
Laurie Berkner's treasured song "Pillowland" is now a beautiful picture book! Featuring magical, lush art by Camille Garoche, Pillowland carries readers away to a feather-fluffed dream world where bedtime is always a grand adventure.
We're going to land in Pillowland!
Facebook/Pinterest/Twitter/Instagram/Youtube
---
DMXslots" is a revolutionary new concept for fans of slot car racing. With DMXslots, car racers can pass, intercept and block their competitors at any time and at any place on the track. DMXslots employ a patented rotating-pin technology that provide cars with the ability to change lanes at any point on the track. The old fashioned slot cars only allowed switching lanes at predetermined cross-over sections of the track; as such, this technical limitation suppressed the development of slot car racing for nearly 100 years. This exciting new generation of slot car racing combines speed and strategy, just like real professional auto racing!
G2 (2nd generation) adopted the latest car base design to further enhance the performance of the DMXslot car. With the G2 mechanism, the car has better weight balance, quicker response times, faster in speed and lower noise level compared with the previous version. With G2, DMX Racers gives you a completely new and improved racing experience!
MSRP $149; ages 8+.
---
Grab your beakers and test tubes and step up to your special laboratory station for some exciting chemistry experiments! See how much fun chemistry can be as you do slimy, fizzy, colorful, and bubbly experiments. This cool laboratory setup has lots of different vessels and pieces of lab equipment so kids can play the role of chemist while doing real, safe experiments.
MSRP $39.95; ages 6+
---
Clicformers Speed Wheel 34Pc Set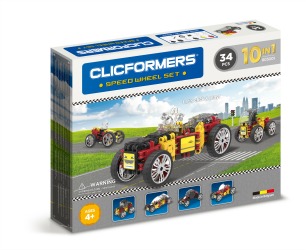 Build your own racecars with the Clicformers Speed Wheel Set, by MAGFORMERS LLC! With this creative building set, kids will have the tools at their disposal to use the included 22 building blocks and 12 accessory pieces to have fun races all day long. Start by following along with the included idea booklet, use the power of your own imagination to build your unique ideas! All Clicformers sets are compatible, allowing the building possibilities to be truly endless. When playtime is over, use the clicking mechanism to simply stack and store.
MSRP $29.99; ages 4+
---
The Wild Republic Huggers are an 8" soft, stuffed, lovable toy that hugs you back. Triple-protected, specially-designed snap bands provide a safe and friendly grip. Band encased in plastic, vinyl, and plush. Just spread their arms wide, give the chest a squeeze, and Huggers instantly wrap their arms around you. Wear them on your wrist, backpack, stroller, bike, or wrap around a vase. Huggers' soft fabric and adorable designs make them a favorite, go-anywhere, hug-any-time, plush toy for kids. Holiday huggers come in three designs – reindeer, penguin, and polar bear. MSRP $7.99.
---
Polly Pocket World
Each compact Pocket World opens to reveal a fun theme with unexpected surprises and reveals, micro dolls and accessories and is small enough to take anywhere for great Polly Pocket™ adventures.
· Choose from Cake-tastrophe with micro Polly™ and Shani™ dolls plus scooter and microphone; Flamingo Floatie with micro Polly™ and Lila™ dolls plus flamingo and swan floaties; and Snowmazing Surprise with micro Polly™ and Shani™ dolls plus snowboard and sled.
· Link to purchase
---
Mega Construx Breakout Beasts
It's slime time when you unleash the Breakout Beasts!
· Break open 1 of 5 mystery eggs to discover a slime surprise, then dig out all the pieces to build your beast!
· But which will it be? With 5 cool creatures to build, and 3 colors of slime to collect, the combinations you create will be wild!
· You can collect them all, including Torchwing™, Blackheart™, Boulder™, Tempyst™, and Ironclaw™, sold separately.
· Then, mix and match beasts to create your very own Breakout Beasts!
· Link to purchase
---
Code & Learn Ladybug
Introduce children to basic programming and coding with this fun, light up, infrared remote control playmate. In mode one, use the coding card deck and color grid map to challenge your child to find the right path to a destination by entering directional instructions into the remote control. Hit go and they will know they got to the right place when the antennae of the ladybug light up the color of the mat square they land on. If it matches the card they are correct! Mode two allows your child to "drive" the remote control playmate around for freewheeling fun. A great tool for learning sequencing, directions, problem solving and logic. These products align with the Science, Technology, Engineering and Math (STEM) standards. Requires three AA batteries (included) and two AAA batteries (not included)
Suggested retail: $39.99
Age recommendation: 5+
Available for purchase: Specialty retailers and www.tlji.com and amazon.com
---
Stack and Spins Gears Super Set
With The Learning Journey's Techno Kids line of products, kids as young as two years old can start exploring those engineering skills! One exciting addition to this line is the Techno Kids Stack & Spin Gears, which lets kids build and then play with the toy they just built! Simply connect the base plates in any configuration, then add on the gears. The two different gear sizes allow kids to stack and sort in any configuration they like, to create an amazing kid-powered machine! These gears are perfect for open-ended exploration of simple mechanics, all while building confidence as kids design gears that really work! Made from durable plastic, the set comes 18 colorful gear pieces, 12 base plates and 1 hand crank.
Suggested Retail: $19.99
Age Recommendation: 2+
Available for purchase: Specialty retailers and www.tlji.com and amazon.com
---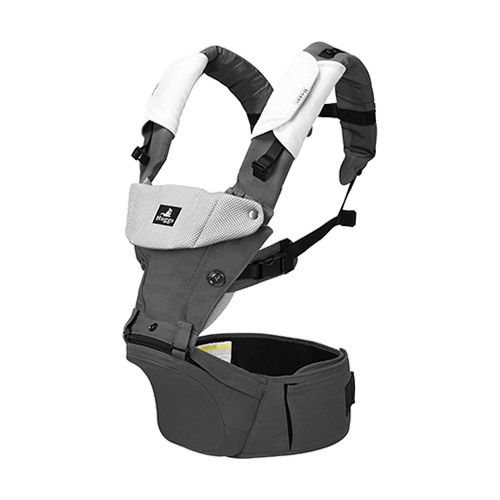 Huggs is an innovative baby carrier built for versatility. Its revolutionary carrier booster seat not only provides all-day comfort, but the ergonomic design also ensures a healthy sitting position (frog-leg or M-position) for a growing baby. Huggs is lightweight, yet rugged, and has been designed to deliver the very best ergonomics in every carrying mode, for both the parent and child. It is the perfect companion for parents who want to keep their baby close and comfortable, at any time and anywhere.
Available to purchase: Huggs innovative baby carrier
---
SIGN UP FOR GIFT GUIDES HERE