Holiday Gift Guide
Thanks for stopping by our guide. We have products for everyone so please check out what catches your eye. All you need to do is click on the picture or link and it will take you to the site. We want to share with you some exciting gift ideas for the holiday. Please click on the pictures or links to see more or even purchase.
---
TOP Picks
---
The innovative LED magnifying tool that not only helps you read the menu, but it can also calculate both tips and splits for each member of your group. Easy to use for all, keep dinner in fun mode with a gadget that takes the stress out of paying the bill – plus it keeps your smartphone away from the table!
Available on Amazon. This product has appeared on The View, The Today Show, and QVC.
Price: $19.95
If you ask yourself -What on earth should I get my friends for the holidays? Then this is the gift. Plus a unique product for parents over 55 and grandparents!
Follow tipandsplit.com on facebook.com/tipnsplit/ and @tipandsplit (Twitter)
---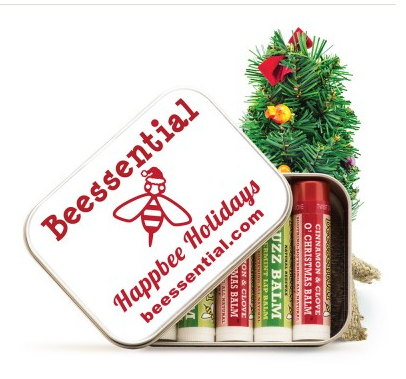 Now you can make up your own Custom Five-Pack of Lip Balms. Chose one flavor, or go crazy and chose five different flavors for those days when you need to change things up. Beessential's Pick Your Own Lip Balm Gift Tin is the perfect present for friends, family, teachers, the babysitter or just bee-u-tiful you!
Made with Coconut and Olive Oils
Gentle, All-Natural Beeswax Lip Balms
Healing Shea and Cupuacu Butters
Nourishes with Pure Ingredients
Attractive Colorful Assortment
FREE SHIPPING UNTIL CHRISTMAS
BUY ONLINE $15.95
Connect: Facebook–Twitter–Instagram
---
YORK NORDIC FOLDING TRAVEL POLES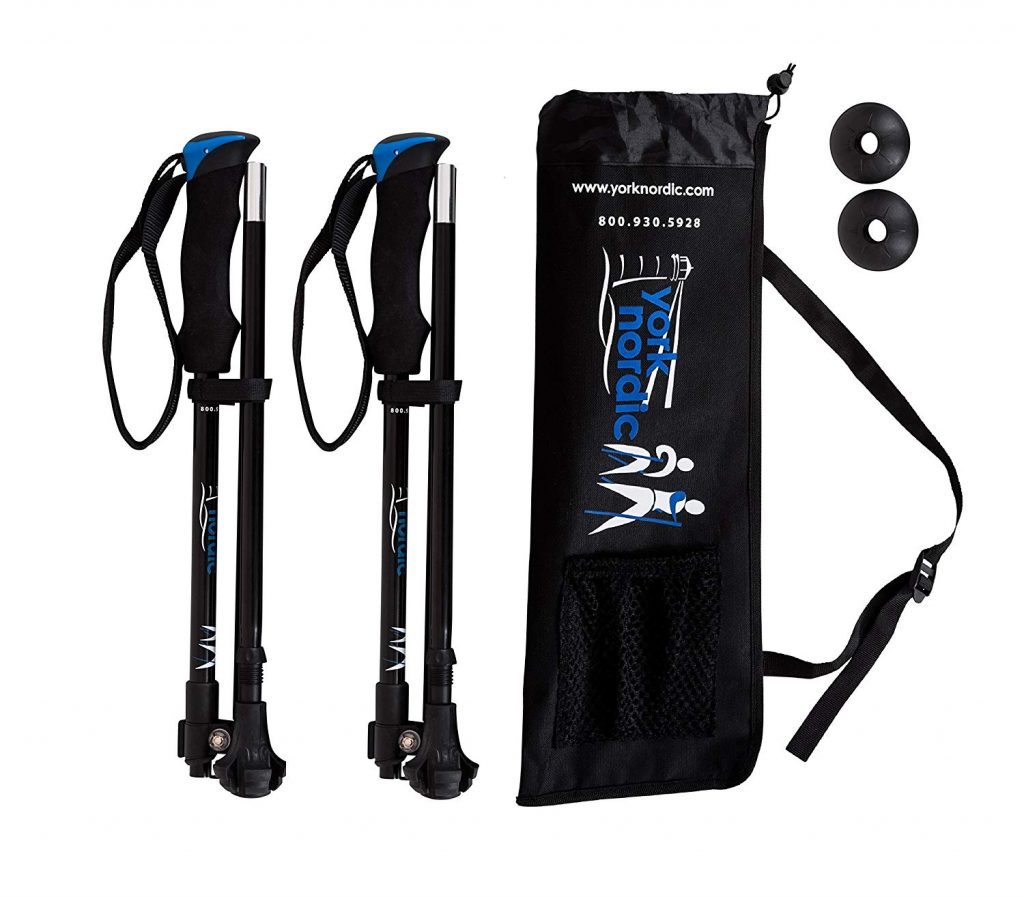 Those looking to gain balance and stability during travel or after joint replacement love the convenience of a 15.5-inch folding walking pole and the confidence they gain from using walking poles.
Folding Walking Poles, the Perfect Gift for Travelers:
Easily fold to just 15 inches, perfect for travel
Ultra-lightweight design at only 9 ounces and sturdy aircraft grade 7075 aluminum
Adjust poles from 42 to 53 inches.
Easy-to-use hand tighten power flip-locks
Detachable rubber feet for walking in the home or on hard outdoor surfaces
Ergonomically contoured black foam comfort grips
Free carrying bag with an accessory pouch for rubber tips and mud/snow baskets
More Info: https://www.yorknordic.com/products/travel-poles.html
Price: $51.99
Promo code THANKYOU for 10% off
Follow On Social Media
---
Mustard (8.5 oz each, 1 count);
Salami (7 oz each, 1 count);
Crackers (4 oz each, 1 count);
Butter Toffee Pretzels (2 oz each, 1 count);
Dried Apricots (4 oz each, 1 count);
Almonds (3.5 oz each, 1 count);
Chocolate Caramel Popcorn (3 oz each, 1 count);
Dessert Cookies (3 oz each, 1 count)
Buy: https://www.spotsonaleopard.com/products/artisanal-rustic-gourmet-gift-basekt
Price: 79.99
Follow On Social Media: Pinterest–Instagram–Twitter–Facebook
---
Jolie Encore Derma Roller
The best time to use the derma roller, is at night, before going to bed, leaving your skin time to breath and heal during the night. You can now forget about wrinkles, aging spots, pigmentation marks, lack of hair growth, lack
of skin firmness and skin elasticity.
Jolie Encore Derma Roller is the perfect skin care product. It has .30mm high-quality titanium needles (not stainless steel), sterilized storage case and a cleaning cup.
Link to purchase– on Amazon
Price– $14.15
Promo Code: 15KELLYS
Follow On Instagram: https://www.instagram.com/jolieencore
---
More Info: https://www.amazon.com/dp/B074PW3C8X
Start your day feeling pulled together, fresh and luminous (like an elegant Parisian). The mattifying rice powder, clarifying bamboo extract, and richly hydrating botanicals leave your skin velvety smooth, refreshed, and ready for your makeup within a few moments. Made in the south of France from natural and organic ingredients, with a subtle lotus blossom scent, this essential gourmet day cream absorbs easily and is never greasy (you'll wonder how you ever got along without it!)
Say "Au Revoir" to dry, flaky, uncomfortable skin. This light yet rich formula provides intense, calming, protective moisture. Organic aloe vera, cocoa butter, and other organic botanicals nourish, soften, and restore the whole body, leaving you silky smooth and soft all day long. And the delicious natural raspberry scent is "un vrai délice" – a true delight!
For rich hydration, renewal, and incredible softening (that's never greasy), Jeunesse by BioSphère Naturel France does it all. Expertly formulated in small batches in Occitanie in the south of France, with organic botanicals sourced from small-scale, artisanal farmers. Experience the hydrating and softening effects the first few minutes after you apply this rich cream. Over time, your skin will be more supple, plumper, and the appearance of fine lines, wrinkles, and spots will diminish. Your natural beauty will shine through – so you can be good in your skin, with classic French elegance.
Follow
---
Beach Gladiator for Rash and Chafing $14
Beach Gladiator prevents and heals the dreaded "chub rub". It helps protect commonly rashed areas. Rubbing clothing often causes a painful rash. Beach Gladiator creates a slick protective barrier that shields the skin from rubbing and friction. It's great for those who surf, swim, boogie board, paddleboard, kayak, or scuba dive. It's also great for walking, running, biking and playing in the beach elements. Surfers rave about its effectiveness. Moms love that it works for their kids at the beach. No more Spandex under your board shorts, or rash guard clothing to buy – this is a rash guard in a bottle!
Coupon Code: Use code KELLY to save 15%
#BestPlannerEver
Wrapping Paper
So you got all these gifts and now what…time to wrap them up but wait you need paper! No worries we got ya!
Peace Paper is wrapping paper that is compiled of handmade artwork from people of all different backgrounds, and it transforms spaces and makes a statement while supporting peace education in schools at a time when it is greatly needed. With the Holidays right around the corner, Peace Paper is the perfect gift that also gives back because, for every three rolls purchased, one is donated to a school in need.
We love to share companies that help communities and Peace Paper is one of those companies. They are on a mission to spread peace and positivity, and all proceeds go directly towards funding peace education in our schools.
During the year if you need wrapping paper please check out Peace Paper-http://www.projectpeacepaper.com
Instagram.com/ProjectPeacePaper
Facebook.com/ProjectPeacePaper
#PeacePaper
---
Yoga Beginner
Clever Yoga- Yoga Set Kit 7-Piece
$55.69
https://www.amazon.com/dp/B01GOIU1DM
This kit has everything you need to build a solid foundation or take your yoga to the next level. The yoga set can also be used in the gym for general sports and workout from pilates and stretching to balance. Featured in Yoga Journal Best of 2016 Yoga Props Accessories for its exceptional quality and unbeatable value.
Yoga Set Kit 7-Piece 1 Yoga Mat, Yoga Mat Towel, 2 Yoga Blocks, Yoga Strap, Yoga Hand Towel, Free Carry Case for Exercises Yogis and Moms.
Grandparents Gift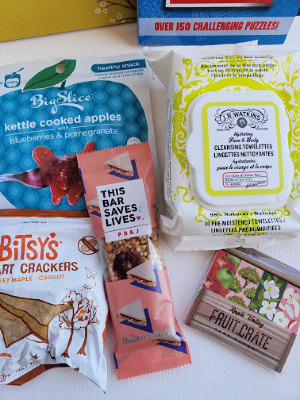 GrandBox is the original subscription care package for seniors and older loved ones. It's a unique and perfect gift for both older parents and grandparents alike. Grandbox was created to send gifts to loved ones who were lonely, lived far away, or moved into retirement communities. Families can stay connected with personalized, fun, and healthy care packages curated to bring smiles to grandparents, parents, aunts and uncles, no matter where they live.
---
CDB Products
My favorite item right now is this Coconut Lime CBD lip balm! Helps with my dry lips plus it feels so good on my lips. Pure Hemp has been in business 10 years and have some amazing gifts.
Follow on Facebook–Twitter–Instagram
Want to give the gift of relief? Then give Xwerks CBD oil or softgels, you will get the quality product and free shipping.
Xwerks CBD Oil contains 600mg of cannabidiol (CBD) per bottle giving you 20mg of CBD per serving plus other naturally-occurring phytocannabinoids, terpenes, flavonoids and more found in our organically grown Colorado hemp plants.
Full Spectrum CBD tincture
30 Servings
Grown in Colorado
CO2 Extracted
No solvents, herbicides or pesticides
No additives, preservatives or flavorings
Third party lab tested for purity and potency
Contains less than .3% THC
Vegan, Gluten Free, Non-GMO, Organic
Free shipping
CBD and the 100+ other phytocannabinoids found in hemp support a multitude of process in the body. Some of those are:
Help with recovery from inflammation from exercise/training
Relief from anxiety, stress & depression
Help in treating sleep disorders
A general sense of calmness
Now if you don't like the taste of oil then get the Xwerks CBD Softgels. Works the same and no after taste. We highly recommend this product.
---
Price: $99.99
If your man loves spending time with the grill, cooking up your favorite steaks or burgers, then he'll be overjoyed when you gift him the Grill Master Crate! This crate includes some of the best accessories that every man needs to achieve ultimate grill master status, including a cast-iron smoker box and some hickory wood chips to get you started. Set the smoker box on the grill as it warms up, soak the hickory in some water, and drop 'em into the box as your meat grills. The crate also comes with a brass-knuckle meat tenderizer, steak thermometers, 2 types of BBQ sauces, and a spice blend.
Check out all the CRATES here- a lot of choices!
---
Logic Puzzles Books & Coloring Books
Do you know someone who loves to work out their brain with logic puzzles or even love to color? Well, Griddlers is one of the best places to get all kinds of books for under $10. Perfect gift ideas for teens, adults, maybe even Grandpa!
The biggest website of Griddlers Logic puzzles aka Nonograms, Picross, Hanjie.
Check out our Amazon Bookstore at BUY ON AMAZON
Follow on Facebook–Instagram-Twitter
---
Puppies Make Me Happy
Fitness Goals | Light Crop Hoodie
The Mimi-Leather Heart Key Ring
Look at all products HERE.
Follow on Facebook–Twitter-Instagram
FOLLOW:
---
FOLLOW:
---
About NaturaBrasil
We believe beauty is about being who you are. And appreciating others for who they are. Accepting differences. Accepting imperfection. Appreciating our wonderfully diverse world. We believe in speaking from the heart and showing our emotions. In doing our best because we love what we do. We believe that when we take care of ourselves we can take better care of others. So, relax, enjoy a good shower, a fresh scent, the silky sensation of a delicious cream.
CASTANHA FAVORITES $55.00
Castanha Creamy Soap Bar 5.2 oz.
Castanha Hand Cream 1.3 oz.
Castanha Body Lotion 13.2 oz.
Castanha Body Scrub 6.7 g
NaturaBrasil–Facebook–Instagram
---
Red Union Suit with Funny Butt Flap "DANGER BLASTING AREA" Men & Women Unisex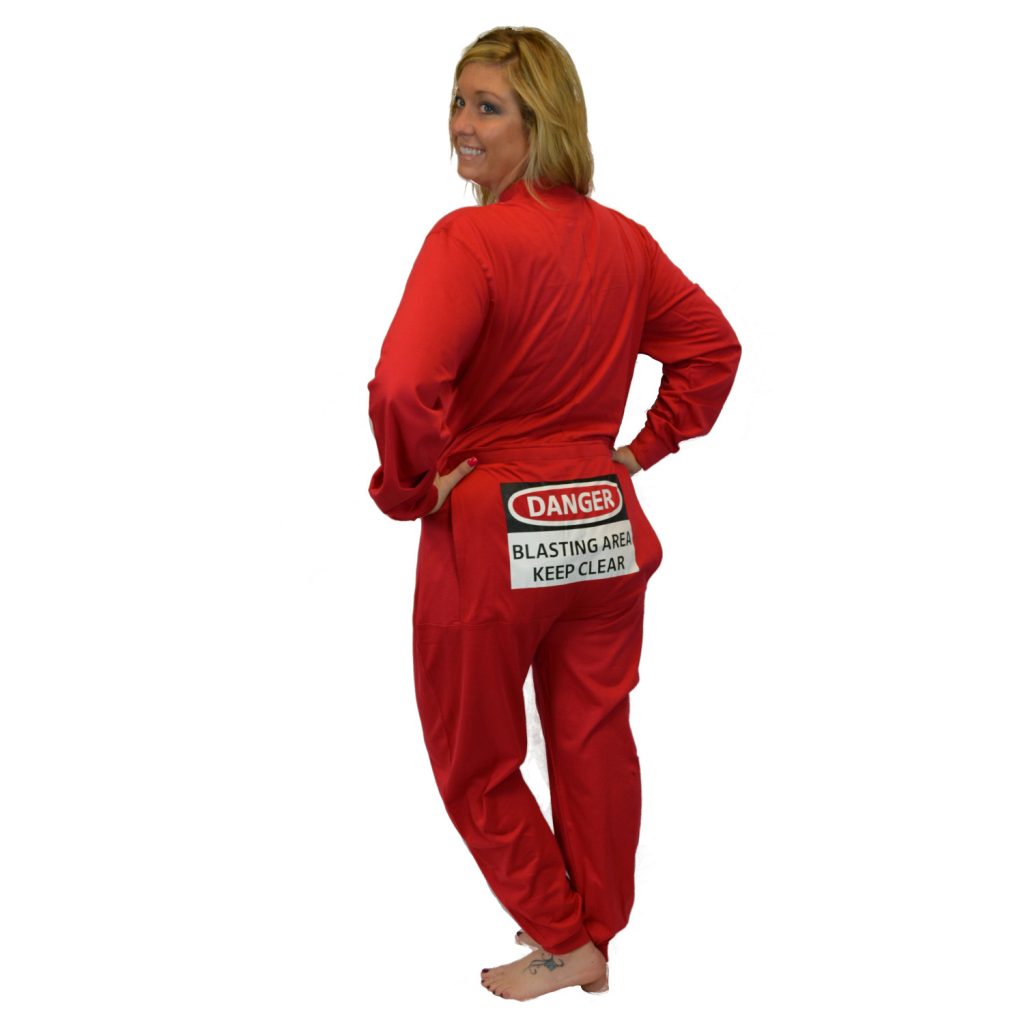 Red onesie union suit has funny butt flap with a DANGER – BLASTING AREA – KEEP CLEAR sign screen printed on the flap. These non-footed onesies can be worn as pajamas or loungewear. Men or women can also wear these as one piece long john underwear. Lighter than the original wool union suits, these jersey cotton onesies are more like your favorite t-shirt, but (no pun) they still have the convenient drop seat, also historically referred to as butt-flap, bum-flap, access hatch, fireman's flap, and trap door. These adult onesies have a snap front closure and the drop-seat butt flap has a velcro closure. Matching onesies available in kids sizes.
BUY NOW– On SALE NOW for 39.98 (reg $60) Plus Free Shipping
If buying for the family then get a $25 Instant Rebate Orders over $150 with CODE: FREE25
Follow: Big Feet PJ'S- Facebook–Twitter–Pinterest–Instagram
---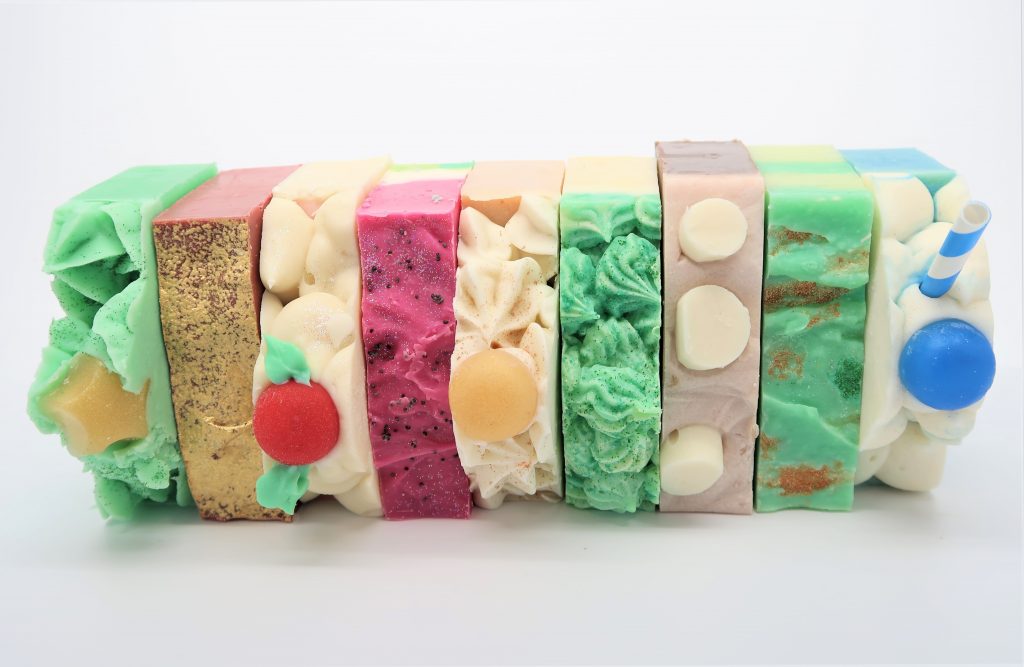 Bubbly Soaps is a handmade artisan soap line made with triple-butters and skin-loving oils which are eco-friendly, vegan and cruelty-free.
$7 for all full-size bars
Holiday Promo: Free shipping on all orders over $25!
Holiday Promo: 3/$20 Artisan Soaps with coupon code: 3FOR20
Follow Bubbly Soaps-Instagram–Facebook–Pinterest–Twitter
Check out the GIVEAWAY
---
Sashka Co.


SASHKA CO. GLASS BEADED BRACELETS ARE HANDMADE BY SKILLED ARTISANS IN THE KATHMANDU VALLEY OF NEPAL. PROCEEDS FROM YOUR PURCHASE EMPOWER WOMEN IN NEED TO RISE ABOVE POVERTY THROUGH FAIR TRADE. ROLL A BRACELET ON AND MAKE A DIFFERENCE.
Bracelets range from $15-$35 Link to purchase- https://sashkaco.com/
Readers can use this code for 40% off — KTOT40
Follow Sashkaco.co – Facebook–Twitter–Instagram
---
De-stink-tive Derriere toilet paper spray is the new eco-friendly alternative to flushable wipes that clog sewer pipes. Just spray 3-4 times onto toilet paper before wiping, and – voila! – bid adieu No. 2! Made with natural & organic ingredients. Dermatologist tested. Five funny designs: Pampered Pooper, Royal Heinie, Adieu No. 2, Chic Cheek, and Top Bottom. Also available: a cute hanger that hangs on the side of your toilet paper dispenser – the spray bottle fits inside so it's handy where you need it.
Link to Purchase: https://destinktive.com/collections/frontpage
Price: $9.95 for 2oz spray, $14.95 for 4oz spray, $5 for a 2oz hanger, $6 for 4oz hanger
Social Media Links: Facebook–Instagram–Pinterest–Twitter
---
Have you seen these? Have you SMELLED these? Our new fragrance flower pens are so cute! These lovely flower pens have fragrance on the flowers so they smell as lovely as they look. Only $2.95 each. Blue ballpoint pen. Great stocking stuffers!
Link to Purchase: https://destinktive.com/collections/fragrance-flower-pens
Price: $2.95 each
Social Media Links: Facebook–Instagram–Pinterest–Twitter
---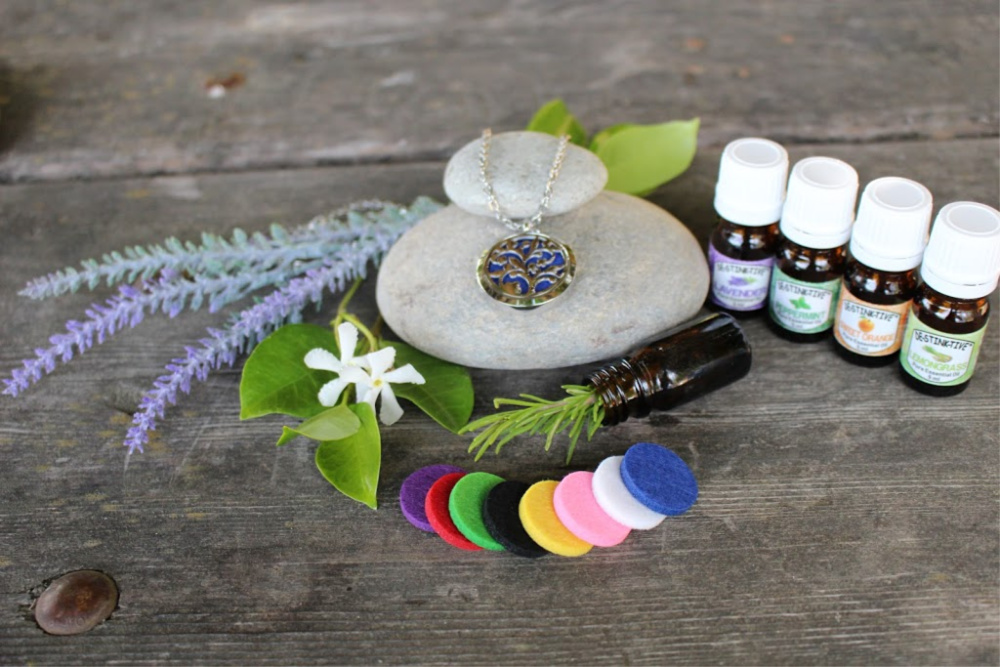 Now you can enjoy aromatherapy benefits all day long with this beautiful 24-inch adjustable aromatherapy diffuser necklace. Simply place a few drops of essential oil on the felt pad, insert the pad into the locket, and inhale the benefits! Comes with eight washable and reusable pads in different colors so you can mix and match with your outfits. Packaged in an attractive gift box.
Also available: Our cute essential oil kit has four 5 ml bottles of 100% pure, therapeutic grade essential oils: lavender (CALM), peppermint (REFRESH), orange (BRIGHTEN), and lemongrass (UPLIFT). It's the perfect accompaniment to our beautiful aromatherapy diffuser necklace.
Price: $19.95 aromatherapy diffuser necklace, $16.95 essential oil kit (pack of 4, 5-ml bottles)
Link to Purchase: https://destinktive.com/collections/aromatherapy-jewelry
Social Media Links: Facebook–Instagram–Pinterest–Twitter
---
Our bar soaps are hand-crafted in the USA by master artisans using the highest quality ingredients for a luxurious and fragrant experience. Made with natural vegetable oils, enriching shea butter, and beautiful scents.
MOONLIGHT ROSES: features fresh hydrangea flowers mixed with rose fragrance. Contains sea salt, ground oatmeal, and rose petals.
COOL SPRING: Cool Spring is a clean, manly fragrance. Contains sea salt as an exfoliant.
PETAL DANCE is a sweet perfume fragrance with musky undertones. Contains rose petals.
LEMON ZEST: combines sweet lemon with lemon rind fragrance. Contains sea salt as an exfoliant.
Link to Purchase: https://destinktive.com/collections/bar-soap
Price: $4.95 each
Social Media Links: Facebook–Instagram–Pinterest–Twitter
---
Follow on Twitter–Facebook–Instagram
---
$14.99 for one, $24.99 for two
---
Tradition, innovation, and artisanal craftsmanship are the ingredients from which the Amelia Toffee Company was born. With an old family recipe in hand, our founder, Anita Comisky, delved into the rich craft of handmade toffee, inspired by bold ingredients such as bourbon and coffee. This experimentation, refined through years of dedication and a keen perception of flavor, resulted in the unique, handcrafted perfection sold by our company today.
Our handcrafted toffee is made in our coastal kitchen in Florida and created in small batches, ensuring the best quality and the greatest attention to detail.
Whether you prefer our traditional Sea Salt Toffee or would like to experience something new and bold, such as our Bourbon Toffee, Coffee Toffee, Orange Bliss, Key Lime Toffee or one of our various seasonal toffees, you will be amazed with our melt-in-your-mouth consistency that's hypnotic, heavenly, and unlike any other gourmet toffee. Indulge!
Read more: https://ameliatoffee.com/shop
$7-3oz bags
$15-6 oz holiday gift boxes
$22-16 oz holiday gift boxes
Follow on Social Media: FB Amelia Toffee Company/IG AmeliaToffee
WE LOVE THIS TOFFEE!!!
---
Drynk
Inside the Drynk's slim, stainless steel body, vacuum technology keeps hot drinks or soup hot for up to 12 hours and cold drinks cold for as long as 18 hours. The bottom features a built-in anti-slip coaster. Each Drynk comes with two interchangeable lids. The Sipper boasts a magnetic latch that keeps the lid open as you drink. The Gulper is a wide-mouth design for guzzling or pouring into the two cups — also included. Drynks are available in 12 and 20-ounce sizes, and in gold, black, graphite, purple, green, shiny black and white.
Read More $29 to $41
Follow On Social Media
---
Stainless steel, leak-proof containers nestle atop one another in a designer metal body that uses VacuTherm technology to keep food warm or cold for up to five hours. Removable partitions mean you can carry up to six courses in one Tyffyn. No more fattening fast food and expensive meals out and no more leaky plastic containers in landfills. Tyffyns are available in two sizes with three different-sized inner containers (300 mL, 400 mL, and 600 mL), and a wide range of colors and patterns. They all have a 1-year warranty.
Read More $49 to $62
Follow on Social Media
---
100% WATERPROOF FLOATING CASE
---
KT Tape Recovery Ice/Heat Massage Ball
This Multi-functional massage roller ball from Avacare Medical has innovative gel inserts for longer heat and ice therapies. With this massage ball, you can easily switch between heat therapy, which warms up and loosens your muscles, and ice therapy, which relieves pain and inflammation. Designed with physical therapists, massage therapists, and chiropractors, the KT Tape Massage Ball is TSA compliant, and of the highest quality.
Read More: https://avacaremedical.com/kt-tape-recovery-ice-heat-massage-ball
Price: $48.55
Follow on Facebook
My husband's favorite item right now. His shoulder hurts and this has been helping him a lot.
---
Files from a secret research project show up on Dr. Robert Thames's doorstep, forcing him to think about something he's been avoiding – the degrading "study" at Danvers Academy, especially the naked photos of each student, including himself, taken at his prep school. He tracks down four close friends from school, and together they uncover the terrible truth of what was buried by the faculty, the school, and the boys themselves.
Price — $15.99 (paperback); $9.99 (ebook)
Website – https://davidpsklar.com/
---
---
---
Website – http://www.patriciaharman.com/
Facebook – https://www.facebook.com/PatsyHarman/
---
A Musical Gift Bundle for Kids
Blix Sol Electric Cruiser
The Blix Sol Electric Cruiser combines smart, stylish design with beach cruiser comfort. Whether you're ready to get on a bike again, looking for a laid-back ride around the neighborhood or simply want a bike that is super easy to get on and off—the Sol provides a great and super fun ride with an electric pedal assist up to 20mph. You can add fenders, rear rack and front basket too. Perfect for dad, mom, daughter or son. Everyone will enjoy the ride. Cruise on!
Blix Bike is an electric bike company headquartered in Santa Cruz, CA and sold around the U.S. and Canada. Blix builds electric bikes that are beautifully designed without sacrificing performance, and yet affordable – a bike you'd ride everywhere you could for everyday transportation or leisure riding. Visit them at www.blixbike.com.
Buy it HERE! Price: $1,599
---
BET ON YOURSELF by Vernard Hodges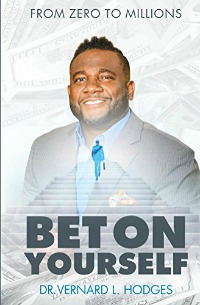 No matter what you want to achieve in life, you need money.
School tells us almost nothing about money or how to make it. At best, school tells us how to become an employee. But for many people employment means limited options and low pay. And if you lose your one job, you're in big trouble. There is another way. BET ON YOURSELF: From zero to millions explains:
•How to create multiple streams of income
•Money 101
•What the stock market is and how it works
•How to get started investing in rental properties
Dr. Hodges shares his personal life lessons, often funny, but always meaningful, from hanging out with crack dealers as a teenager, to being mistaken for Mike Tyson on the other side of the world.
Options were limited for people growing up in Dr. Hodges' community; most people worked at the local bus factory, went into the military, ended up in jail, or got killed. The first part of this book shows how a poor African American kid failing in high school became a business owner and a respected veterinarian.
Dr. Hodges stresses the importance of making friends wherever you go, and more. Getting fired from his first professional job was a blessing. It taught him to bet on himself, and he never looked back. There are important messages in this book about doing the right thing when no one is looking, the importance of role models, and being nice.
As Dr. Hodges' favorite rapper Jay-Z said on Moments of Clarity, The Black Album, 2003:
And I can't help the poor if I'm one of them
So I got rich and gave back to me
That's the win, win
---
Book Towns takes readers on a richly illustrated tour of these captivating, dedicated havens of literature, outlining the origins and development of each community, and offering practical travel advice. A stylish and original guide, it is the perfect gift for both book lovers and travel enthusiasts.
USD: $22.99, GBP VAT: £14.99, CAN: $29.99
---
SYLVANIA SMART+ lighting and accessories from LEDVANCE
SYLVANIA SMART+ lighting and accessories from LEDVANCE are the perfect gift for anyone who is looking to make their life easier through a smart home that is not only energy saving, but also easy to setup and control. SYLVANIA SMART+ has one of the broadest portfolios of indoor and outdoor smart lighting products that provide beautiful illumination to complement your home décor, while also giving you full control through your smartphone, tablet, wireless switch, sensor, Siri, Amazon Echo or Google Home.
Set up schedules to turn lights on and off while you are traveling, or at work, and even change the look and feel of a room to match your mood or aesthetics all through SYLVANIA SMART+, available at major retailers like Amazon, HomeDepot.com, Walmart.com, Menards locations and Menards.com, Apple.com and BestBuy.com with prices ranging from $12.00 to $120.00.
---
Hungry Fan Three-In-One Fangating Thermal Bag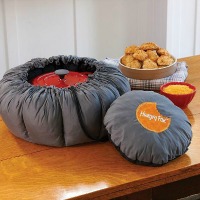 Hungry Fan Three-In-One Fangating Thermal Bag is THE perfect gift for the camper, potlucker and tailgater in your life! The thermal bag can keep hot food warm, or cold items chilled, AND can be used as a cordless (battery-less) slow cooker! Whether you are packing up the crew to head to your favorite tailgate and need your hot chili HOT upon arrival, want a compact cooler bag that you can stash after the bash, or need some extra room at the holidays to cook up your favorite side dishes. It easy to use and does not require power, fuel or batteries. You can use it to make roasts, BBQ, casseroles, rice AND even yogurt. Get it online at HungryFan.com or Amazon.com (Prime Eligible) for $59.19.
---
Forget fidget spinners. Give the gift of discreetly soothing your kids' anxiety, frustration, and hyperactivity with Bouncy Bands. There's a reason that Bouncy Bands are the #1 Teacher-Approved toys for student success. These fun, innovative, economical bands enable kids to release excess energy to stay on task and improve their test scores, while seated at their desks.
---
Whether on the go or just lounging at home, BambuLife socks are the softest and best fitting socks you'll ever wear. Why? Because nature's softest style socks are made from bamboo, which just so happens to be one of the most sustainable resources on the planet.
$11.95 for a two-pair pack
Special holiday promotion now through the end of the year: Buy One, Get One 50% off (Promo code: BOGO50)
---
Voice Originals is a new series of social board games that star Amazon Alexa as game show host. To play, simply set up the board, fire up the associated Alexa Skill, and you're ready to go! Alexa teaches you how to play, keeps score and immerses you in the world of the game. When in Rome, the first title in the Voice Originals series, is a travel trivia game like none other. Turn on the smart speaker, choose a home city and then travel the world on Alexa Air! As you and your friends & family visit new places, you'll meet 20 real locals recorded from cities around the world who will ask questions about local customs, culture, street food and more. Getting the answers right and nabbing elusive souvenirs earns you Explorer Points along the way.
MSRP $29.99; ages 13+
---
Electric Football lets you call the plays to march your football action figures down the vibrating gridiron. Friends can face off in a game of patience and skill, requiring them to guide their teams to victory! The game inspires imaginative play and teaches kids important life skills such as perseverance and sportsmanship. Tudor Games packs all the thrills of football into a tabletop game you can play anywhere, allowing for hours of competitive and interactive play. Electric Football sets and accessories are sold in different sizes and price points at major retailers and online.
This set is $59.95-$129.95; ages 6+
---
Marlo's Bake Shop
Chocolate Peppermint Truffle Soft-Baked Biscotti:
Our Chocolate Peppermint Truffle flavor delivers the same mouth-watering experience as our other signature soft- baked biscotti but with the holiday look & seasonal flavors you crave when the weather gets chilly & the sleigh bells are ring, ring, ringing. Our seasonal Chocolate Peppermint Truffle flavor is a festive blend of velvety Dutch cocoa, rich dark chocolate and refreshing mint. Sometimes the scent of candy canes is all we need to rouse our holiday spirits. It really is the most wonderful time of the year!
Sweet Heat Double Chocolate Chip Cookies:
Our Heirloom cookie line celebrates the tradition of passing on recipes from generation to generation, among family & friends. Inspired by a cup of hot chocolate at a chili pepper festival, our friend Ben passed on the recipe for our Sweet Heat Double Chocolate Chip Cookies that feature cocoa-rich dark chocolate with a warm kick from the sprinkling of cinnamon and cayenne pepper that bursts through each morsel. A gentle throat-warming spice that wouldn't be described at hot, these are perfect for the whole family!
Sesame Tahini Tea Cookies:
Our Heirloom cookie line celebrates the tradition of passing on recipes from generation to generation, among family & friends. Inspired by her Moroccan grandmother's Tahini Cookies, our friend Danielle passed on this rich yet delicate recipe for cookies that we can't. Stop. Eating. Organic tahini- a peanut butter-like paste made from ground, roasted sesame seeds- marries with organic honey and a touch of sea salt to create a beautifully balanced snack cookie that's as elegant as it is delicious. These salty sweet bites of heaven are made with GMO-free & organic ingredients, enriched with heart-healthy, expeller pressed oil, & Kosher certified.
---
From infants to pets, easily keep track of your little one's growth with this scale's innovative weighing features and large scoop platform.
Weighs up to 44 lbs / 20 kgs in 2 measurement modes: Pounds / Kilos in graduation increments 0.5 ounces
Easy to clean, large scoop platform for added comfort and security
Reference previous weigh-ins with Memory Recall, then save current weight with the Memory button to track progress
Tare function deducts the weight of a toy, diaper, or blanket for accurate readings
Runs on 2 x AAA Batteries (included)
---
Wild Republic's Sing & Play Happy Penguin Plush features the popular children's song "If You're Happy and You Know It". Happy Penguin talks, sings, and claps. This 10" animated plush has two different modes "PLAY" and "SING" printed and accessible on feet. Children will love clapping and singing along with the animated Happy Penguin! Music "If You're Happy and You Know It" courtesy of The Joe Raposo Music Group, Inc. Available exclusively at Amazon beginning October 14, 2018. MSRP $29.99.
---
Oddbods Funny Makers
Oddbods, the multi award-winning, Emmy nominated non-dialogue animated series hits store shelves with a brand new toy line available exclusively at Target stores this October. Oddbods follows the comedic adventures of seven hilarious, very individual and quirky friends as they survive the perils of everyday life, where ordinary situations spiral into extraordinary events. With the new Oddbods Funny Makers, kids can now reenact these adventures with this cool playset featuring five fun stunts, sound effects and lights. Large: $39.99, Small: $12.99
---
Authentic Agility Games
How Do You See the World from Authentic Agility Games is an engaging card game that encourages people to go beyond their comfort zone while truly learning how others view the world by asking important questions. The game includes one dice that will select one of the following five categories: Reflections, Relationships, Aspirations, Life's Purpose and Beliefs. Players then pull the associated card, read the question from the associated category and discussion follows. With variations of game rules and suggestions available, this game can be played around the family dinner table, with longtime companions or with your newest neighbor. A portion of the proceeds from all Authentic Agility Games will support educational and entrepreneurial organizations that are changing the world. Available on Amazon.com
---
Piper is a Raspberry-Pi computer kit designed to make building, exploring and coding electronics simple, intuitive and fun. Piper provides an interactive and challenging series of "aha" moments that allows kids to see what's behind the screen and build and program their own devices and gadgets. Piper impacts kids globally by growing confidence around being creators of technology instead of passive, inactive learning consumption.
Price: $299.00
---
At Feya Candles, our mission is simple: To change the world, one candle at a time. For every candle sold, we donate a meal to someone in need both locally and internationally. For every soap sold, we donate a bar to a local shelter or city mission. Our products are 100% soy, and the candles are hand poured with a clean burn time of over 50 hours. Change the world this holiday season, by giving a Gift That Gives Back.
Santa's Little Squeakers
You and your furry friend can now celebrate the holiday festivities with Santa's Little Squeakers from P.L.A.Y. inspired by everything we love about Christmas… snowflakes, fir trees and ugly holiday sweaters! Plus, these plushy bundles of squeaky fun are stuffed with our eco-friendly soft PlanetFill® polyfiber. Before giving them to your pup, hang them as ornaments on your Christmas tree or use them as stocking fillers!
Price: $37.90
---
Sign Up For Holiday Gift Guide: GUIDE Options
---
Other Gift Guides:
Her-Him-Kid/Baby-Teens-Stocking Stuffers-Pets-Tech-Home-Foodie
---