Holiday Gift Guide
Thanks for stopping by our guide. We have products for everyone so please check out what catches your eye. All you need to do is click on the picture or link and it will take you to the site. We want to share with you some exciting gift ideas for the holiday. Please click on the pictures or links to see more or even purchase.
---
TOP Picks
---
Tip 'n Split
The innovative LED magnifying tool that not only helps you read the menu, but it can also calculate both tips and splits for each member of your group. Easy to use for all, keep dinner in fun mode with a gadget that takes the stress out of paying the bill – plus it keeps your smartphone away from the table!
Available on Amazon. This product has appeared on The View, The Today Show, and QVC.
Price: $19.95
If you ask yourself -What on earth should I get my friends for the holidays? Then this is the gift. Plus a unique product for parents over 55 and grandparents!
Read our REVIEW
Follow tipandsplit.com on facebook.com/tipnsplit/ and @tipandsplit (Twitter)
---
Happbee Holidays Pick Your Own Lip Balm Tin 5-Pack
Now you can make up your own Custom Five-Pack of Lip Balms. Chose one flavor, or go crazy and chose five different flavors for those days when you need to change things up. Beessential's Pick Your Own Lip Balm Gift Tin is the perfect present for friends, family, teachers, the babysitter or just bee-u-tiful you!
Made with Coconut and Olive Oils
Gentle, All-Natural Beeswax Lip Balms
Healing Shea and Cupuacu Butters
Nourishes with Pure Ingredients
Attractive Colorful Assortment
FREE SHIPPING UNTIL CHRISTMAS
BUY ONLINE $15.95
Connect: Facebook-Twitter-Instagram
---
YORK NORDIC FOLDING TRAVEL POLES
Those looking to gain balance and stability during travel or after joint replacement love the convenience of a 15.5-inch folding walking pole and the confidence they gain from using walking poles.
Folding Walking Poles, the Perfect Gift for Travelers:
Easily fold to just 15 inches, perfect for travel
Ultra-lightweight design at only 9 ounces and sturdy aircraft grade 7075 aluminum
Adjust poles from 42 to 53 inches.
Easy-to-use hand tighten power flip-locks
Detachable rubber feet for walking in the home or on hard outdoor surfaces
Ergonomically contoured black foam comfort grips
Free carrying bag with an accessory pouch for rubber tips and mud/snow baskets
More Info: https://www.yorknordic.com/products/travel-poles.html
Price: $51.99
Promo code THANKYOU for 10% off
Follow On Social Media
Facebook: https://www.facebook.com/YorkNordicPoles/
Twitter: https://twitter.com/yorknordic
Instagram:https://www.instagram.com/yorknordic
Pinterest: https://www.pinterest.com/yorknordic
---
Artisanal Rustic Gourmet Gift Basket
For your favorite foodie! This
gourmet
gift
basket
contains delicious and nutritious delicacies that are sure to make your mouth water. All of the ingredients are locally sourced in California."
Mustard (8.5 oz each, 1 count);
Salami (7 oz each, 1 count);
Crackers (4 oz each, 1 count);
Butter Toffee Pretzels (2 oz each, 1 count);
Dried Apricots (4 oz each, 1 count);
Almonds (3.5 oz each, 1 count);
Chocolate Caramel Popcorn (3 oz each, 1 count);
Dessert Cookies (3 oz each, 1 count)
Buy: https://www.spotsonaleopard.com/products/artisanal-rustic-gourmet-gift-basekt
Price: 79.99
Follow On Social Media: Pinterest-Instagram-Twitter-Facebook
---
Jolie Encore Derma Roller
The best time to use the derma roller, is at night, before going to bed, leaving your skin time to breath and heal during the night. You can now forget about wrinkles, aging spots, pigmentation marks, lack of hair growth, lack
of skin firmness and skin elasticity.
Jolie Encore Derma Roller is the perfect skin care product. It has .30mm high-quality titanium needles (not stainless steel), sterilized storage case and a cleaning cup.
Link to purchase– on Amazon
Price– $14.15
Promo Code: 15KELLYS
Follow On Instagram: https://www.instagram.com/jolieencore
---
Lumière Crème Jour Mattifying and Detoxifying Formula, $47 by BioSphère Naturel France
More Info: https://www.amazon.com/dp/B074PW3C8X
Start your day feeling pulled together, fresh and luminous (like an elegant Parisian). The mattifying rice powder, clarifying bamboo extract, and richly hydrating botanicals leave your skin velvety smooth, refreshed, and ready for your makeup within a few moments. Made in the south of France from natural and organic ingredients, with a subtle lotus blossom scent, this essential gourmet day cream absorbs easily and is never greasy (you'll wonder how you ever got along without it!)
Délice Lait Corps Light yet Rich Aloe and Cocoa Butter Formula $27 by BioSphère Naturel France
More Info: https://www.amazon.com/dp/B074P4RVFZ
Say "Au Revoir" to dry, flaky, uncomfortable skin. This light yet rich formula provides intense, calming, protective moisture. Organic aloe vera, cocoa butter, and other organic botanicals nourish, soften, and restore the whole body, leaving you silky smooth and soft all day long. And the delicious natural raspberry scent is "un vrai délice" – a true delight!
Jeunesse Crème Anti Age Deep Hydration and Renewal Formula,$57 by BioSphère Naturel France
More Info: https://www.amazon.com/dp/
B074PWHYMR
For rich hydration, renewal, and incredible softening (that's never greasy), Jeunesse by BioSphère Naturel France does it all. Expertly formulated in small batches in Occitanie in the south of France, with organic botanicals sourced from small-scale, artisanal farmers. Experience the hydrating and softening effects the first few minutes after you apply this rich cream. Over time, your skin will be more supple, plumper, and the appearance of fine lines, wrinkles, and spots will diminish. Your natural beauty will shine through – so you can be good in your skin, with classic French elegance.
Promo code for 25% off entire line: KELLYBSN25, when you buy 1 or more BioSphère Naturel product on Amazon.com only, now through December 31.
Follow
Facebook: https://www.facebook.com/biospherenaturals/
Instagram: https://www.instagram.com/biospherenaturel/
---
Teach My

Screen-free, The Teach My Baby Learning Kit is the multi award-winning all-in-one learning toy for babies 6 months+. Full of activities for babies, the kit has everything necessary for teaching baby the basics! Teach My Baby is divided into four sections to teach babies – First Words, First Numbers, Self, and Sound & Touch. From finger puppets and books to blocks and puzzles, the kit is full of learning toys for babies that will give your mini scholar a head start. Teach My Baby promotes fine motor skills, hand-eye coordination, parent-child interaction, and self-esteem.
http://www.teachmy.com/teach-my-baby-learning-kit.html
$29.99 Available online at Amazon, Walmart.com, Target.com, Bed Bath & Beyond.com, Staples.com, Teachmy.com and more.
Connect with Teach My: Site | Facebook | Twitter | Instagram | Pinterest
---
Beach Gladiator for Rash and Chafing $14
Beach Gladiator prevents and heals the dreaded "chub rub". It helps protect commonly rashed areas. Rubbing clothing often causes a painful rash. Beach Gladiator creates a slick protective barrier that shields the skin from rubbing and friction. It's great for those who surf, swim, boogie board, paddleboard, kayak, or scuba dive. It's also great for walking, running, biking and playing in the beach elements. Surfers rave about its effectiveness. Moms love that it works for their kids at the beach. No more Spandex under your board shorts, or rash guard clothing to buy – this is a rash guard in a bottle!
COUPON CODE: KTOT15 for 15% off
Follow Beach Gladiator on Facebook-Instagram
---
Breathe Healthy® Masks
Breathe Healthy® Masks offer superior, washable, reusable respiratory protection with the use of a cutting-edge treatment known as AEGIS Microbe Shield®. This state-of-the-art antimicrobial treatment lasts for the life of the mask, so you can wash it over and over without losing any of its superior protection. Our masks are extremely effective, comfortable, great looking, and will last as long as your favorite T-shirt.
Follow Breathe Healthy on Facebook
Coupon code: KTOT15 for 15% off
---
Best Planner Ever
Plan Your Best Life Ever-Enjoy More Success, Joy, & Work-Life Balance
Designed by top business coach Jennifer Dawn as a productivity tool for her clients, the Best Planner Ever quickly became their go-to tool for stellar productivity, increased revenues, and more free time to enjoy their success.
The intuitive format and functional design make it easy to get started planning the life of your dreams.
Focus on getting the RIGHT things done – eliminate "busy" work completely – and feel more organized and in control of the day.
Not Just A Planner, It's A Lifestyle.
Read More: https://bestplannerever.com/
Price: range from $25 – $62
Coupon Code: Use code KELLY to save 15%
Connect on Facebook-Twitter-Pinterest-Instagram-LinkedIn
#BestPlannerEver
---
Alightener Foam 50ml pump and 5ml spray + mouth trays
The Alightener Foam is a 2-in-1 product which whitens your teeth with either an invisalign retainer or any other type of mouth tray and it cleans and disinfects the trays. The foam contains a light peroxide formula which gradually whitens teeth with little to no sensitivity. Simply apply one pump to each tray and wear while you are working, study, reading etc… and enjoy a whiter smile as a result.
The Alightener Foam
comes in a 50ml foam bottle or a 5ml spray bottle.
Buy: Foam or Spray
Price: Retail $19.95 with 35% discount = $12.97
Coupon code: WHITE35
Social Media: Facebook–Instagram
---
Boxitale Knights of Nature Interactive Craft Game Adventure for Kids uses Phone / Tablet Free App, Stem Skill Development
Boxitale, the new gaming concept from Akibabus Ltd that blends craft-based imaginative play with digital technology, is available at Hobby shops, retail and online.
BoxiTale is an immersive story-based experience that is streamed on a tablet or smartphone and solved on a board game. The BoxiTale stories lead players into original, animated adventures where they are the heroes, building, designing and solving the challenges presented to them in the story as they try to save the day. Once the player's design is ready on the board, they take a picture of it and upload it using the BoxiTale app; the picture is reflected in the story.
Buy on AMAZON $36
Hour of unique play time that can be played again and again. BoxiTale stories available now include Knights of Nature, Elite Explorers, and Boxitale – Mini Stories
Follow on Facebook and read more on akibabus.com
---
Libre Infuser – Peace Doves 14 Oz
The Peace Doves limited edition infuser makes a great gift! This simple and elegant infuser features a durable exterior protects the healthy glass interior from breakage and your hands from the heat! Leakproof and easy to take along anywhere, this is the only water bottle you need for your favorite hot or cold beverages, protein shakes, even martinis!
READ MORE: Libre Tea
Price – $26.95
Coupons Code – save 10% until Dec. 14th, 2018 – KTOT-GG-10%
Follow on Social Media: Facebook– Twitter-Instagram
---
FEATURED
Listed below are gifts for everyone so please check them out and share with family and friends. If you see something you like make sure you follow on their social media too!
---
Wrapping Paper
So you got all these gifts and now what…time to wrap them up but wait you need paper! No worries we got ya!
Peace Paper is wrapping paper that is compiled of handmade artwork from people of all different backgrounds, and it transforms spaces and makes a statement while supporting peace education in schools at a time when it is greatly needed. With the Holidays right around the corner, Peace Paper is the perfect gift that also gives back because, for every three rolls purchased, one is donated to a school in need.
We love to share companies that help communities and Peace Paper is one of those companies. They are on a mission to spread peace and positivity, and all proceeds go directly towards funding peace education in our schools.
During the year if you need wrapping paper please check out Peace Paper-http://www.projectpeacepaper.com
Instagram.com/ProjectPeacePaper
Facebook.com/ProjectPeacePaper
twitter.com/ProjPeacePaper
#PeacePaper
---
Yoga Beginner
Clever Yoga- Yoga Set Kit 7-Piece
$55.69
https://www.amazon.com/dp/B01GOIU1DM
This kit has everything you need to build a solid foundation or take your yoga to the next level. The yoga set can also be used in the gym for general sports and workout from pilates and stretching to balance. Featured in Yoga Journal Best of 2016 Yoga Props Accessories for its exceptional quality and unbeatable value.
Yoga Set Kit 7-Piece 1 Yoga Mat, Yoga Mat Towel, 2 Yoga Blocks, Yoga Strap, Yoga Hand Towel, Free Carry Case for Exercises Yogis and Moms.
---
Grandparents Gift
GrandBox is the original subscription care package for seniors and older loved ones. It's a unique and perfect gift for both older parents and grandparents alike. Grandbox was created to send gifts to loved ones who were lonely, lived far away, or moved into retirement communities. Families can stay connected with personalized, fun, and healthy care packages curated to bring smiles to grandparents, parents, aunts and uncles, no matter where they live.
Read more HERE
Select a plan. Choose from monthly, 3, or 6 month recurring plans. Shipping included, cancel anytime. Send A Smile- near the middle of every month, they will ship your loved one a GrandBox straight to their mailbox. Each month, the GrandBox team designs a new theme to build around. Whether it be Farmer's Market Fun or Movie Night at the Drive-In, each care package is developed specifically for your senior parents, grandparents, and loved ones. Included is at least FIVE full-size items (no samples) along with your family photos and a personalized note.
Follow on Facebook- Twitter- Instagram
---
CDB Products
Pure Hemp CBD (www.PurehempShop.com) is the nation's top-rated store for CBD products. They also have a special flash deal going now- 50% off in December.
Made from
pure organic hemp
, this brand's high-quality products are delicious and original. Its most popular,
fun CBD products include:
CBD Single-Origin Coffee – from Oaxaca, Mexico
Chocolate Chip Cookies – sprinkles cookies, cinnamon cookies etc.!
SOUR Worm Gummies — Peach rings, bears and more!
Flavored Lip-balms – try coconut lime flavor!
My favorite item right now is this Coconut Lime CBD lip balm! Helps with my dry lips plus it feels so good on my lips. Pure Hemp has been in business 10 years and have some amazing gifts.
Follow on Facebook-Twitter-Instagram
---
For the TREE
Get a custom handmade ornaments and drink coasters for the "naughty and nice". There is something for everyone on the list.Be the hit of the holiday gift exchange. Guaranteed to win the holidays! Skip the malls, shop small:) Plus they have over 170 designs to pick from, I want all 170.
Check out all the cool items for sale on Festive Flirts. Buy ornaments for the kids, parents, or anyone who appreciate a personal custom handmade gift.
---
Crafter Tools-KNIPEX
If you are a crafter or buying for a crafter then KNIPEX has all the tools you need. Having the right tools when you are a crafter is super important. So please check out these amazing tools.
Precision Pliers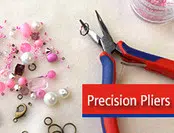 KNIPEX has a variety of pliers and tweezers ideal for precision work – whether you're working with beads, nail art or tiny decorations that need to placed exactly so.
Jewelers Pliers
When it comes to professional-grade Round Nose Pliers for Jewelry work – KNIPEX has you covered. We have a variety of Jewelers Pliers of different lengths and widths to handle your next big necklace, bracelet or earring project.
Cutting Pliers
Whether you need to cut wire, metal, flower stems, fabric, plastics or any assortment of materials, KNIPEX has plenty of compact-sized professional cutting pliers to keep you covered.
Long Nose Pliers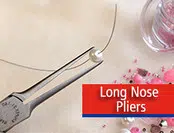 With projects that require gripping and cutting work, precise installation or just a strong, reliable grip that you can trust – we have quality Long Nose Pliers to make it easy.
Follow on Facebook-Youtube-Twitter
---
Xwerks
Want to give the gift of relief? Then give Xwerks CBD oil or softgels, you will get the quality product and free shipping.
Xwerks CBD Oil contains 600mg of cannabidiol (CBD) per bottle giving you 20mg of CBD per serving plus other naturally-occurring phytocannabinoids, terpenes, flavonoids and more found in our organically grown Colorado hemp plants.
Full Spectrum CBD tincture
30 Servings
Grown in Colorado
CO2 Extracted
No solvents, herbicides or pesticides
No additives, preservatives or flavorings
Third party lab tested for purity and potency
Contains less than .3% THC
Vegan, Gluten Free, Non-GMO, Organic
Free shipping
CBD and the 100+ other phytocannabinoids found in hemp support a multitude of process in the body. Some of those are:
Help with recovery from inflammation from exercise/training
Relief from anxiety, stress & depression
Help in treating sleep disorders
A general sense of calmness
Now if you don't like the taste of oil then get the Xwerks CBD Softgels. Works the same and no after taste. We highly recommend this product.
---
Discount Gift Cards -RetailMeNot.com
Some people are just too difficult to shop for! Luckily, you can never go wrong with picking up a gift card as a stocking stuffer. Plus, RetailMeNot offers dozens of discount gift cards, so you can actually save money by paying less than the card is worth!
Grab up a quick gift that saves you money! You can get Starbucks, Amazon, Lowes, Best Buy, and MUCH MORE!
You can check out their selection here: https://www.retailmenot.com/giftcards
---
MAN CRATES' GRILL MASTER CRATE
Price: $99.99
If your man loves spending time with the grill, cooking up your favorite steaks or burgers, then he'll be overjoyed when you gift him the Grill Master Crate! This crate includes some of the best accessories that every man needs to achieve ultimate grill master status, including a cast-iron smoker box and some hickory wood chips to get you started. Set the smoker box on the grill as it warms up, soak the hickory in some water, and drop 'em into the box as your meat grills. The crate also comes with a brass-knuckle meat tenderizer, steak thermometers, 2 types of BBQ sauces, and a spice blend.
Check out all the CRATES here- a lot of choices!
---
Logic Puzzles Books & Coloring Books
Do you know someone who loves to work out their brain with logic puzzles or even love to color? Well, Griddlers is one of the best places to get all kinds of books for under $10. Perfect gift ideas for teens, adults, maybe even Grandpa!
The biggest website of Griddlers Logic puzzles aka Nonograms, Picross, Hanjie.
Check out our Amazon Bookstore at BUY ON AMAZON
Follow on Facebook-Instagram-Twitter
---
Puppies Make Me Happy
Fitness Goals | Light Crop Hoodie
$40
Made with super-soft tri-blend material. Very light and breathable. Perfect for teens and anyone who loves pets. There is plenty of gift ideas for kids, pets, men women and even accessories. Please check out more gifts HERE. So many cute ideas and as a dog lover I spent a lot time looking!
ABOUT PUPPIES MAKE ME HAPPY
Puppies Make Me Happy sells apparel and accessories for men, women, children and even your precious pup on their site (PuppiesMakeMeHappy.com)! Shoppers will find the perfect holiday gift by customizing a variety of products to include an image of their own pet! A portion of all proceeds will go to dog-related charities and shelters as part of PMMH's charitable component.
---
T-Mobile
First, let's talk about the Mophie Powerstation Mini! Now how many times has your phone died while you were out and about and where is your CHARGER? No worries put this mini powerstation in your bag and you won't have those issues.
Talk, play and browse longer than ever with the new mophie powerstation mini universal battery. This 3,000mAh battery will give your smartphone more than one additional charge (or at least one extra charge on your wearable devices). The slim design and premium aluminum finish make this pocket-sized model easy to carry. Even durable for teens! Think stocking stuffers!
Check out more info HERE
Now we all like a cool selfie so here is a tool that will help you- a PopSockets Expanding Phone Stand and Grip – Gold Aluminum
So if you didn't know a PopSocket is a phone grip and phone stand accessory for your mobile devices that expands and collapses by way of an accordion mechanism it is repositionable, washable, and the adhesive pad sticks to most devices and cases. Great gift for teens, and people who love to take pictures.
---
LUXURY FASHION FROM
MAXWELL

–

SCOTT

The Mimi-Leather Heart Key Ring
Hand stitched from vegetable tanned Italian leather, the Mimi heart-shaped key ring makes an elegant gift for a loved one. The perfect size to help you keep track of your keys, this key ring is a stylish and practical accessory. This is the perfect gift for someone who loves fashion and luxury but doesn't really want to flaunt it- a keychain is a small gift with a big punch.
Hand stitched in Italy
Made from luxury Italian leather
Two different sized metal attachment rings
The Giorgia-Large Zip Around WalletThis large leather zip around wallet is the perfect organizer for all cards and cash, plus coins. There are sections for cards, money, receipts, and notes. I've even put my phone in the zip up part of this wallet. With its classic design, spacious pockets and many sections, this zip clutch wallet is the ultimate multi-functional accessory: it will easily double up as a small clutch bag.
This wallet is so amazing and it fits everything I need, I don't even carry my purse when I'm packing this beautiful wallet. A beautiful accessory that every woman needs- a leather purse/wallet. Perfect gift for the fashion diva in the family.
Look at all products HERE.
Follow on Facebook–Twitter-Instagram
---
Groomsmen Central
These patented Six Shooter Whiskey Glasses and Pint Glasses are patterned after the cylinder of the legendary Colt Revolver — holding 10oz and 16oz of liquid, respectively, they're the perfect way to serve up your beer, spirits, or mixed drinks. These glasses is the perfect way to sip whiskey, scotch, bourbon, or mixed drink — and you can add custom engraving to make it the perfect gift.
They're available with custom text engraving which makes them great gifts, and they ship for free in the USA. Perfect for the man in your life who likes a drink at the end of the night.
Follow: Facebook-Twitter-Instagram-Pinterest
---
Wine Decadence
La Dolce Vits Basket —Everyone wants to "live the good life" —There is no better way than to enjoy a Wine Decadence Italian Feast.
1 Bottle of Piccini Chianti
1 Bottle of Piccinii Poggio Alto
1 Bottle of Novella Dolce Rosso
Puttanesca Seasoning Mix
Tuscan Oil Dipping Mix
Tomato Basil Focaccia Bread Mix
Tiramisu Dessert Mix
You and your friends can have a fun wine tasting in your home with Wine Decadence. It's fun, it's free, and best of all, you can earn BONUS rewards just for hosting! Want to know more: GO HERE!
Follow on Facebook-Twitter-Instagram
Playing Card Decks
Card games is always fun and why not have one of the coolest decks on the block! My family loves to play all kinds of card games so in their stocking this year they are getting these sets from PlayingCardDecks.com
Monster Deck and the Alice in Wonderland deck now both are good designs for families and quite unique.
A fully custom deck, illustrated with characters from Lewis Carroll's iconic "Alice in Wonderland". The cards are designed in a way that covers almost all main characters and key scenes.
Alice in Wonderland Theme
From Artist Sasha Dounaevski
100% Custom Artwork
Limited Edition, One Time Print of 1,800
Printed by USPCC on Bee Stock
Linen Finish Cards (same as Air-Cushion)
52 Cards + 2 Jokers + 2 Bonus Cards
Secret 1-Way Design on Court Cards
Linen Finish Matte Tuck Case
Interior Tuck Printing
2018 Release
Read more: https://playingcarddecks.com/
Follow: Facebook-Instagram
---
CBD Gifts-Spa-Day/Lotions (available in spray and powder forms)
Aceso Calm: Built on the backbone of classic naturopathic stress reducers, Aceso Calm is formulated with powerfully calming terpenes-linalool from lavender, limonene from grapefruit and passionflower. Aceso added cannabidiol, a naturally occurring constituent of hemp, to create a supplement that helps you come to terms with everyday stress and anxiety.
Aceso Soothe: Minor issues—like headaches and muscle soreness—can be major obstacles in everyday life. Aceso formulated this supplement with terpenes from cinnamon, antioxidants from tart cherry, curcumin from turmeric and our cannabinoid blend from hemp. Aceso Soothe is specially designed to address the root cause of everyday aches and pains so you can stay focused on your daily routine.
Aceso Wellness: Flavonoids from green tea, terpenes from sweet orange oil, capsaicin and cannabidiol, a naturally occurring constituent of hemp, are the ingredients that set Aceso Wellness apart. It's a wellness supplement designed to promote mood stability and provide immune system support. Aceso Wellness is the perfect way to make tomorrow the epic sequel of today.
Read more: https://www.myaceso.com
Follow on Facebook and Twitter
---
LyricMerch
Whether you're looking for the perfect gift for the musician, the little lyric lover, or the fashionista, LyricMerch has something for the whole family. Offering unique apparel and accessories customized with professionally made song lyric designs, LyricMerch has the perfect gift for your AC/DC rocker husband, your Ed Sheeran obsessed best friend or your daughter who lives by every word Beyonce sings.
LyricMerch lets you wear your favorite lyrics on t-shirts, hoodies, crewnecks, long sleeve tees, and more – and does so legally by giving back a significant percentage of proceeds to your favorite songwriters and artists. Their pre-made designs are created to complement the lyrics fans have grown to love – providing something fun for all the different people in your life. If the 800+ designs they have online don't fit what you're looking for, you can also customize your own!
About LyricMerch
LyricMerch is a consumer-facing lyrics service from LyricFind, the pioneering company that brought fully legal lyrics to search engines, lyric sites, and music streaming services around the world. LyricMerch draws on LyricFind's database of millions of lyrics and allows fans to put over one hundred thousand licensed lyrics on a wide range of clothing and household items.
Read more: https://lyricmerch.com/
Drake God's Plan Hoodie
SZA Need To Know Hoodie
Hoodies are $49.99
Follow on Social Media:
Twitter: @LyricMerch https://twitter.com/lyricmerch
Facebook: @LyricMerch https://www.facebook.com/LyricMerch/
Instagram: @LyricMerch https://www.instagram.com/lyricmerch/
---
Sugar Smart Box
Sugar Smart Box is a monthly subscription box that delivers low sugar, low carb, diabetes-friendly snacks.
Read more: sugarsmartbox.com
Price $29.95 & $39.95
Coupon Code: KTOT15 – 15% off the first box
Follow on instagram.com/sugarsmartboxfacebook.com/sugarsmartbox
---
American Home™ by Yankee Candle® Balsam Fir Firelogs
Enjoy the scent of Fresh Balsam Fir in your home with this fragrant firelog from Pine Mountain. With its 3-hour burn time and easy lighting, you can enjoy the fresh scent any time of the year. Four Balsam Fir Scented Logs in each box.
Fast and easy lighting with no mess
Crafted from real hardwoods
Enjoy the fresh scent before you burn
Burns cleaner than ordinary cordwood, producing up to 75% less particulate matter* and up to 80% less carbon monoxide
Buy on AMAZON
Price: $24.99 & FREE Shipping
---
The Mindful Notebook By Corso
$30.00
The Mindful Notebook is a tool to keep you focused and make sure you are starting each day with the proper mindset to reach your goals and fulfill your objectives. This notebook has 3 parts which help you go about your day and daily tasks with ease.
Daily Inspirational Quote
Journal
Gratitude Practice
Powerful tool to help you get motivated, achieve your goal and reflect on your day.
Read more: Corso.com
---
DTailsULike
STATEMENT PEARL RING FOR WOMEN $60
Whether you're getting ready for a night out or a day at the office, this piece will put a spring in your step. The natural color cultured freshwater pearls combine with the rare grace of the dark pearl bring a quiet confidence that's hard to ignore.
Follow DTailsULike – Twitter-Facebook-Instagram
10% OFF with coupon code: KTHINGS10
---
Nubian Heritage
Nubian Heritage is the brainchild of two Harlem street vendors. In 1991, fresh out of college and without jobs, Richelieu Dennis and Nyema Tubman set out to bring the healing traditions of African Black Soap and Shea Butter to the community they loved. Guided by the legacy of ancient Nubia, the world's first melting pot, Nubian Heritage brings together traditional healing practices, cultural wisdom and indigenous ingredients, remixes them and creates modern wellness solutions for skin and hair. The brand's mission is to make the cultural exchange the model for transforming the global community.
Nubian Heritage Raw Shea Butter Body Wash $10.99
This ultra-moisturizing wash blends Shea Butter, Vitamin E and Soy Milk with the gentle soaps of Coconut and Palm to cleanse, hydrates and restore skins suppleness. This unique wash is infused with a special essential oil blend of Frankincense, Myrrh, Cardamom, Ginger and Black Pepper that adds an aromatic experience and skin-healing properties. Frankincense is known for its toning and anti-aging properties and adds aroma therapeutic benefits promoting mental strength, clarity and balance while Myrrh is known as a superior cosmetic in early remedies and helps to relieve chapped skin.
Nubian Heritage Raw Shea Butter Hand & Body Scrub $12.99
Rejuvenating, Firming & Exfoliating – A fragrant ultra-moisturizing sugar scrub with tropical Mango, organic Shea Butter, and nutrient-rich Cocoa Butter hydrates and exfoliates to reveal healthier looking, smoother skin.
FOLLOW:
Instagram:
@nubianheritage
Facebook: http://www.facebook.com/nubianheritage
---
OZNaturals
Combining the best of science with the power of nature, OZNaturals creates high quality, effective, and affordable skincare formulations that are cold processed to preserve the freshness and potency of all ingredients. As one of the only skincare companies in the world to use a unique Cold Processing method, the products are made without any added heat or petrochemicals.
OZNaturals Sweet Almond & Macadamia Nut Body Butter $19.99
Non-greasy formula provides antioxidants to calm and protect the skin's outer layers

Promotes elasticity, leaving skin feeling silky smooth

Avocado Oil combines beneficial antioxidants with skin replenishing fatty acids for deep moisturization
OZNaturals Vitamin C + Sea Hydration Mask $19.99
Delivers potent, anti-aging benefits

Brightens complexion and deeply hydrates to creative a dewy, youthful glow

Gentle enough for everyday use

Contains Vitamins A, C, E, and B12
OZNaturals Moisturizer Collection is cruelty-free, gluten-free, and vegan. There are no parabens, GMO's, sulfates, phthalates, synthetic fragrances, synthetic color, petrochemicals, propylene glycol, PEG's or formaldehyde.
FOLLOW:
Instagram: @OZ_Naturals
Facebook: http://www.facebook.com/loveoznaturals
---
NaturaBrasil Holiday Gift Sets
About NaturaBrasil
We believe beauty is about being who you are. And appreciating others for who they are. Accepting differences. Accepting imperfection. Appreciating our wonderfully diverse world. We believe in speaking from the heart and showing our emotions. In doing our best because we love what we do. We believe that when we take care of ourselves we can take better care of others. So, relax, enjoy a good shower, a fresh scent, the silky sensation of a delicious cream.
CASTANHA FAVORITES $55.00
Castanha Creamy Soap Bar 5.2 oz.
Castanha Hand Cream 1.3 oz.
Castanha Body Lotion 13.2 oz.
Castanha Body Scrub 6.7 g
NaturaBrasil-Facebook-Instagram
---
Red Union Suit with Funny Butt Flap "DANGER BLASTING AREA" Men & Women Unisex
Red onesie union suit has funny butt flap with a DANGER – BLASTING AREA – KEEP CLEAR sign screen printed on the flap. These non-footed onesies can be worn as pajamas or loungewear. Men or women can also wear these as one piece long john underwear. Lighter than the original wool union suits, these jersey cotton onesies are more like your favorite t-shirt, but (no pun) they still have the convenient drop seat, also historically referred to as butt-flap, bum-flap, access hatch, fireman's flap, and trap door. These adult onesies have a snap front closure and the drop-seat butt flap has a velcro closure. Matching onesies available in kids sizes.
BUY NOW- On SALE NOW for 39.98 (reg $60) Plus Free Shipping
If buying for the family then get a $25 Instant Rebate Orders over $150 with CODE: FREE25
Follow: Big Feet PJ'S- Facebook-Twitter-Pinterest-Instagram
---
Bubbly Soaps
Bubbly Soaps is a handmade artisan soap line made with triple-butters and skin-loving oils which are eco-friendly, vegan and cruelty-free.
$7 for all full-size bars
Holiday Promo: Free shipping on all orders over $25!
Holiday Promo: 3/$20 Artisan Soaps with coupon code: 3FOR20
Follow Bubbly Soaps-Instagram-Facebook-Pinterest-Twitter
Check out the GIVEAWAY
---
Sashka Co.


SASHKA CO. GLASS BEADED BRACELETS ARE HANDMADE BY SKILLED ARTISANS IN THE KATHMANDU VALLEY OF NEPAL. PROCEEDS FROM YOUR PURCHASE EMPOWER WOMEN IN NEED TO RISE ABOVE POVERTY THROUGH FAIR TRADE. ROLL A BRACELET ON AND MAKE A DIFFERENCE.
Bracelets range from $15-$35 Link to purchase- https://sashkaco.com/
Readers can use this code for 40% off — KTOT40
Follow Sashkaco.co – Facebook-Twitter-Instagram
---
De-stink-tive Derriere Toilet Paper Spray & Hanger
De-stink-tive Derriere toilet paper spray is the new eco-friendly alternative to flushable wipes that clog sewer pipes. Just spray 3-4 times onto toilet paper before wiping, and – voila! – bid adieu No. 2! Made with natural & organic ingredients. Dermatologist tested. Five funny designs: Pampered Pooper, Royal Heinie, Adieu No. 2, Chic Cheek, and Top Bottom. Also available: a cute hanger that hangs on the side of your toilet paper dispenser – the spray bottle fits inside so it's handy where you need it.
Link to Purchase: https://destinktive.com/collections/frontpage
Price: $9.95 for 2oz spray, $14.95 for 4oz spray, $5 for a 2oz hanger, $6 for 4oz hanger
Social Media Links: Facebook-Instagram-Pinterest-Twitter
---
De-stink-tive Fragrance Flower Pens
Have you seen these? Have you SMELLED these? Our new fragrance flower pens are so cute! These lovely flower pens have fragrance on the flowers so they smell as lovely as they look. Only $2.95 each. Blue ballpoint pen. Great stocking stuffers!
Link to Purchase: https://destinktive.com/collections/fragrance-flower-pens
Price: $2.95 each
Social Media Links: Facebook-Instagram-Pinterest-Twitter
---
Aromatherapy Diffuser Necklace & Essential Oil Kit
Now you can enjoy aromatherapy benefits all day long with this beautiful 24-inch adjustable aromatherapy diffuser necklace. Simply place a few drops of essential oil on the felt pad, insert the pad into the locket, and inhale the benefits! Comes with eight washable and reusable pads in different colors so you can mix and match with your outfits. Packaged in an attractive gift box.
Also available: Our cute essential oil kit has four 5 ml bottles of 100% pure, therapeutic grade essential oils: lavender (CALM), peppermint (REFRESH), orange (BRIGHTEN), and lemongrass (UPLIFT). It's the perfect accompaniment to our beautiful aromatherapy diffuser necklace.
Price: $19.95 aromatherapy diffuser necklace, $16.95 essential oil kit (pack of 4, 5-ml bottles)
Link to Purchase: https://destinktive.com/collections/aromatherapy-jewelry
Social Media Links: Facebook-Instagram-Pinterest-Twitter
---
Fragrant Bar Soaps
Our bar soaps are hand-crafted in the USA by master artisans using the highest quality ingredients for a luxurious and fragrant experience. Made with natural vegetable oils, enriching shea butter, and beautiful scents.
MOONLIGHT ROSES: features fresh hydrangea flowers mixed with rose fragrance. Contains sea salt, ground oatmeal, and rose petals.
COOL SPRING: Cool Spring is a clean, manly fragrance. Contains sea salt as an exfoliant.
PETAL DANCE is a sweet perfume fragrance with musky undertones. Contains rose petals.
LEMON ZEST: combines sweet lemon with lemon rind fragrance. Contains sea salt as an exfoliant.
Link to Purchase: https://destinktive.com/collections/bar-soap
Price: $4.95 each
Social Media Links: Facebook-Instagram-Pinterest-Twitter
---
Break the Fold- Tinker Towel Bar
Traditional bars retain moisture by forcing you to fold the towel in half. Hooks and rings take even longer to dry. Keep your towels fresh and dry with the Tinker Towel Bar!
Learn More Order Now
Follow on Twitter-Facebook-Instagram
---
Icy

Bev Kooler's
More than just a protective metal sheath, the
Icy
Bev Kooler's neoprene lining keeps bottles colder longer than any koozie while the silicone stopper keeps drinks carbonated. (It stores inside the cap, which also doubles as a twist-off bottle opener and features a loop that can be hooked onto carabiners.)
Read More: https://www.amazon.com/dp/B0732F8VTF
$14.99 for one, $24.99 for two
Follow On Social Media: Facebook-Twitter
---
ALC Wireless DIY Home Security System
The DIY easy-to-install Observer HD home surveillance system from ALC Wireless features a full HD, WiFi waterproof camera for indoor or outdoor use that comes already paired with a 7-inch, full color, touch-screen monitor and 8GB microSD card for recording and saving footage yourself (expandable up to 2TB via USB). The camera lets you see in low-light and total darkness up to 65 feet and will detect motion, record motion and send alerts to your phone via the free app as well as trigger a loud alarm built into the monitor. It's expandable up to four cameras, and there are no contracts or monthly fees.
Read More: AMAZON-$260
Follow on Facebook-Twitter-LinkedIn
---
Amelia Toffee Company
Tradition, innovation, and artisanal craftsmanship are the ingredients from which the Amelia Toffee Company was born. With an old family recipe in hand, our founder, Anita Comisky, delved into the rich craft of handmade toffee, inspired by bold ingredients such as bourbon and coffee. This experimentation, refined through years of dedication and a keen perception of flavor, resulted in the unique, handcrafted perfection sold by our company today.
Our handcrafted toffee is made in our coastal kitchen in Florida and created in small batches, ensuring the best quality and the greatest attention to detail.
Whether you prefer our traditional Sea Salt Toffee or would like to experience something new and bold, such as our Bourbon Toffee, Coffee Toffee, Orange Bliss, Key Lime Toffee or one of our various seasonal toffees, you will be amazed with our melt-in-your-mouth consistency that's hypnotic, heavenly, and unlike any other gourmet toffee. Indulge!
Read more: https://ameliatoffee.com/shop
$7-3oz bags
$15-6 oz holiday gift boxes
$22-16 oz holiday gift boxes
Follow on Social Media: FB Amelia Toffee Company/IG AmeliaToffee
WE LOVE THIS TOFFEE!!!
---
Drynk
Inside the Drynk's slim, stainless steel body, vacuum technology keeps hot drinks or soup hot for up to 12 hours and cold drinks cold for as long as 18 hours. The bottom features a built-in anti-slip coaster. Each Drynk comes with two interchangeable lids. The Sipper boasts a magnetic latch that keeps the lid open as you drink. The Gulper is a wide-mouth design for guzzling or pouring into the two cups — also included. Drynks are available in 12 and 20-ounce sizes, and in gold, black, graphite, purple, green, shiny black and white.
Read More $29 to $41
Specials
Follow On Social Media
Facebook: https://www.facebook.com/vayalife/
Twitter: https://twitter.com/Vayalife
Instagram: https://www.instagram.com/Vaya_life/
---
Tyffyn Lunchbox
Stainless steel, leak-proof containers nestle atop one another in a designer metal body that uses VacuTherm technology to keep food warm or cold for up to five hours. Removable partitions mean you can carry up to six courses in one Tyffyn. No more fattening fast food and expensive meals out and no more leaky plastic containers in landfills. Tyffyns are available in two sizes with three different-sized inner containers (300 mL, 400 mL, and 600 mL), and a wide range of colors and patterns. They all have a 1-year warranty.
Read More $49 to $62
Follow on Social Media
Facebook: https://www.facebook.com/vayalife/
Twitter: https://twitter.com/Vayalife
Instagram: https://www.instagram.com/Vaya_life/
---
AQUAVAULT
100% WATERPROOF FLOATING CASE
AS SEEN ON SHARK TANK – The AquaVault Waterproof Phone Pouchfits All phones (even plus size models including iPhone 6+, 7+, 8+ and iPhone X) It has a patented floating airbag which allows it to float if accidentally dropped in the water.
Take Crystal Clear Videos Underwater
Retain Full Functionality of Your Phone or Device
Reinforced Corners for Added Drop Protection
Triple Seal Technology for Zero Leaks
Floating Internal Air Bladder Design
Comes With Neck Strap
Dimensions 7.25" x 4.25" x 0.5″
Weighs 4.1oz
Read More: Floating Case
---
The first book in a new action-packed fantasy series for fans of Divergent, X-Men and Sense8, THE PEITHOSIAN GIFT by Cristina Archer poses major philosophical questions while immersing readers in an unforgettable speculative-fiction-meets-fantasy adventure.
Centred on two warring clans — the Morgans and the Kanes — who possess the power to control the minds of others, readers will delight in Archer's vivid world-building and psychologically complex characters, and finish THE

PEITHOSIAN

GIFT

eager for the next installment in the series: THE

PEITHOSIAN

CURSE (already underway with publication projected for 2020).
Buy Now On Amazon $14.69
Follow on Twitter and Instagram
---
3D Christmas Tree- Pop Up Holiday Card
Once opened the red card reveals the quintessential Christmas tree adorned with gold ornaments and topped with a lovely gold star. One look at this design and suddenly we were whisked back to our childhood, reminiscing about baking cookies for Santa and trying oh so hard to wait up all night for him and his reindeer.
Lovepop cards are perfect for those on your shopping list who deserve a little more this year. Plus they can use it for decor year after year!
Lovepop pop-up card with one blank envelope- You can personalize too!
Read More: Lovepop
---
Slammers Snacks
Slammers Snacks are tasty, superfood snacks designed to fuel kids with organic fruits and vegetables. Not only are they a healthy alternative to sugar-laden candies and sweets that pop up around this time of year, but they are fun, crum-free snacks that introduce kids to fruits such as acai and yumberries.
Fuel the fun with organic snacks packed with healthy fruits and vegetables. Slammers are the perfect snack for kids on the go.
Check out the ALL THE FLAVORS
Available at Walmart, Wegmans, Kroger, etc,-$3.99-5.99
Kids LOVE these so make sure you pick them up- stocking stuffers!!
Follow on Twitter-Instagram-Facebook
---
KT Tape Recovery Ice/Heat Massage Ball
This Multi-functional massage roller ball from Avacare Medical has innovative gel inserts for longer heat and ice therapies. With this massage ball, you can easily switch between heat therapy, which warms up and loosens your muscles, and ice therapy, which relieves pain and inflammation. Designed with physical therapists, massage therapists, and chiropractors, the KT Tape Massage Ball is TSA compliant, and of the highest quality.
Read More: https://avacaremedical.com/kt-tape-recovery-ice-heat-massage-ball
Price: $48.55
Follow on Facebook
My husband's favorite item right now. His shoulder hurts and this has been helping him a lot.
---
Atlas of Men by David Sklar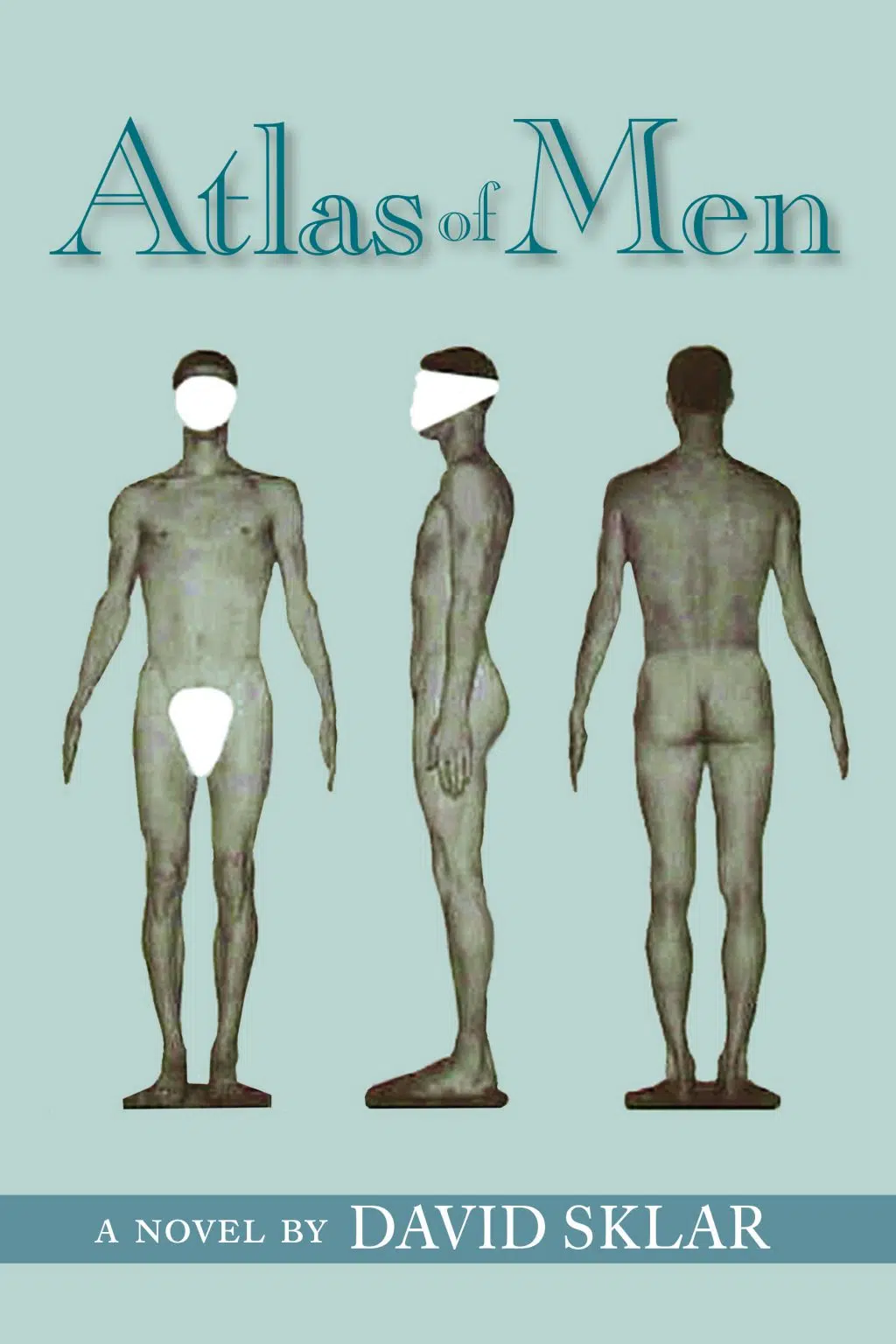 Files from a secret research project show up on Dr. Robert Thames's doorstep, forcing him to think about something he's been avoiding – the degrading "study" at Danvers Academy, especially the naked photos of each student, including himself, taken at his prep school. He tracks down four close friends from school, and together they uncover the terrible truth of what was buried by the faculty, the school, and the boys themselves.
Link to purchase — https://www.amazon.com/Atlas-Men-David-P-Sklar/dp/1732348405/
Price — $15.99 (paperback); $9.99 (ebook)
Website – https://davidpsklar.com/
---
Brat and the Kids of Warriors by Michael Joseph Lyons
Brat and the Kids of Warriors is the first in a series of novels about the military brats. Jack McMasters and his sisters, perfect Queenie and out-of-control Rabbit, are military brats creating adventures wherever they go. But their dad s new assignment to Cooke Barracks, in West Germany, means leaving behind every friend they have. Again. But the seven-day voyage to Germany (Objective: Explore everywhere marked Off Limits on their U.S. Navy troop-transport ship) is better than any holiday cruise. Their dad s new assignment as a tank commander with 4th Armored Division comes soon after Germany lost World War II and the Russians split Germany in two with the Iron Curtain. As they travel to the base, they see unimaginable beauty, but also the rubble left from bombs. As the story progresses the kids gradually discover Germany is still very much a war zone, this time of the new Cold War.
Link to purchase — https://www.amazon.com/BRAT-Warriors-Michael-Joseph-Lyons/dp/194695702X
Price — $22.95 (hardcover); $9.99 (ebook)
Follow:
Website – http://www.michaeljosephlyons.com/
Facebook – https://www.facebook.com/michaeljosephlyons
Instagram – https://www.instagram.com/michaelditto/
Book Trailer – https://www.youtube.com/watch?v=WtZLm9SilY8
---
Crave Reset by Elena Zinkov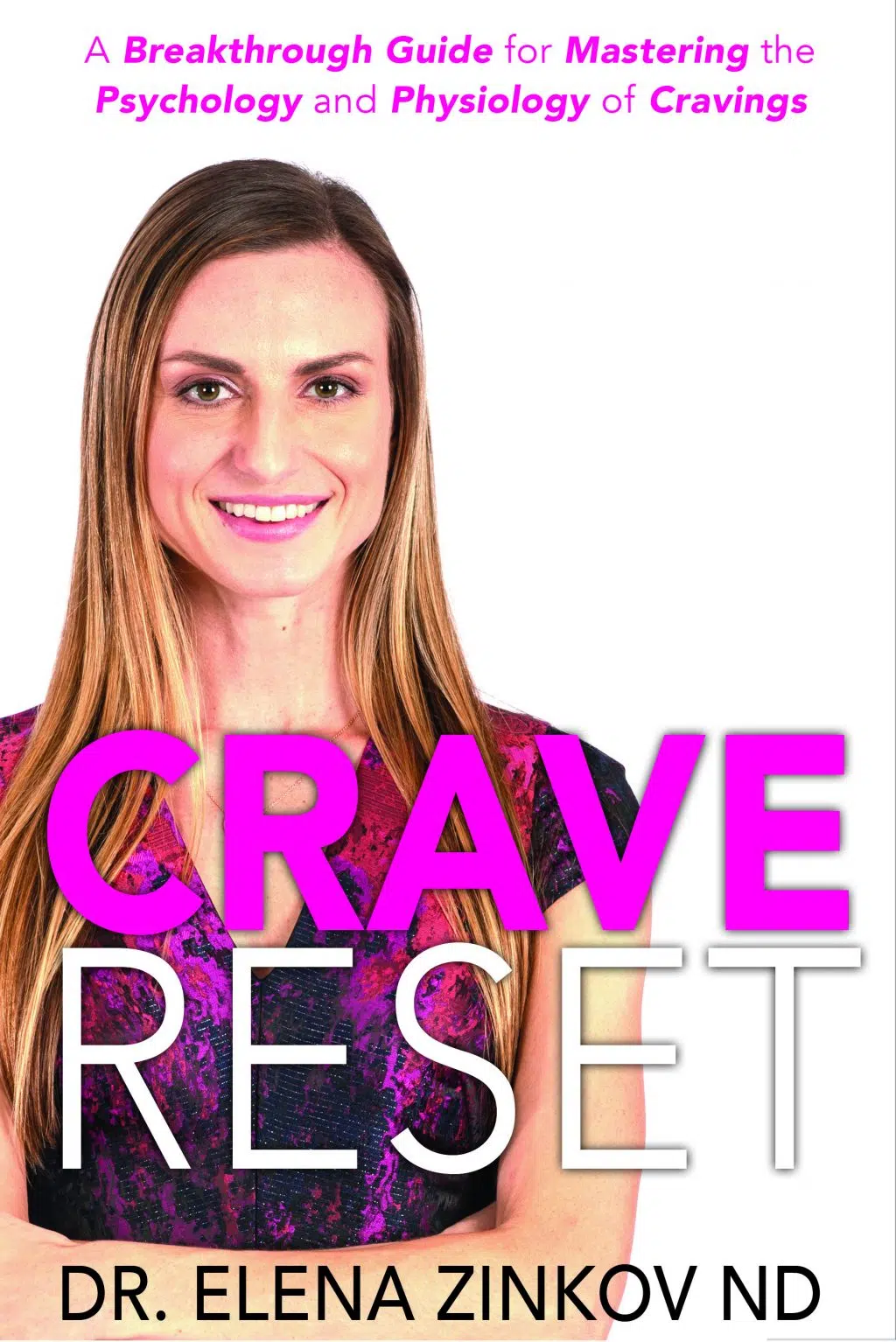 A leading expert in Naturopathic Medicine dives into the root cause of food cravings, how to master them and live a guilt-free life.
Have you ever wondered why you crave what you crave, why you can't say no to sweets, or why your knee-jerk reaction is to reach for salty and crunchy treats when you get bad news? The guiding principles behind cravings, whether you're craving potato chips, sugar, or other addicting substances and behaviors are the same. Tackle one, and you can tackle all of them.
CRAVE RESET is more than just a book on cravings; it's a guide to peak health and performance. Dr. Elena has created a master plan to help you rewire your mind, heal your body, and unleash your true potential.
Link to purchase — https://www.amazon.com/Crave-Reset-Breakthrough-Psychology-Physiology/dp/1732096015/
Price — $16.99 (paperback); $29.99 (hardcover);
Follow:
Website – http://proactivehealthnd.com/
Facebook – https://www.facebook.com/proactivehealthnd/?fref=ts
Twitter – https://twitter.com/drelenazinkov
Instagram – https://www.instagram.com/drelenazinkov/
---
Prisoners without Bars by Donna O'Donnell Figurski
This heart-wrenching and a triumphant love story is a tale of advocacy and caregiving. Donna's husband, David, stumbled into their bedroom, his hand covering a blood-filled eye from a brain hemorrhage. Donna called 9-1-1. David slipped into a coma. At that moment, Donna was thrust onto the path of caregiver for her best friend and the love of her life. In her debut memoir,
Donna compellingly describes her ability to appear positive as she experiences the horror of making life-or-death decisions. As her world crashes, she credits laughter as her lifesaver. More than thirteen years later, Donna and David are living a "new normal" together.
Link to purchase — https://www.amazon.com/Prisoners-Without-Donna-ODonnell-Figurski/dp/1608082059/
Price — $16.95 (paperback); $5.99 (ebook)
Follow
Website – https://www.donnafigurski.com/
Twitter – https://twitter.com/DonnaFigurski
Instagram – https://www.instagram.com/dmodfigs/
---
A Year of Living Kindly by Donna Cameron
In A Year of Living Kindly—using stories, observation, humor, and summaries of expert research—Donna Cameron shares her experience committing to 365 days of practicing kindness. She presents compelling research into the myriad benefits of kindness, including health, wealth, longevity, improved relationships, and personal and business success. She explores what a kind life entails, and what gets in the way of it. And she provides practical and experiential suggestions for how each of us can strengthen our kindness muscle so choosing a life of kindness becomes ever easier and more natural. An inspiring, practical guide that can help any reader make a commitment to kindness, A Year of Living Kindly shines a light on how we can create a better, safer, and more just world—and how you can be part of that transformation.
Link to purchase — https://www.amazon.com/Year-Living-Kindly-Choices-Change/dp/1631524798
Price — $16.95 (paperback); $9.95 (ebook)
Social Media Links —
Website – https://ayearoflivingkindly.com/
Facebook – https://www.facebook.com/DonnaCameron.author/
Twitter – https://twitter.com/donnajcameron
---
The Triumph of Rosemary by Marylin E. Atkins
Baby Rosemary – born to an Italian teen and a married black man in Detroit in 1946 – is adopted from an agency by a black couple in Saginaw, Michigan The adoptive mother's abuse instills in the girl, whom they name Marylin Elnora, ambition to achieve great things on her own. At age 19, Marylin sparks a racial and religious scandal by marrying former Roman Catholic priest Thomas Lee Atkins, who is white and 25 years older. Poor in finances but rich in love, they have two biracial daughters, Elizabeth Ann Atkins and Catherine Marie Atkins Greenspan, who look white. Teamwork makes the family's dream work as Marylin attends the University of Detroit School of Law at night while she and Tom work full time; he becomes "Mr. Mom"– taking the high-achieving girls to lessons for swim, piano, and skiing. He journals nightly, inspiring the girls' passion for reading and writing.
Link to purchase — https://www.amazon.com/Triumph-Rosemary-Memoir-Marylin-Atkins/dp/1945875178/
Price — $19.99 (paperback); $9.99 (ebook)
Social Media Links —
Facebook – https://www.facebook.com/thetriumphofrosemary/
---
The Cards Don't Lie by Sue Ingalls Finan
1814: It's the third year of the United States second War of Independence. The British are on the verge of capturing the strategically important port of New Orleans. In the midst of the Americans' chaotic preparations for battle, three women play key roles in the defense of the city: Catherine, a free woman of color, voodoo priestess, and noted healer personally summoned by General Andrew Jackson; Marguerite, a pampered Creole plantation mistress prone to out-of-body experiences; and Millie, a plucky, patriotic prostitute inspired by her pirate lover to serve in the most dangerous capacity of all. These three women's lives and fates become intertwined as they join forces to defend their country.
Inspired by the contributions of real-life women during the Battle of New Orleans, The Cards Don't Lie is a story of love, rebellion, intimacy, betrayal, and heroism in the face of terror and barbaric brutality.
Link to purchase — https://www.amazon.com/Cards-Dont-Lie-Novel/dp/1631524518
Price — $16.95 (paperback); $9.95 (ebook)
Social Media Links —
Website – https://www.sueingallsfinan.com/
Facebook – https://www.facebook.com/Sue-Ingalls-Finan-357660521379193/
---
Once a Midwife by Patricia Harman
Welcome back to Hope River in New York Times bestselling author Patricia Harman's newest novel as midwife Patience Hester, along with her family and friends, face the challenges of the home front during World War II.
The women of Hope River trust midwife Patience Hester, whose skill in delivering babies is known for miles around. But though the Great Depression is behind them, troubles are not, for Europe is at war…and it can only be a matter of time before the U.S. enters the fray.Patience must support their family and fight for her husband's release despite her own misgivings. And with need greater than ever, she must also keep her practice running during this tumultuous time…relying on generous friends, like Bitsy, who has returned to Hope River, stalwart neighbors, and her own indomitable strength to see them all through.
Link to purchase — https://www.amazon.com/Once-Midwife-Hope-River-Novel/dp/0062825577
Price — $16.99 (paperback); $26.99 (hardcover); $11.99 (ebook)
Social Media Links —
Website – http://www.patriciaharman.com/
Facebook – https://www.facebook.com/PatsyHarman/
---
A Musical Gift Bundle for Kids
A Musical Gift Bundle for Kids!
New Music from award-winning family music artists
Winterland – a new collection of warm original songs celebrating the chilly days of a Northern winter, from GRAMMY-winning duo The Okee Dokee Brothers. $15
Buy
Ready Or Not! – fun and rocking tunes from Seattle's hippest rock band for kids, The Not-Its! $15. BUY!
Building Blocks – GRAMMY winner and TV show host Tim Kubart offers a pop celebration all about growing: growing wiser, growing bolder, and, above all, growing our circle of caring for family, friends, and those around us. $15 BUY
Twinkle Twinkle Little Star – The Secret Mountain publisher of picture books with music, launches a new "Classic Folk Sing-Along Songs" series of paperback books with illustrations by Sophie Casson and a streaming link to a song performed by hip Montreal duo Sin & Swoon. $7.95 Buy
The Okee Dokee Brothers – Facebook/Instagram/Twitter
The Not-Its! – Facebook/Twitter/Instagram
Tim Kubart – Facebook/Twitter/Instagram
The Secret Mountain – Facebook/Twitter
---
Blix Sol Electric Cruiser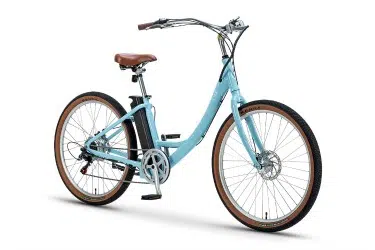 The Blix Sol Electric Cruiser combines smart, stylish design with beach cruiser comfort. Whether you're ready to get on a bike again, looking for a laid-back ride around the neighborhood or simply want a bike that is super easy to get on and off—the Sol provides a great and super fun ride with an electric pedal assist up to 20mph. You can add fenders, rear rack and front basket too. Perfect for dad, mom, daughter or son. Everyone will enjoy the ride. Cruise on!
Blix Bike is an electric bike company headquartered in Santa Cruz, CA and sold around the U.S. and Canada. Blix builds electric bikes that are beautifully designed without sacrificing performance, and yet affordable – a bike you'd ride everywhere you could for everyday transportation or leisure riding. Visit them at www.blixbike.com.
Buy it HERE! Price: $1,599
Facebook/Instagram
---
BET ON YOURSELF by Vernard Hodges
No matter what you want to achieve in life, you need money.
School tells us almost nothing about money or how to make it. At best, school tells us how to become an employee. But for many people employment means limited options and low pay. And if you lose your one job, you're in big trouble. There is another way. BET ON YOURSELF: From zero to millions explains:
•How to create multiple streams of income
•Money 101
•What the stock market is and how it works
•How to get started investing in rental properties
Dr. Hodges shares his personal life lessons, often funny, but always meaningful, from hanging out with crack dealers as a teenager, to being mistaken for Mike Tyson on the other side of the world.
Options were limited for people growing up in Dr. Hodges' community; most people worked at the local bus factory, went into the military, ended up in jail, or got killed. The first part of this book shows how a poor African American kid failing in high school became a business owner and a respected veterinarian.
Dr. Hodges stresses the importance of making friends wherever you go, and more. Getting fired from his first professional job was a blessing. It taught him to bet on himself, and he never looked back. There are important messages in this book about doing the right thing when no one is looking, the importance of role models, and being nice.
As Dr. Hodges' favorite rapper Jay-Z said on Moments of Clarity, The Black Album, 2003:
And I can't help the poor if I'm one of them
So I got rich and gave back to me
That's the win, win
Facebook
---
Book Towns
Book Towns takes readers on a richly illustrated tour of these captivating, dedicated havens of literature, outlining the origins and development of each community, and offering practical travel advice. A stylish and original guide, it is the perfect gift for both book lovers and travel enthusiasts.
USD: $22.99, GBP VAT: £14.99, CAN: $29.99
Facebook/Twitter/Pinterest
---
SYLVANIA SMART+ lighting and accessories from LEDVANCE
SYLVANIA SMART+ lighting and accessories from LEDVANCE are the perfect gift for anyone who is looking to make their life easier through a smart home that is not only energy saving, but also easy to setup and control. SYLVANIA SMART+ has one of the broadest portfolios of indoor and outdoor smart lighting products that provide beautiful illumination to complement your home décor, while also giving you full control through your smartphone, tablet, wireless switch, sensor, Siri, Amazon Echo or Google Home.
Set up schedules to turn lights on and off while you are traveling, or at work, and even change the look and feel of a room to match your mood or aesthetics all through SYLVANIA SMART+, available at major retailers like Amazon, HomeDepot.com, Walmart.com, Menards locations and Menards.com, Apple.com and BestBuy.com with prices ranging from $12.00 to $120.00.
---
Hungry Fan Three-In-One Fangating Thermal Bag
Hungry Fan Three-In-One Fangating Thermal Bag is THE perfect gift for the camper, potlucker and tailgater in your life! The thermal bag can keep hot food warm, or cold items chilled, AND can be used as a cordless (battery-less) slow cooker! Whether you are packing up the crew to head to your favorite tailgate and need your hot chili HOT upon arrival, want a compact cooler bag that you can stash after the bash, or need some extra room at the holidays to cook up your favorite side dishes. It easy to use and does not require power, fuel or batteries. You can use it to make roasts, BBQ, casseroles, rice AND even yogurt. Get it online at HungryFan.com or Amazon.com (Prime Eligible) for $59.19.
---
Bouncy Bands
Forget fidget spinners. Give the gift of discreetly soothing your kids' anxiety, frustration, and hyperactivity with Bouncy Bands. There's a reason that Bouncy Bands are the #1 Teacher-Approved toys for student success. These fun, innovative, economical bands enable kids to release excess energy to stay on task and improve their test scores, while seated at their desks.
---
BambuLife socks
Whether on the go or just lounging at home, BambuLife socks are the softest and best fitting socks you'll ever wear. Why? Because nature's softest style socks are made from bamboo, which just so happens to be one of the most sustainable resources on the planet.
$11.95 for a two-pair pack
Special holiday promotion now through the end of the year: Buy One, Get One 50% off (Promo code: BOGO50)
---
Voice Originals: When in Rome
Voice Originals is a new series of social board games that star Amazon Alexa as game show host. To play, simply set up the board, fire up the associated Alexa Skill, and you're ready to go! Alexa teaches you how to play, keeps score and immerses you in the world of the game. When in Rome, the first title in the Voice Originals series, is a travel trivia game like none other. Turn on the smart speaker, choose a home city and then travel the world on Alexa Air! As you and your friends & family visit new places, you'll meet 20 real locals recorded from cities around the world who will ask questions about local customs, culture, street food and more. Getting the answers right and nabbing elusive souvenirs earns you Explorer Points along the way.
MSRP $29.99; ages 13+
---
NFL Electric Football
Electric Football lets you call the plays to march your football action figures down the vibrating gridiron. Friends can face off in a game of patience and skill, requiring them to guide their teams to victory! The game inspires imaginative play and teaches kids important life skills such as perseverance and sportsmanship. Tudor Games packs all the thrills of football into a tabletop game you can play anywhere, allowing for hours of competitive and interactive play. Electric Football sets and accessories are sold in different sizes and price points at major retailers and online.
This set is $59.95-$129.95; ages 6+
---
Marlo's Bake Shop
Chocolate Peppermint Truffle Soft-Baked Biscotti:
Our Chocolate Peppermint Truffle flavor delivers the same mouth-watering experience as our other signature soft- baked biscotti but with the holiday look & seasonal flavors you crave when the weather gets chilly & the sleigh bells are ring, ring, ringing. Our seasonal Chocolate Peppermint Truffle flavor is a festive blend of velvety Dutch cocoa, rich dark chocolate and refreshing mint. Sometimes the scent of candy canes is all we need to rouse our holiday spirits. It really is the most wonderful time of the year!
Link to purchase: https://marlosbakeshop.com/collections/biscotti/products/pre-order-chocolate-peppermint-truffle
2 pack: $13.99, 6 pack: $34.99
Sweet Heat Double Chocolate Chip Cookies:
Our Heirloom cookie line celebrates the tradition of passing on recipes from generation to generation, among family & friends. Inspired by a cup of hot chocolate at a chili pepper festival, our friend Ben passed on the recipe for our Sweet Heat Double Chocolate Chip Cookies that feature cocoa-rich dark chocolate with a warm kick from the sprinkling of cinnamon and cayenne pepper that bursts through each morsel. A gentle throat-warming spice that wouldn't be described at hot, these are perfect for the whole family!
Link to purchase: https://marlosbakeshop.com/collections/gourmet-cookies/products/sweet-heat-double-chocolate-chip-cookies
2 pack: $13.99, 6 pack: $38.99, 12 pack of grab n' go: $29.99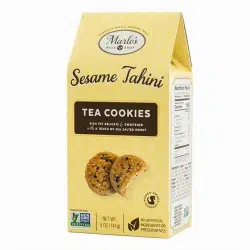 Sesame Tahini Tea Cookies:
Our Heirloom cookie line celebrates the tradition of passing on recipes from generation to generation, among family & friends. Inspired by her Moroccan grandmother's Tahini Cookies, our friend Danielle passed on this rich yet delicate recipe for cookies that we can't. Stop. Eating. Organic tahini- a peanut butter-like paste made from ground, roasted sesame seeds- marries with organic honey and a touch of sea salt to create a beautifully balanced snack cookie that's as elegant as it is delicious. These salty sweet bites of heaven are made with GMO-free & organic ingredients, enriched with heart-healthy, expeller pressed oil, & Kosher certified.
Link to purchase: https://marlosbakeshop.com/collections/gourmet-cookies/products/pre-order-sesame-tahini-tea-cookies
2 pack: $13.99, 6 pack: $38.99, 12 pack grab n' go singles: $29.99
---
Baby & Pet Check Scale
From infants to pets, easily keep track of your little one's growth with this scale's innovative weighing features and large scoop platform.
Weighs up to 44 lbs / 20 kgs in 2 measurement modes: Pounds / Kilos in graduation increments 0.5 ounces
Easy to clean, large scoop platform for added comfort and security
Reference previous weigh-ins with Memory Recall, then save current weight with the Memory button to track progress
Tare function deducts the weight of a toy, diaper, or blanket for accurate readings
Runs on 2 x AAA Batteries (included)
---
Sing & Play Happy Penguin
Wild Republic's Sing & Play Happy Penguin Plush features the popular children's song "If You're Happy and You Know It". Happy Penguin talks, sings, and claps. This 10" animated plush has two different modes "PLAY" and "SING" printed and accessible on feet. Children will love clapping and singing along with the animated Happy Penguin! Music "If You're Happy and You Know It" courtesy of The Joe Raposo Music Group, Inc. Available exclusively at Amazon beginning October 14, 2018. MSRP $29.99.
---
Oddbods Funny Makers
Oddbods, the multi award-winning, Emmy nominated non-dialogue animated series hits store shelves with a brand new toy line available exclusively at Target stores this October. Oddbods follows the comedic adventures of seven hilarious, very individual and quirky friends as they survive the perils of everyday life, where ordinary situations spiral into extraordinary events. With the new Oddbods Funny Makers, kids can now reenact these adventures with this cool playset featuring five fun stunts, sound effects and lights. Large: $39.99, Small: $12.99
---
Authentic Agility Games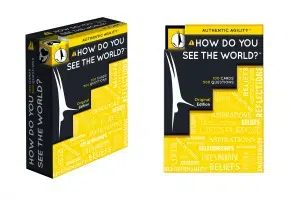 How Do You See the World from Authentic Agility Games is an engaging card game that encourages people to go beyond their comfort zone while truly learning how others view the world by asking important questions. The game includes one dice that will select one of the following five categories: Reflections, Relationships, Aspirations, Life's Purpose and Beliefs. Players then pull the associated card, read the question from the associated category and discussion follows. With variations of game rules and suggestions available, this game can be played around the family dinner table, with longtime companions or with your newest neighbor. A portion of the proceeds from all Authentic Agility Games will support educational and entrepreneurial organizations that are changing the world. Available on Amazon.com
---
Piper
Piper is a Raspberry-Pi computer kit designed to make building, exploring and coding electronics simple, intuitive and fun. Piper provides an interactive and challenging series of "aha" moments that allows kids to see what's behind the screen and build and program their own devices and gadgets. Piper impacts kids globally by growing confidence around being creators of technology instead of passive, inactive learning consumption.
Price: $299.00
---
Feya Candles & Soaps
At Feya Candles, our mission is simple: To change the world, one candle at a time. For every candle sold, we donate a meal to someone in need both locally and internationally. For every soap sold, we donate a bar to a local shelter or city mission. Our products are 100% soy, and the candles are hand poured with a clean burn time of over 50 hours. Change the world this holiday season, by giving a Gift That Gives Back.
Santa's Little Squeakers
You and your furry friend can now celebrate the holiday festivities with Santa's Little Squeakers from P.L.A.Y. inspired by everything we love about Christmas… snowflakes, fir trees and ugly holiday sweaters! Plus, these plushy bundles of squeaky fun are stuffed with our eco-friendly soft PlanetFill® polyfiber. Before giving them to your pup, hang them as ornaments on your Christmas tree or use them as stocking fillers!
Link to purchase
Price: $37.90
---
Sign Up For Holiday Gift Guide: GUIDE Options
---
Other Gift Guides:
Her-Him-Kid/Baby-Teens-Stocking Stuffers-Pets-Tech-Home-Foodie
---