This is a sponsored post on behalf of Nana's Cookie Company but all opinions expressed here are mine.

Once upon a time, Miriam "Nana" Diamond decided to start cooking healthier for her family. As a lifelong baker, Nana always enjoyed finding ways to make healthier treat options for kids. These healthier treats were called "conscious cookies" at one point in time. After many reviews and raves from family as well as friends, Nana decided to put her cookies on the market in 1992 as Nana's Classic and Nana's Gluten-Free cookies.
Nana's Cookies are currently available in retail stores as well as online, but she wants to go bigger. That's why I'm introducing you to these guilt-free cookies that offer you a delicious option to enjoy these "conscious cookies" from Nana's. I hope that you'll enjoy learning more about Nana's Cookies and take a moment to purchase a package of Nana's cookies for your family soon.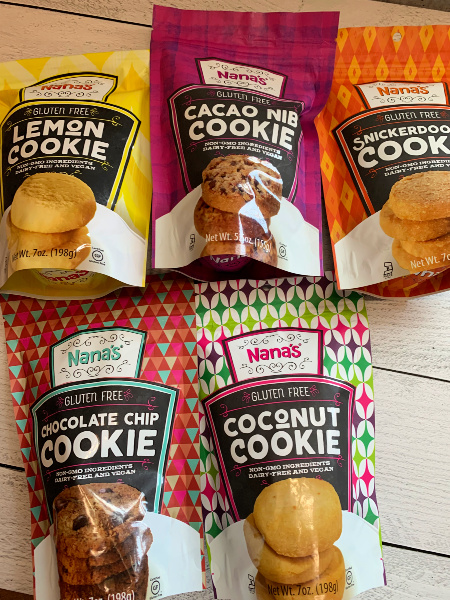 Five Flavorful Options
I was able to try out Nana's Cookies Sampler Package. This included the following gluten-free cookie flavors:
Chocolate Chip
Cacao Nibs
Coconut
Lemon
Snickerdoodle
Now, I know what you're thinking, you probably can't believe that Nana's Cookies can even be tasty, being that they're gluten-free. The reality is these are some delicious cookies, and I don't feel guilty indulging a little in them. If you're like me and looking for a healthier option to satisfy your sweet tooth then you really need to try Nana's Cookies.
About Nana's Cookies
Just to entice you a little more to try this brand, Nana's cookies are Certified Kosher, Certified Gluten-Free, vegan and made with Non-GMO ingredients. I'm excited to share a brand that truly seems to have mastered the "conscious cookie" all those years back. If you're looking to try Nana's Cookies, then you can pick up one of the following options on Amazon.com:
The Sampler Pack offers all 5 cookies and is only available on Nana's Cookies website.
Be sure to connect with Nana's Cookies on Facebook, Twitter, and Instagram to keep up to date with their latest offerings.
GIVEAWAY:
4 of my readers will get to win one Nana's Cookie Sampler Pack and one lucky reader will get a sampler pack and the grand prize of $100 Amazon Gift Card! KTOT does not ship the winner's prize, please wait 4-6 weeks to receive it. Good Luck Everyone!